Difficult Decisions in Pediatric Care:
Just Because We Can, Should We?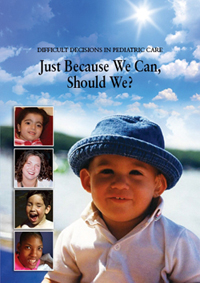 "Difficult Decisions in Pediatric Care: Just Because We Can, Should We?" explores the ethical dilemma parents face when told that their child "needs" a particular treatment, surgery or intervention, and palliative care options are not offered. The stories demonstrate the benefits for both patient and family when palliative care is brought into the mix, either in conjunction with traditional medical therapies or on its own. The film explores the benefits of treatment consistent with the individual lifestyle and values of the patient and family.
The voices of patients and families are critical to understanding relationships in today's highly complex healthcare delivery system. And in any chronic illness involving children, there has to be, as one of the fathers notes, "special considerations."
Another difficult process for patients, families and healthcare professionals alike is the shift that occurs when care goals move from a "curative" to a "comfort" focus, and the possibilities of suffering or death are contemplated. The voices of families who have experienced this shift provide powerful teaching moments for health professionals.
Viewers of this film will find themselves exploring their own reactions to these emotional discussions. They will be able to identify common conflicts within care team member roles, and gain insight into facilitating these difficult conversations with patients and their families.
"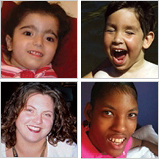 The film beautifully illustrates the complexity of decision-making among families of children with serious illness and health care providers, as well as the tremendous value of integrating a palliative approach. It will serve as a wonderful teaching tool."
Joanne Wolfe, MD, MPH
Director, Pediatric Palliative Care
Children's Hospital Boston, Dana-Farber Cancer Institute
"This video does so much better than tell us, it shows us how and why pediatric palliative care is essential in the care of seriously ill children and their families."
Stephen Liben, MD
Associate Professor of Pediatrics, McGill University, Canada;
Co-editor, Oxford Textbook of Palliative Care for Children


How to Order

Ordering information | Telephone: 734-936-1572

Contact the Producers

Linda K. Strodtman,
PhD, RN
Assistant Professor Emerita
University of Michigan
400 N. Ingalls, Rm. 4330
Ann Arbor, MI 48109-5482
Office: 734-647-0189
Email: strodtma@umich.edu
Maureen G. Giacomazza,
MA, RN
Clinical Nurse Consultant
Pediatric Palliative Care Program,
University of Michigan
Health System
Adjunct Clinical Instructor,
University of Michigan
School of Nursing
CW 12-525
1540 E. Hospital Dr.
Ann Arbor, MI 48109-4280
Office: 734-936-5826
Email: mmgoode@umich.edu
Kenneth J. Pituch, MD
David G. Dickinson Collegiate
Professor of Pediatrics and
Communicable Diseases and
Professor of Pediatrics and
Communicable Diseases,
Medical School
CW 12-525
1540 E. Hospital Dr.
Ann Arbor, MI 48109-4280
Office: 734-615-7845
Email: kpituch@umich.edu
Target Audience: All | Author/Contact: Maureen Giacomazza and Linda Strodtman | Date of last review: June 2018