Evan Mayday's Good Death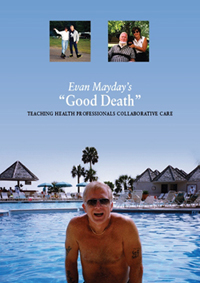 In today's highly technological health care system there are times when the trajectory of life-threatening illness shifts from a curative focus to that of providing comfort as the patient faces death. This shift between cure and comfort goals is often the hardest decision-making process that health professionals face in their interactions with patients and families.
The film "Evan Mayday's Good Death" is a highly emotional, educational, life-affirming documentary of how one team and one family confronted these painful and difficult issues. They all worked together to rise above their own issues,

concerns, and fears so that they could collectively grant a dying patient's last request.
In the academic world where health professionals are educated in "silos" and then expected to function collaboratively in the clinical setting, this film role-models how health professionals can work as a "team", especially at end of life.
The film is only one part of the educational intervention. Most important is the guided discussion following the film. A CD with guidelines for the educator in conducting and evaluating this educational intervention is included.
DVD/29 min/2006 and accompanying CD with Instructor Guidelines and additional resources. $145.00 including domestic shipping. International shipping and/or overnnight delivery extra.
View a 1 min., 23 sec. video clip.
How to Order

Ordering information | Telephone: 734-936-1572

Contact the Producers

Linda K. Strodtman,
PhD, RN
Assistant Professor Emerita
University of Michigan
400 N. Ingalls, Rm. 4330
Ann Arbor, MI 48109-5482
Office: 734-647-0189
Email: strodtma@umich.edu
Maureen G. Giacomazza,
MA, RN
Clinical Nurse Consultant
Pediatric Palliative Care Program,
University of Michigan
Health System
Adjunct Clinical Instructor,
University of Michigan
School of Nursing
CW 12-525
1540 E. Hospital Dr.
Ann Arbor, MI 48109-4280
Office: 734-936-5826
Email: mmgoode@umich.edu
Target Audience: All | Author/Contact: Maureen Giacomazza and Linda Strodtman | Date of last review: June 2018