Nursing at Michigan in the News
Click arrows to read more news and current events...
SICU Nursing Staff presented American Association of Critical Care Conference, National Teaching Institute
Congratulations to our SICU staff for presenting at the American Association of Critical Care conference, National Teaching Institute. They had a podium presentation and a poster presentation. This conference brings 8500 critical care nurses together to share, learn and network best practice. This year it was held in Orlando Florida, May 19-23.

The podium presentation (60 minutes) was:
Clearing the Toxins: Extracorporeal Detoxification for Liver Failure
Sharon Dickinson, MSN, RN, CNS-BC, ANP, CCRN
Connie Rickelmann, BSN, RN, CCRN
The poster presentation was:
Can a busy Surgical Intensive Care Unit (SICU), become a restraint free unit and sustain it?
Sharon Dickinson MSN, RN, CNS-BC, ANP, CCRN
Mary LaBeske , MSN, RN, CNML
Connie Rickelmann BSN, RN, CCRN
Continuing to Celebrate Nurses Week!
During National Nurses Week and throughout the year, Michigan Medicine is proud to celebrate the role nurses play in delivering the highest level of quality care to their patients and families. This year, we celebrate
Nursing at Michigan: Nurses are Life Savers.
Register for Programs
A few seats remain for some events | www.UMnursing.org
Questions? 734-936-5183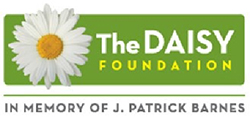 The Daisy Award
Congratulations to Dee Baldwin (UH 7C) for receiving the Daisy award!
The DAISY Award is given through a nationally known program currently in place in over 3,300 healthcare facilities in 50 states and 19 countries. DAISY is an acronym for Diseases Attacking the Immune System and this award was established by a family whose son succumbed to a disease of the immune system. During his prolonged hospital stay, he and his family greatly benefited from care provided by superb RNs. This award was established to honor nurses who exemplify that compassionate, thorough care. Within the University of Michigan Health System, candidates for the Daisy Award are nominated by patients and/or their families. This is a wonderful honor.
Dee's nomination came from a thankful wife.
"Dee Baldwin is the very best, and an outstanding example of the word "nurse". Since 2007 my husband has been admitted to UM approximately 10 times, and during these times we have always had wonderful and outstanding nursing care. During our last stay in April of 2019, Dee was one of those nurses! She was absolutely outstanding with her nursing skills and care. Not only did she care for my husband, but she took care of all of our family mem-bers' needs. She was very attentive and we never needed to use the call button because she was constantly checking on my husband, and all of the others in the room. Dee answered all of our questions professionally, and even brought a drawing of the heart into the room to help us better understand the medical issues facing my husband. Dee also made numerous calls and follow up with the physicians on our behalf. Throughout our stay, she was always positive, thoughtful and exemplary! At the time of discharge, she worked extremely hard to make sure that we were released in a timely manner. She was certainly a wonderful blessing to us and if ever a person deserved an award, it would be Dee Baldwin!"
Kate Van Bonn - poster presentation 2019 Facets of Pediatric Nursing Care Conference
Kate Van Bonn, RN (Michigan Visiting Nurses) was accepted for a poster presentation at the 2019 Facets of Pediatric Nursing Care conference on Thursday, May 16, 2019, Ann Arbor, MI. Abstract: Impact of RN Recommendation/Support for the Infant Feeding Method a New Mother Decides is Optimal for Her Family.
Kathy Miller, Angie Common, Jessica Jarvis and Adam Bunckle - poster presentation
2019 UMHS Poster Day and 2019 Facets of Pediatric Nursing Care Conference
Congratulations to the Brighton Center for Specialty Care PACU staff; Kathy Miller, MHA, BSN; Angie Common, BSN, CMS-RN; Jessica Jarvis, CCLS, CFLE and Adam Gunckle, MSN, CRNA for being accepted for a Clinical Innovation Abstract and Poster at the 2019 UMHS Poster Day and 2019 Facets of Pediatric Nursing Care Conference. The topic: Partnerships between Nursing and Child Life Specialists: More than just Fun and Games.
Lorelei Papke published Journal of Vascular Access
Lorelei Papke, RN, MSN retiring Clinical Director was the second author and collaborated with a Doctor of Pharmacology, a Clinical Pharmacist and a PhD Biostatistician both from the College of Pharmacy Adbul-Aziz University to publish the final article "The Etiology of Potassium Chloride-Induced Phlebitis: How Safe and Effective is Admixed Lidocaine?" - in the Journal of Vascular Access (JAVA) 24(1).
The paper's focus is on the use of Lidocaine and its pharmacological actions that is not very well known. This is what makes the paper unique. The conclusion is that, at the clinical level, the pain and phlebitis rates of KCl infusions may be more related to vasoconstriction than the low pH and high osmolality of the drug. The addition of lidocaine to the potassium chloride infusion appears to be safe through the anesthetic, vasodilation and anti-inflammatory effects.
Irene Knokh - Multiple accolades
Irene Knokh, Professional Development and Education's Instructional Learning staff member has been busy and received the following accolades:
12th year presenting: three presentations accepted for Enriching Scholarship 2019
3rd year as a mentor: Michigan IT (and Instructional Design-Instructional Technology), mentor
Peer Reviewer Extraordinaire 2019 (Merlot.org)
Educause Ambassador
Nursing at Michigan Influencing the World!

Michigan Medicine Nurses: Remember to Enter Your Professional Contributions
Have you recently completed a manuscript, book chapter, or presentation? Have you received a grant or award? If so, we'd like to hear about it! Please take a few minutes to tell us about your achievement by completing the survey linked below. Nursing Contribution Submissions:
https://umichumhs.qualtrics.com/SE/?SID=SV_25IgL1skzSQGUFC
This information will be used to recognize contributions made by UMHS nurses. It will be posted on the external
Nursing Cited Work website
(updated quarterly) and will also be included in the monthly
Nursing Update
newsletter, Nursing Services' annual reports, Nurse's Week activities, and shared at other appropriate venues. Thank you for your contributions!
Nursing Needs Victors - Philanthropy for Nursing at Michigan
Philanthropy provides U-M nurses with support and resources to deliver the most complete and compassionate care. It can also inspire them as they advance cutting-edge ideas to improve all areas of health care. We invite you to join our community to support and celebrate exceptional nursing.
Advancing Care, Improving Lives Brochure | Give Now ~ victors.us/nursing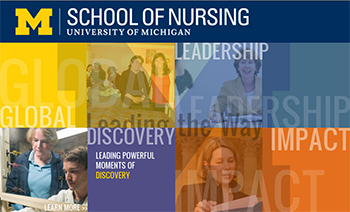 See What's New at the U-M School of Nursing
The latest information is now available on the web at: http://www.nursing.umich.edu/about-our-school/news-portal
News Archives | News Archives February 2014 and prior
Target Audience: All | Contact: Kathy Dunnuck | Last updated: 7/3/19
Quick Links
Nancy May, DNP, RN-BC, NEA-BC
Interim Chief Nurse Executive