Nursing in the News
Click arrows to read more...
Apply Now for the Nurse Practitioner Fellowship Program
in Hospice and Palliative Medicine

Application Deadline: February 1, 2018
Know Your Leaders
Jesus Cepero, PhD, RN, NEA-BC, Chief Nursing Officer for C&W and soon to be interim Chief Nurse Executive recently sat down with Headlines to discuss his role in the organization and what he loves about our community.
Click here to read his full interview.
Catherine Meldrum presented Ann Arbor, MI and Milan, Italy
Catherine Meldrum, PhD, MS, RN, CCRN (Department of Internal Medicine) gave two oral presentations:
Frailty Score and its Components Predict Quality-of-Life in Middle-Aged and Elderly Subjects with COPD. Analysis of the NETT Study. European Respiratory Society, in Milan Italy
Lung Volume Reduction Surgery for Treatment of Moderate to Severe COPD, Better Breathers Club in Ann Arbor, MI
Catherine Meldrum and Meilan King awarded grant University of Nebraska
Catherine Meldrum, PhD MS RN CCRC and Meilan King Han, MD (Internal Medicine) has received a grant: Reliability of a Portable Device to Measure Respiratory and Step Rates. University of Nebraska $22,340.00
Catherine Meldrum, Carlos Martinez, Deborah Kloska, Fernando Martinze, MeiLan Han and Janet Larson presented European Respiratory Society Conference in Milan, Italy
Catherine Meldrum, PhD, MS, RN, CCRC and her Internal Medicine colleagues, Carlos Martinez, Deborah Kloska, Fernando Martinez, MeiLan Han and Janet Larson lectured at the European Respiratory Society Conference in Milan Italy. The lecture 'Frailty and its components predict health-related quality-of-life in middle-aged and elderly COPD people and could identify areas for age-specific interventions: an analysis of the NETT study' was well received.
Nancy May selected for AONE 2018 conference podium presentation
Nancy May, DNP, RN-BC, NEA-BC (Ambulatory Care CNO) has had her abstract "Leadership Mandate: Empowerment for Nursing Leadership in Ambulatory" selected as a podium presentation at the AONE 2018 Inspiring Leaders in Indianapolis, Indiana.

Giving Blueday 11.28.17
Go Blue! Go Nursing!
For the first time ever, the Department of Nursing will be part of Giving Blueday - the university-wide day of giving! Scheduled for Tuesday, November 28, 2017, watch for messaging opportunities you can share with friends, family and professional colleagues through email and social media. Funds donated during that 24-hour period will help Michigan nurses deliver continued excellence in patient care. This support honors the commitment of our 5,000+ nurses, serving in all roles. Donations will advance nurses' education and research and support world-class nursing practices.
You can help us. Mark your calendars and help us spread the word about nursing at Michigan! More information and detailed instructions will be emailed to you in mid-November.
Visitgivingblueday.org and check out this video!
*This link is provided as a reference only and the content contained therein may not be specifically endorsed by UMHS.
Veterans Week is November 6-10, 2017
The University of Michigan, Ann Arbor is proud to offer a week of events that educate and celebrate the experiences and sacrifice of those who have served our country.
All events are free and are open to the entire university community and to the general public*. We encourage you to attend as many of these events as you can. Please see http://vets.umich.edu/vets/veteransweek/ for more information.
Amanda Fore awarded Student Research Award at Michigan Surgical Quality Collaborative Conference
Congratulations to Amanda Fore, PhD, RN, Staff Specialist, Nursing Research, Quality and Innovation for receiving the Skippy Student Research Award (for Medical/ Graduate/ Undergraduate Students) at the MAQC Conference. The Michigan Surgical Quality Collaborative (MSQC) is a collective of Michigan hospitals (72 hospitals as of 2017) dedicated to improving quality in surgical care - generating new knowledge and deploying it practically. MSQC focuses on real- world improvements in surgical outcomes.
Kathryn Hall and Ronnie Downer to present North American Cystic Fibrosis Conference
Kathryn Hall, RN and Ronnie Downer, RN from the Pediatric Pulmonary department. were accepted to present on the Transition of Care at the 2017 North American Cystic Fibrosis Conference at the Indiana Convention Center along with leading a workshop on the thematic presentation in November.
Sharon Smith, Corinne Lee, Lori DeVries, Julie Juno LaPan and Dorothy Nagle presented ANA-MNA Conference
Sharon Smith, Corinne Lee, Lori DeVries, Julie Juno LaPan, and Dorothy Nagle from Professional Development and Education presented at ANA-MNA Conference and Assembly on October 26, 2017 a session entitled "Workplace Wellness: Nurse Safety Initiatives and Michigan Health." The presentation featured our SPHM) Safe Patient Handling and Mobility) policy, program and education.
Sharon Smith featured Nurse Leader Journal
Sharon Smith, PhD, RN, Director of Professional Development and Education, was featured in Nurse Leader Journal October 2017 Issue in a column entitled "What's on Your Desk?". The article highlights our leadership development on all levels. We've come a long way in a few short years. We are excited for the future of this programming. Please click here to see the story!

Steven Strobbe Invited as Speaker Society on Alcoholism and Other Addictions (SAA) in Iceland
Dr. Stephen Strobbe, PhD, RN, Clinical Associate Professor at the University of Michigan School of Nursing, and the Department of Psychiatry. was an invited speaker at the 40th Anniversary Conference of the Society on Alcoholism and other Addictions (SAA), held in Reykjavik, Iceland, October 2-4. That following weekend, Dr. Strobbe was inducted as a Fellow of the American Academy of Nursing (FAAN) in a ceremony in Washington, DC.
Susan D. Housholder-Hughes elected American College of Cardiology Fellow
Susan D. Housholder-Hughes, RN, DNP, ACNS-BC, ANP-BC, FAHA, FACC was elected FELLOW of the American College of Cardiology. Sue will be the first cardiovascular team member to hold this esteemed designation in the State of Michigan. Only a handful of CVT members hold this designation nationally. Sue will participate in the formal induction ceremony at the ACC Scientific Sessions, March 2018, in Orlando Florida. 2018 will mark her 40th year in Cardiology and she said "I am thrilled to celebrate this milestone being awarded this designation." In 1978, Sue recruited and randomized the first patient into the Beta Blocker Heart Attack Trial. Since that time, she has served in a variety of roles in the field of Cardiovascular Nursing/Medicine and have volunteered countless hours to both the American Heart Association and American College of Cardiology serving on a variety of committees and councils. Currently, she represent nurse practitioners on the ACC Competency Committee where they are developing competencies for advanced practice nurses working in various cardiology subspecialties.
Nancy May presented American Medical Group Association (AMGA)
Dr. Nancy May presented and shared the Ambulatory Clinical Director re-structuring efforts here at Michigan Medicine during the September 14-15th Leadership Council for the American Medical Group Association (AMGA) in Indianapolis, Indiana.
Stephen Strobbe awarded $150,000 Flinn Foundation Funding
Dr. Stephen Strobbe, Clinical Associate Professor at the School of Nursing, and Department of Psychiatry, was awarded $150,000 in funding from the Flinn Foundation for a project, titled, "Interprofessional Integration of Adolescent Screening, Brief Intervention, and Referral to Treatment (SBIRT) for Substance Use on an Inpatient Mental Health and Wellness Unit," which will be conducted on the Nyman Family Unit for Child and Adolescent Mental Health and Wellness, or 8CAP, at C.S. Mott Children's Hospital.

Francene Lundy featured Medical Mission Trip to Kenya
Francene Lundy, MS, RN, NE-BC, Associate Chief Nursing Director was featured in the Michigan Medicine Headlines for her recent medical mission trip to Kenya. You can read the entire article title "Our Nurses Know: Empathy" here.
Mary Pat Mullin selected Women in Academic Medicine Scholars Program
Mary Pat Mullin, DNP, RN, FNP-BC, Chief Nurse Practitioner, Director of Advanced Practice Nursing and Interim Senior Director for Care Management, Capacity Management & CSR has been selected to join a distinguished group of faculty and administrative women in the Rudi Ansbacher Women in Academic Medicine Leadership Scholars Program. The program is an intensive 18-month program designed to push, develop, strengthen and support her as a leader.
What's New in Nurse Recruitment and Retention...
Earn Up to $3000 for Referring a Nurse





Earn up to $3000 for Referring a Nurse
Michigan Medicine invites and encourages all eligible employees to participate in our Nurse Recruitment & Retention Employee Referral Program.
We are all winners when you share the amazing opportunities of a nursing career at Michigan Medicine with your talented friends and colleagues.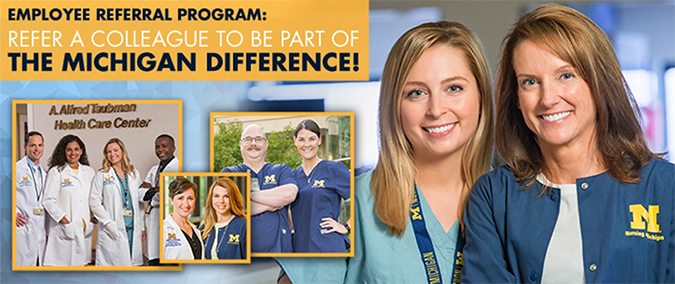 We strengthen our ability to offer world-class care; they begin a remarkable new career as a Nurse at Michigan Medicine; and you become eligible to earn great rewards through our Employee Referral Program.
Visit erp.umnursing.org for Available Opportunities, Program Rules and Guidelines. Only select positions qualify for a referral bonus.
Contact UM Nurse Recruitment and Retention with questions about Employee Referral Program.
Office: 734-936-5183 office
Toll Free: 1-877-NURSE-UMHS
Email: nurserecruit_umhs@med.umich.edu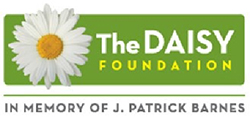 The Daisy Nurse Leader Award
Since 1999 the Daisy Foundation has embraced their mission to thank nurses for their compassionate and extraordinary care of patients through meaningful recognition with the Daisy Award. In 2014 the Daisy Foundation realized that more and more organizations wanted to recognize Nurse Leaders in a meaningful way, so a committee was formed to validate the need and establish criteria for leader recognition. The Daisy Nurse Leader Award was launched at AONE in 2015, to recognize the unique qualities inherent in nursing leaders who create the environment where extraordinary and compassionate nursing practice may flourish. At the one-year mark of the award, there have been 42 nurse leaders across the country, recognized for their compassion and courage.
The Daisy Leadership journey starts with 5 key themes; advocating by example, meaningful mentorship, leadership inspired by staff and patients, leaders as listeners, and leading and inspiring versus just "managing people". The Daisy committee agreed that all of these leadership themes were attributes of a compassionate and courageous Nurse Leader, worthy of recognition.
On November 9, 2017 the nursing community honored our own courageous and compassionate leader, Marge Calarco with the University of Michigan's first Nurse Leader Award!
Awards, by design, single out the exceptional. They acknowledge superior performance, highlight exemplary deeds, and bestow gratitude and thanks.
Dr. Margaret - Marge - Calarco is a winner, and deserving of a multitude of awards. Her leadership style has transformed- not a little word - transformed Nursing @ Michigan. Using the whole scale change process, she has worked with nurses from across this nursing community to articulate our values and generate a resonant strategic plan. She has always engaged UM nurses to impact their nursing careers. For example, Marge was instrumental in leading the changes in the following projects; the design of a clinical ladder (Framework and RSAM), the revamping of our Model of Care and also the newly constructed nursing governance model. Marge has supported the professional development of nurse leaders, advanced practice nurses and staff nurses; ALL in support of constantly improving care for patients and families, while contributing to the science of the nursing profession.
The DAISY Nurse Leader Award honors those who exemplify superior and innovative leadership performance in the core areas of management. This award is the symbol of a commitment to quality, a pledge to create a healthy work environment, and a devotion to the advance ment of the profession of Nursing.
Marge more than meets this criterion and it is with great enthusiasm and pride that we acknowledge her remarkable leadership with this award. Interestingly, it was Marge who worked with Sharman Lamka (pictured) to bring the DAISY award to our hospital. Sharman had proposed the idea because her husband had been a patient at UM and received extraordinary care by our nurses. Sharman wanted to support an award designed to honor and thank nurses for their tireless commitment to patient and families, and graciously offered to sponsor the DAISY Award at Michigan. The Daisy Award program at UM has been active since January 2007 and we have had 117 Daisy RN Honorees to date! Marge has always recognized the award as an important reminder of the power and impact of nursing on the lives that nurses are blessed to touch each and every day. It must be said that she has certainly championed the Daisy initiative here at UM, as she has faithfully attended the Daisy ceremonies and presented the award to UM nurses, at most, if not all, of the 117 ceremonies!
Some comments from nurses across the UM nursing community.
"Dr. Calarco has done amazing things here that so changed our nursing community over the past years - now I feel my ideas are heard, considered and sometimes implemented."
"Marge is a transformational leader in its truest sense. She inspires staff to commit to a mission and to bring their best selves to work every day."
"Marge is an advocate for exceptional patient care by being an unwavering advocate for nursing practice."
"Marge has significantly influenced the large U of M nursing community by using creative strategies to improve our professional model of care. She worked tirelessly over more than a decade to ensure our successful transition to our current Governance Model."
"She encourages shared decision making within the team/ organization and encourages and engages team members to grow and to lead."
"Marge views nursing as both an art and a science."
"She embodies excellence through her vision, her insight, her inspiration, and her ability."
"Dr. Calarco supports and engages frontline leaders, as well as staff nurses."
"She actively promotes the advancement of nursing science through supporting nursing research, evidence-based practice, and professional development."
"Marge 'gets it' - she understands that nurse / patient ratios matter. That's one important reason nurses like to work here and turnover is so low."
"It is remarkable that Marge is able to maintain the connection to the bedside nurse when she is the nursing leader of such a prestigious Health Care System, but when you pass her in the hall, it's just "morning Marge" like she is your coworker- because she truly is a nurse at her core!"
Marge, the sheer responsibility of leadership is daunting, but if you choose, as you have, courage over complacency, and transformational change over the status quo, you will make a difference in the lives of many. Thank you for enabling practice improvements, advocating for your fellow nurses, and championing efforts that give nurses a voice.

~ Submitted by Gayle York & Barbara Hensinger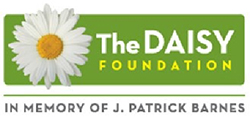 The Daisy Award
Tessa Funkhouser, NP (CVC Heart Failure Team)
Congratulations to Teressa Funkhouser, NP (CVC Heart Failure Team) for receiving the Daisy award! The DAISY Award is given through a nationally known program currently in place in over 2,700 healthcare facilities in 50 states and 15 countries. DAISY is an acronym for Diseases Attacking the Immune System and this award was established by a family whose son succumbed to a disease of the immune system. During his prolonged hospital stay, he and his family greatly benefited from care provided by superb RNs. This award was established to honor nurses who exemplify that compassionate, thorough care. Within the University of Michigan Health System, candidates for the Daisy Award are nominated by patients and/or their families. This is a wonderful honor.
Teressa was nominated by a patient's daughter. "To Whom it may concern: My dad was hospitalized for 21 days at the University of Michigan Hospital for Advanced Heart Failure. A decision was made by him and my mom to go home with hospice/home care as his options were very limited. During this very difficult transition, while making preparations for discharge, we were met with several obstacles. This became very frustrating to my dad because his wishes were to go home. Finally, a week after the first predicted discharge date he was approved by the physician for discharge. Everything was ready, he was all packed up, and hooked up to his portable IV pump that he would go home with, and we were just waiting on one thing, medication from the pharmacy. This particular medication was something he had to have to go home and NO one had it. Teressa worked diligently trying to find a pharmacy that would be able to "next day air" this medication so my father could go home. As a nurse and a family member who was trying to keep both my mom and dad from falling apart and to fulfill my dad's last wishes, I knew that Teressa didn't have to do this.

She didn't have to stay after and call multiple pharmacies to plead on behalf of my dad and the importance for him to have this medication to his house by the next day so that he could still go home. Throughout his hospital stay, when Teressa was working, she took the time to update me on the plan of care. She never made me feel rushed or like she was too busy to listen. She was always so sincere and compassionate on every interaction I had with her. She patiently answered all the questions I asked and found out the answers from the team to the questions she was unsure of. For her compassion and her extraordinary actions, I want Teressa to know that as a fellow nurse and family member, I appreciate her going above and beyond to make sure my dad could make it home that night. She knew just how important it was to him to be home and she went beyond her job duties to make sure it happened. As promised, we received this medication the next day as my dad was comfortably relaxing at home. I don't know how many more days my dad has on this earth, but we want Teressa to know she will forever be remembered for the heroic measures she did to get my father home. This doesn't happen every day and I know this first hand. We wanted to do something special for her because we never got the chance to thank her for all she did for us: her kindness and dedication, and working so hard behind the scenes was so appreciated. The medical world needs more nurses and nurse practitioners like her!!! We, the family, are forever grateful to you!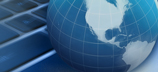 Nursing at Michigan Influencing the World!
Michigan Medicine Nurses: Remember to Enter Your
Professional Contributions
Have you recently completed a manuscript, book chapter, or presentation? Have you received a grant or award? If so, we'd like to hear about it! Please take a few minutes to tell us about your achievement by completing the survey linked below. Nursing Contribution Submissions:
https://umichumhs.qualtrics.com/SE/?SID=SV_25IgL1skzSQGUFC
This information will be used to recognize contributions made by UMHS nurses. It will be posted on the external
Nursing Cited Work website
(updated quarterly) and will also be included in Marge's Monthly Nursing Updates, Nursing Services' annual reports, Nurse's Week activities, and shared at other appropriate venues. Thank you for your contributions!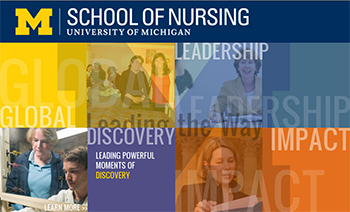 See What's New at the U-M School of Nursing
The latest information is now available on the web at: http://www.nursing.umich.edu/about-our-school/news-portal
News Archives | News Archives February 2014 and prior
Target Audience: All | Contact: Kathy Dunnuck, BFA, BSN, RN | Last updated: 12/6/17
Quick Links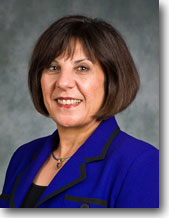 Margaret Calarco, PhD, RN
Chief Nurse Executive
Welcome to
Nursing at Michigan
Nursing at Michigan represents an extraordinary professional nursing community of over 4500 nurses in a multitude of practice and advanced practice roles. Together with our patient and family partners and inter-professional colleagues we have co-created a strong and vibrant professional practice model which supports our promise to society... "To create a shared vision and powerful voice which advances the art and science of Nursing and revolutionizes leadership, education and research, and transforms patient care."
Ever focusing on our "true
north" "to provide the finest
care to those who choose
to place their lives in our
hands," nurses at Michigan
strive to provide exquisite,
evidence-based care in a
compassionate and innovative
practice environment.
We are tremendously proud
of the care we provide to
the thousands of patients
and families we serve in the
State, across the country
and around the world.
We invite you to join our community in celebrating exceptional nursing care.