Click arrows to read more...
Denise O'Brien and Theresa Clifford editors for ASPAN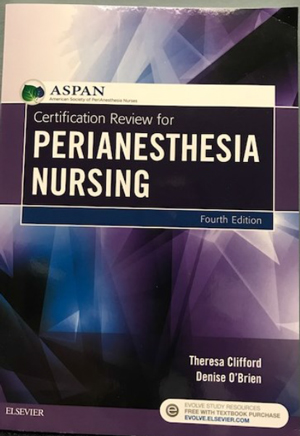 Congratulations to Denise O'Brien, DNP, RN, ACNS-BC, CPAN, CAPA, FAAN and Theresa Clifford, MSN, RN, CPAN, CAPA for editing the 4th Edition of ASPANs (American Society of PeriAnesthesia Nurses) Certification Review for PeriAnesthesia Nursing. ASPAN is the leading organization for perianesthesia nursing education, research and practice standards. This review has more than 650 multiple-choice review questions including case study and clinical application questions, answers, detailed rationales, and references.
Dr. Nancy May appointed by ANCC
to Commission on Magnet Recognition Program

Dr. Nancy May, DNP, RN, NEA-BC has been appointed by the American Nurses Credentialing Center (ANCC) to the Commission on Magnet Recognition Program (COM), representing ambulatory care. This is the national decision-making body for Magnet recognition and demonstrates Nancy's strong reputation as a national leader for nursing practice and the profession.
Posters... Research, Quality Improvement, and Informational
The Research and Evidence Based Practice Council is ready to receive abstracts from nurses and nursing students who wish to present a poster at the ANA-Michigan conference October 26-27, 2017. The conference will be held at the Inn at St Johns in Plymouth, Michigan.
The deadline for submission is Tuesday, August 1, 2017. The online submission form can be found at www.ana-michigan.org
Posters are open to nursing professionals and students. The following types can be submitted:
Research - completed or in progress.
Quality Improvement - pilot projects, clinical innovation, and change projects
Prize money will be awarded to the top poster in research and top poster in quality improvement!
Each poster presenter must register for the conference and be available for discussion on October 26-27, 2017. Posters must be displayed on a trifold, free-standing poster board no larger then 3'X4'.
All applications need to be submitted electronically by visiting www.ana-michigan.org and the deadline to submit is Tuesday, August 1, 2017. Notification of poster acceptance will take place by September 8, 2017. If you have questions regarding poster abstracts or interested in doing an informational type poster contact the ANA-Michigan office at 517-325-5306 or nurse@ana-michigan.org
Children's Emergency Service awarded Lantern Award from Emergency Nurses' Association
Congratulations to our Children's Emergency Service who received the Lantern Award from the Emergency Nurses' Association for the second time in a row! The Lantern Award is a recognition award given to emergency departments that exemplify exceptional practice and innovative performance in the core areas of leadership, practice, education, advocacy and research. The award is a visible symbol of an emergency department's commitment to quality, presence of a healthy work environment, and accomplishment in incorporating evidence-based practice and innovation into emergency care. Similar to the ANCC Magnet recognition, the Lantern application is driven by nursing, but reflects the participation of a disciplines along with our patients and families. Our thanks to everyone who worked so hard to accomplish this and our thanks for the tremendous care you provide to our patients and families every day!
Marge Calarco interviewed, School of Nursing magazine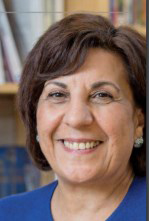 The School of Nursing magazine "Nursing Matters" published an interview with Dr. Marge Calarco, Chief Nurse Executive, on the current state and future of the nursing profession in the United States. You can find that article here.
Carol George presented WAEH conference in China
Carol George, Nurse Manager KEC OR/PACU, presented at the World Association of Eye Hospitals (WAEH) annual conference in Tianjin, China in June.
The Department of Ophthalmology is a member of WAEH and will host the international conference in 2018. The WAEH began 11 years ago as a global association of eye hospitals focusing on delivery of safe, quality care to the ophthalmic patients. The attendees were CEO's, COO's, CFO's, Nurses, Administrators, along with surgeon representation. An interesting feature of this years' conference was a much heavier focus on systems and processes and somewhat less attention to scientific medical research. Carol's presentation- "Kellogg Eye Center's Preoperative Clinic- Who is Preparing the Patient for Surgery?" discussed continual improvement and refinement of this care process by using the framework of P-D-C-A.
This year the conference added round table discussions and a Nursing session. Nurses from Great Britain, Sweden, Singapore, Shanghai and Tianjin presented the following topics: Patient Education Tools (apps, patient portals, DVD); Creating Ophthalmic Nurse Orientation programs; Hand Hygiene; Low Vision Support Groups and Chinese Alternative Treatments. In addition to attending the conference, Carol was able to tour the Eye and Ear Hospital of Fudan University in Shanghai. When the WAEH group arrived, Carol was swept away by the Fudan OR nurses, changed into scrubs and brought to the operating rooms. As they walked her through the unit, they shared challenges and successes in providing care to the large patient population.
At the end of this conference, Carol remarked, "There is a bond in nursing that transcends all borders. What a powerful and enriching experience!"
Stacy Haverstick, Cara Goodrich, Regi Freeman, Shandra James,
Rajkiran Kullar, Melissa Ahrens published CCN
Stacy Haverstick, RN, BSN, PCCN, Cara Goodrich, MS, AGPCNP-BC, Regi Freeman, RN, MSN, ACNS-BC, Shandra James, RN, DNP, Rajkiran Kullar, MPH, CIC and Melissa Ahrens, MPH, CIC had their article, "Patient's Hand Washing and Reducing Hospital-Acquired Infection" published in the June issue of the Critical Care Nurse journal.
Fadi Islim featured School of Nursing article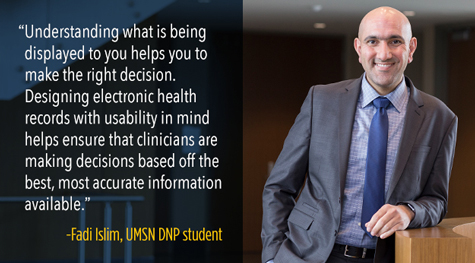 Fadi Islim, Clinical Nursing Informatics analyst and current DNP student, was highlighted in the UM School of Nursing's "Student Spotlight". Click here to read more.
Megan Louma and Winnie Wood present poster Annual Academy of Medical-Surgical Nurses Convention
Megan Luoma, BSN, RN and Winnie Wood, BS, RN (6B) have had their abstract "Come to Mardi Gras! An Innovative Educational Event" selected for poster presentation at the Annual Academy of Medical-Surgical Nurses Convention in Palm Springs, California.
Mary Lynn Parker and Alexandra Koumoutsopoulos presented
Athens Institute for Education and Research in Athens, Greece
Mary Lynn Parker, MS, RN, Clinical Nurse Specialist for the Adult Acute Pain Service and Alexandra Koumoutsopoulos, MHSA, RN, Pain Management Coordinator for the Office of Clinical Affairs recently presented "Improving Orthopedic Patient Outcomes Through Implementation of a Multi-modal Pain Protocol" at the 3rd International Conference sponsored by the Athens Institute for Education and Research in Athens, Greece.
Stephen Strobbe presented ICN conference
Dr. Stephen Strobbe, PhD, RN ,Clinical Associate Professor at the University of Michigan School of Nursing, and colleagues from the International Nurses Society on Addictions (IntNSA), presented an integrated symposium on addictions nursing at the International Council of Nurses (ICN) Congress in Barcelona, Spain (May 27-June 1), addressing alcohol, tobacco, and other drug use as a global health risk, across all health care settings and nursing specialties.
Dr. Strobbe is also lead author on a joint position statement, "Substance Use Among Nurses and Nursing Students," issued by the Emergency Nurses Association (ENA), and the International Nurses Society on Addictions (IntNSA). This positon statement - which has been endorsed by the American Nurses Association (ANA), and the American Association of Nurse Anesthetists (AANA) - seeks to improve patient safety by applying an alternative-to-discipline (ATD) approach to nurses with substance use and related disorders, through prevention, retention, treatment, and recovery, rather than dismissal and prosecution. The document was dually published in the most recent issues of the Journal of Emergency Nursing, 43(3), 259-263, and the Journal of Addictions Nursing, 28(2), 104-106.
As President of IntNSA, Dr. Strobbe provided an update at the ANA Organizational Affiliates meeting in Washington DC (June 8), and attended the Membership Assembly (June 9-10), where the statement was recognized.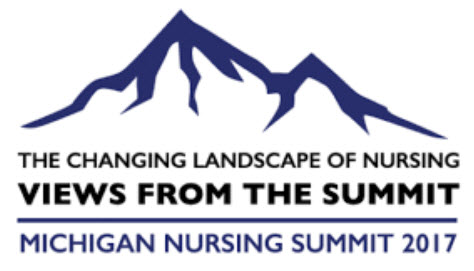 Michigan Nursing Summit 2017
Call for Abstracts
October 11-13
Crystal Mountain
Thompsonville, MI
Accepted poster authors will receive a 50% discount off the regular registration price to attend the conference.
Summit Information and Registration Click Here
CALL FOR ABSTRACTS:
The Michigan Center for Nursing welcomes abstracts for poster presentations related to the Summit agenda or on the following topics: leadership/mentoring/collaboration/public-population health/health equity/ health inequity/social justice/diversity/ inclusivity/client centered care/ nursing education/nursing practice/interprofessional education.
Abstracts of completed/in progress Research studies, Quality Improvement (QI) projects, or Evidence Based Practice Projects (EBP) on the topics listed above may be submitted.

What's New in Nurse Recruitment and Retention...
Employee Referral Progam
Celebrating Nurses Week 2017
Employee Referral Program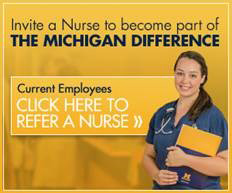 Designed to strengthen our ability to offer world-class care, the Employee Referral Program (ERP) encourages you to share the amazing opportunities of a nursing career at Michigan Medicine.
The program rewards any qualified Michigan Medicine employee recommending stellar candidates for an award-eligible position, should that candidate accept the position and remain in it for a predetermined time.
We believe our nurses are our best recruiters and, because of people like you, The Michigan Difference grows stronger each day.
Earn a cash bonus of up to $3,000*!
Refer a talented non-UMHS employee to an eligible nursing position listed on the ERP website. Referrals must be submitted prior to candidate application.
See applicable Rules and Guidelines here.
*ERPbonuseswillvary with each award-eligible position, please visit erp.umnursing.org for full program details.
---
Celebrating Nurses Week 2017!
Michigan Medicine Nurses Week 2017 has had a tremendous response thus far. Registration is still open for a variety of opportunities to expand your knowledge base. Remaining opportunities still open include:
Critical Care Registered Nurse (CCRN) Certification Review
August 1-2, 2017; 7:30am to 5pm; Kensington Hotel - limited seats available
Progressive Care Certified Nurse (PCCN) Certification Review Course
August 2-3, 2017; 7:30am to 5pm; Kensington Hotel - limited seats available
Legal Aspects of Nursing Documentation
September 8, 2017; 7:30am to 4:00pm; Holiday Inn - limited seats available
Register today at www.UMnursing.org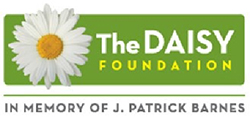 The Daisy Award
Jonathan Friedman (4A) and Tammy Deyarmond (12E)
Jonathan Friedman
Congratulations to Jonathan Friedman (4A) for receiving the Daisy award! The DAISY Award is given through a nationally known program currently in place in over 2,124 healthcare facilities. DAISY is an acronym for Diseases Attacking the Immune System and this award was established by a family whose son succumbed to a disease of the immune system. During his prolonged hospital stay, he and his family greatly benefited from care provided by superb RNs. This award was established to honor nurses who exemplify that compassionate, thorough care. Within the University of Michigan Health System, candidates for the Daisy Award are nominated by patients and/or their families. This is a wonderful honor. Jonathan has received 2 Daisy nominations in 2017. Here are the 2 nomination letters, written by the wives of two stroke patients:
"My husband was admitted with a stroke, and immediately Jonathan put us both at ease. He was always concerned with my husband's needs while in his care. Jonathan explained everything thoroughly, to where we felt comfortable going home and dealing with this diagnosis on our own. Anything my husband needed, he addressed promptly. He is very knowledgeable and I feel that he truly cares about his patients' well-being. He made sure that we left the hospital with all of the education that we needed to go home safely, and that we were aware of the follow up appointments. We came into the hospital feeling devastated, but with Jonathan's assistance, we left confident that we could handle this diagnosis!"
2nd letter:
"Jonathan is very deserving of this Daisy Award. My husband suffered a 2nd stroke that brought us back to UM. Having the 2nd stroke made my husband feel very emotional at times. On one particular morning, my husband had been feeling down and mentioned that it would have been better if he had passed away. My words of comfort were not enough, and I really didn't want my husband to feel like this, so I mentioned my concern to Jon. He assured me that he would talk to my husband during his assessment. The assessment took longer than usual that day, but when I returned to the room my husband's morale and attitude was changed! Thank you Jon for your comments to him and for your commitment to exemplar service!"
Tammy Deyarmond
Also receiving the Daisy Award this month is Tammy Deyarmond, RN (12E). Congratulations Tammy! Tammy is a multiple Daisy nominee, and was recently nominated by another grateful family.
Here is their story:
"Tammy on 12E is what I consider a "super nurse". In September our family was blessed with our 3rd child. Our daughter, ended up being diagnosed with a congenital heart defect, Total Anomalous Pulmonary Venous Return (TAVPR), resulting in her body not receiving enough oxygen. It was a whirlwind of surgical emergencies, doctor's appointments, and for us, a ton of learning, crying, being thankful and praying. She recovered very well and we were able to take her home, but two weeks later she was admitted to a local hospital for an infection in the intestines caused by another congenital defect. It was then that we were referred to the University of Michigan, Mott Children's Hospital for a liver biopsy. At this critical time, as you can imagine, our family was very devastated and it was also the time when we needed to learn about this diagnosis and procedure. Obviously the answers didn't seem to come to us fast enough, but Tammy listened to our long-winded concerns over small and arbitrary things, to the largest, most important things like surgery and outcomes. We needed help understanding and also with finding study resources. She was, from my perspective, able to perform at a level which most nurses never achieve. It was clear Tammy had connections and relationships within the hospital, and was able to get all of our concerns and questions addressed with compassion, despite our rambling conversations.

One specific example of how Tammy is such an effective nurse, not only from the patient care perspective, but from a family care perspective, is how she handled my emotional breakdown and craziness of not wanting to leave my daughter's side. She organized for my daughter and I to have a walk together through the hospital with a stroller, which was very therapeutic for me and also allowed me to start changing my prospective. It also allowed me to be a better proactive participant in my daughter's care plan. I think that it was so important that Tammy recognized where I was at, and knew exactly what I needed! During our time under Tammy's care, our daughter was able to benefit from a feeding plan before surgery, properly coordinated surgical logistics, and in all of this, assist us with a better understanding of what to expect and how to connect with the proper people. During this entire ordeal, we had many interactions with nurses, doctors, attendants, etc, and Tammy stood out among the crowd of employees. She is a great example of a nurse being the gateway; impacting the patient and family hospital experience, and ensuring the patient received the best care from all involved. Although we still have a long journey in front of us, including surgery, and a possible liver transplantation, Tammy has built a trust in me which will no doubt raise my opinion and trust in the nurses I will encounter in the future. This trust raises my outlook for our daughter and her outcomes, while she is in the hands of "super nurses" like Tammy!"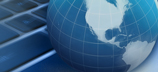 Nursing at Michigan Influencing the World!
Michigan Medicine Nurses: Remember to Enter Your
Professional Contributions
Have you recently completed a manuscript, book chapter, or presentation? Have you received a grant or award? If so, we'd like to hear about it! Please take a few minutes to tell us about your achievement by completing the survey linked below. Nursing Contribution Submissions:
https://umichumhs.qualtrics.com/SE/?SID=SV_25IgL1skzSQGUFC
This information will be used to recognize contributions made by UMHS nurses. It will be posted on the external
Nursing Cited Work website
(updated quarterly) and will also be included in Marge's Monthly Nursing Updates, Nursing Services' annual reports, Nurse's Week activities, and shared at other appropriate venues. Thank you for your contributions!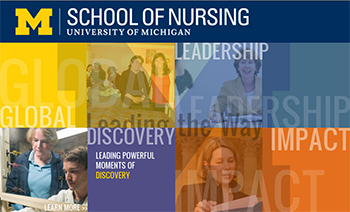 See What's New at the U-M School of Nursing
The latest information is now available on the web at: http://www.nursing.umich.edu/about-our-school/news-portal
News Archives | News Archives February 2014 and prior
Target Audience: All | Contact: Kathy Dunnuck, BFA, BSN, RN | Last updated0: 8/4/17
Quick Links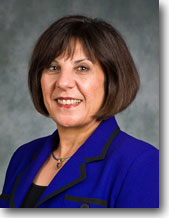 Margaret Calarco, PhD, RN
Chief Nurse Executive
Welcome to
Nursing at Michigan
Nursing at Michigan represents an extraordinary professional nursing community of over 4500 nurses in a multitude of practice and advanced practice roles. Together with our patient and family partners and inter-professional colleagues we have co-created a strong and vibrant professional practice model which supports our promise to society... "To create a shared vision and powerful voice which advances the art and science of Nursing and revolutionizes leadership, education and research, and transforms patient care."
Ever focusing on our "true
north" "to provide the finest
care to those who choose
to place their lives in our
hands," nurses at Michigan
strive to provide exquisite,
evidence-based care in a
compassionate and innovative
practice environment.
We are tremendously proud
of the care we provide to
the thousands of patients
and families we serve in the
State, across the country
and around the world.
We invite you to join our community in celebrating exceptional nursing care.