Nursing at Michigan in the News
Click arrows to read more...
Michigan Medicine Celebrating Nursing Magnet Honor
Congratulations to the Michigan Medicine community, including the entire nursing staff for earning Magnet recognition, the highest honor in nursing.

What's New in Nurse Recruitment and Retention...
Nursing Spring Career Fair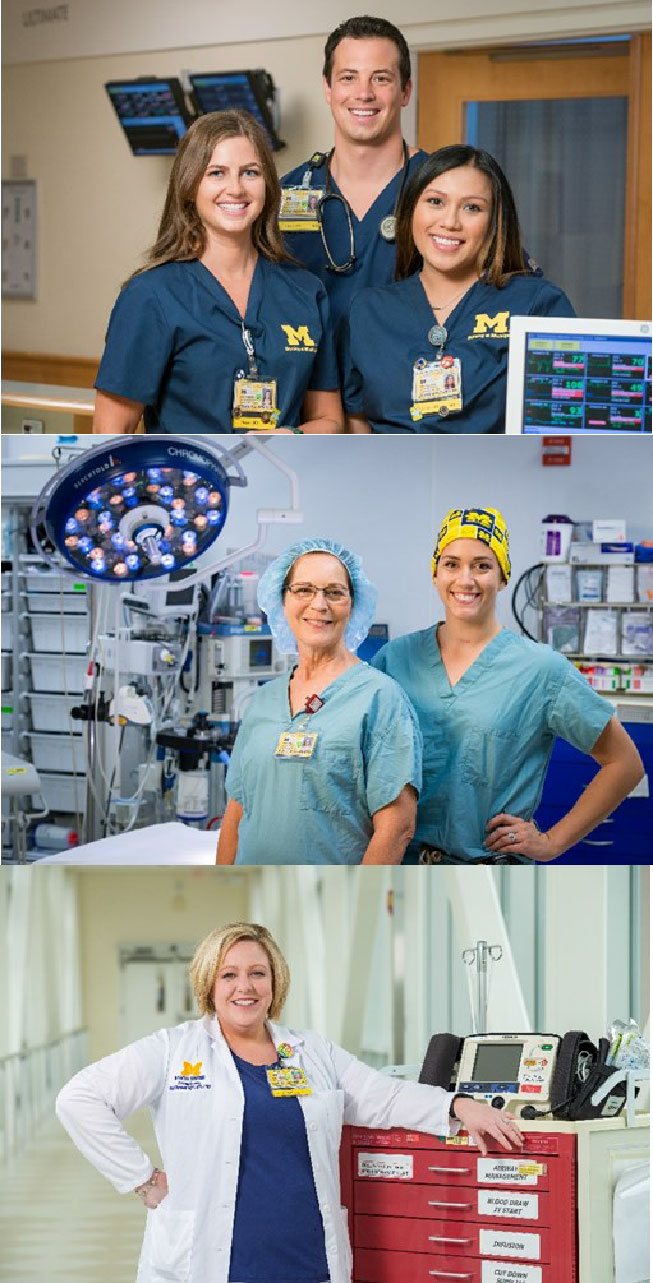 Nurse Recruitment and Retention hosted the 2017 Michigan Medicine Spring Career Fair on Sunday, March 19th at Kensington Hotel in Ann Arbor. We welcomed experienced, new graduate, and advanced practice nurses to take part in this event to seek out career opportunities and to see first-hand what it means to be a part of The Michigan Difference.
Record Attendance!
230 Graduate Nurse Attendees
90 Experienced RN Attendees
39 Nurse Practitioner Attendees
Return on Investment!
We have hired 117 of the 289 nurses that attended the past Fall 2016 Career Fair
Thank you to the Michigan Medicine Hiring Teams that were represented at this Spring's Career Fair.
Judy Coucouvanis presents International Society of Psychiatric Mental Health Nursing
Judy Coucouvanis, MA, RN, NP, PMHCNS- BC (Department of Psychiatry) presented a paper at the International Society of Psychiatric Mental Health Nursing conference in Baltimore. "Understanding Self Injury in Persons with Autism Spectrum Disorder".
Aimee Goss published AACN Procedure Manual
Great work Aimee Goss, RN, BSN, CCRN (CICU) who reviewed serval chapters and is credited in the recently published 2017 AACN Procedure Manual for High Acuity, Progressive and Critical Care.
Denise O'Brien and Sharon Dickinson published Advanced Critical Care Nursing
Denise O'Brien, DNP, RN, ACNS-BC and Sharon Dickinson, MSN, RN, CNS-BC, ANP, CCRN published a chapter in Advanced Critical Care Nursing. Chapter 33: Caring for the Patient in the Immediate Postoperative Period. Good, V.S. & Kirkwood, P.L., editors. Advanced Critical Care Nursing, 2nd Edition. St. Louis: Elsevier: Saunders.
Sharon Dickinson published AACN Procedure Manual
Sharon Dickinson MSN, RN, CNS-BC, ANP,CCRN published a chapter in the AACN procedure manual with two colleagues K Vollman and Jan Powers. Chapter 19: Pronation Therapy. AACN Procedure Manual for High Acuity, Progressive, and Critical Care, 7th Edition. St. Louis: Elsevier.
Debra Kovacevich awarded External Research Award
Debra Kovacevich, MSN, RN received an external research award on Evaluation of the Home Health Agency Value-Based Purchasing Model. Debra will receive her award from President Mark S. Schlissel at the Celebrate Research event, on May 4th at the Michigan League.
Nancy May appointed JCAHO Nurse Advisory Board
Nancy May, DNP, RN-BC, NEA-BC was appointed to the Joint Commission Nurse Advisory Board as an ambulatory content expert. The appointment is for three years and begins June of 2017.
Corinne Lee and Julie Juno-LaPan presented AONE Conference
Congratulations to
Corinne Lee, DNP, RN, ACNS-BC
and
Julie Juno-LaPan, MS, RN, CNML
for presenting their poster,
Succession Planning: Growing Highly Effective Nurse Managers, Internally
at the March AONE Conference in Baltimore.
SICU Nurses presented EBP Conference
Congratulations to the following SICU staff presented at the Evidence-Based Practice conference: Championing a culture of safety for our patients, our practice and our selves on March 10th. Magnet strategies: How to engage front line nurses in Evidence-Based practice in a clinical setting.
Sharon Dickinson, MSN, RN, CNS-BC, ANP, CCRN
Connie Rickelmann, BSN, RN, CCRN
Tiffany Watts, ADN, RN
Kelli Marino, ADN, RN
Cari Cosica, BSN, RN
Melissa Miller, BSN, RN
Candace Westfall, BSN, RN
SICU Nurses presented Leaping Forward Stitching Evidence into Practice Conference
The following nurses spoke at the SICU Leaping Forward Stitching Evidence into Practice. There were 133 people registered for this annual conference.
Role of Procalcitonin in the Management of the Critically ill Patient

(SICU) -

Candace Westfall, BSN, RN

(SICU) -

Kevin Lim, BSN, RN

Etiology and Therapeutic Approach to an Elevated Lactate

(SICU) -

Courtney Gaskin, BSN, RN

Prone Positioning

(SICU) -

Sharon Dickinson, MSN, RN, ANP, CNS, CCRN

(SICU) -

Craig Sadler, RN

(SICU) -

Melissa M. Miller, BSN, RN

Care of the High Risk Obstetric Patient in the ICU

(Womens) -

Megan Bollinger, MSN, RN

How the new SCCM's A-F Bundle is Impacting Care throughout the Country

Pauline Park, MD, FACS
(SICU) -

Connie Rickelmann, BSN, RN, CCRN

Mechanical Circulatory Support in Cardiac Failure

(CVC4) -

Regi Freeman, MSN, RN, ACNS-BC
Professional Development & Education recognized Employee Engagement
Congratulations to Professional Development and Education
for being recognized for "Recognition Done Right: Best Practices at Michigan Medicine". As part of National Recognition Month, Headlines recognized three departments who have improved their employee engagement survey scores. You can read the article
here
.
Dave Dempsey published Journal of Infusion Nursing survey tool
Dave Dempsey, MSN, RN, VA-BC, ACNS-BC who works in the Ambulatory Diagnostic Treatment Units. In the Jan/ Feb issue of Journal of Infusion Nursing, article " Vascular Access Specialist Training, Experience, and Practice in the US" one of the Access RN's in the Ambulatory Diagnostic Treatment Unit (ADTU) in the Taubman Center, Dave was acknowledged for his active participation in developing and testing the survey tool used in this recently published study.
Michelle Fernamberg joins technical expert panel AAACN/CALNOC
Michelle Fernamberg, MHA, RN is participating on an Ambulatory Endorsed Measures Technical Expert Panel with AAACN and CALNOC to help define and test pilot nurse sensitive indicators with other ambulatory care nursing leaders across the country.
Nancy May presents Case Management Society of America
Nancy May, DNP, RN-BC, NEA-BC recently did a podium presented at the Case Management Society of America conference in Tuscaloosa, Alabama on the Implementation of the LACE Index Tool on February 9, 2017.
Debby Roisen awarded AAACN Scholarship
Debby Roisen, MSN, RN (Educational Nurse Coordinator, Ambulatory Care Educational Services) for being selected as the recipient of the American Academy of Ambulatory Care Nursing, Candia Laughlin Certification Award. This scholarship is awarded annually to one member AAACN to cover the exam fee, study materials, and other expenses related to achieving certification.
Dr. Stephen Strobbe inducted FIAAN Fellow
Dr. Stephen Strobbe, PhD, RN Clinical Associate Professor at the School of Nursing, and the Department of Psychiatry, was inducted as a Fellow of the International Academy of Addictions Nursing (FIAAN). That same month, he assumed the Presidency of the International Nurses Society on Addictions (IntNSA), to serve a two-year term. Most recently, Dr. Strobbe was selected as a Fulbright U.S. Scholar to Brazil (2017-2018), receiving a Teaching/Research Award. There, he and his colleagues will focus on a project related to Adolescent Screening, Brief Intervention, and Referral to Treatment (SBIRT) for substance use, in collaboration with the University of São Paulo (USP) in Ribeirão Preto.
Jan Doolittle, Lorelei Papke, Jan Pugh and Deb Schmidtke selected to present AAACN Conference
Four Michigan Medicine ambulatory nurses who were accepted to present at the annual AAACN Conference in New Orleans, Louisiana in May of 2017. Deb Schmidtke, RN and Jan Pugh, RN will be presenting their poster on the role of the care coordinator and outcomes related to decreasing readmission rates in Primary Care. Lorelei Papke, MSN, RN will be doing a podium presentation on the Ambulatory Diagnostic Treatment Unit and its impact on cost avoidance with Emergency Room and visits. Jan Doolittle, MSN, RN will be presenting a poster on care coordinators in surgical specialty care.
Val Spotts authors AACN Procedural Manual chapters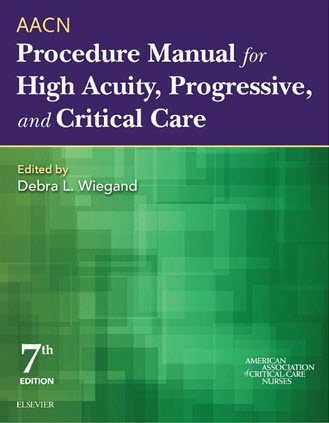 Val Spotts, RN (7C Educational Nurse Coordinator) authored chapters 48, 49 and 51 in the 7th edition of the AACN Procedure Manual. You can purchase the book here.
Michelle Churches published ASORN journal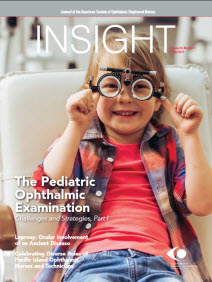 Michelle Churches, RN (Kellogg Eye Center) was published in the ASORN (American Society of Ophthalmic Nurses journal January 2017. You can find the journal here.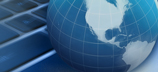 Nursing at Michigan Influencing the World!
Michigan Medicine Nurses: Remember to Enter Your
Professional Contributions
Have you recently completed a manuscript, book chapter, or presentation? Have you received a grant or award? If so, we'd like to hear about it! Please take a few minutes to tell us about your achievement by completing the survey linked below. Nursing Contribution Submissions:
https://umichumhs.qualtrics.com/SE/?SID=SV_25IgL1skzSQGUFC
This information will be used to recognize contributions made by UMHS nurses. It will be posted on the external
Nursing Cited Work website
(updated quarterly) and will also be included in Marge's Monthly Nursing Updates, Nursing Services' annual reports, Nurse's Week activities, and shared at other appropriate venues. Thank you for your contributions!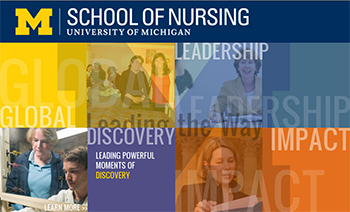 See What's New at the U-M School of Nursing
The latest information is now available on the web at: http://www.nursing.umich.edu/about-our-school/news-portal
News Archives | News Archives February 2014 and prior
Target Audience: All | Contact: Kathy Dunnuck, BFA, BSN, RN | Date of last review: 4/18/17
Quick Links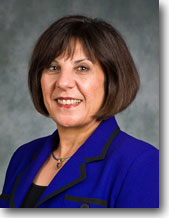 Margaret Calarco, PhD, RN
Chief of Nursing Services
Welcome to
Nursing at Michigan
Nursing at Michigan represents an extraordinary professional nursing community of over 4500 nurses in a multitude of practice and advanced practice roles. Together with our patient and family partners and inter-professional colleagues we have co-created a strong and vibrant professional practice model which supports our promise to society... "To create a shared vision and powerful voice which advances the art and science of Nursing and revolutionizes leadership, education and research, and transforms patient care."
Ever focusing on our "true
north" "to provide the finest
care to those who choose
to place their lives in our
hands," nurses at Michigan
strive to provide exquisite,
evidence-based care in a
compassionate and innovative
practice environment.
We are tremendously proud
of the care we provide to
the thousands of patients
and families we serve in the
State, across the country
and around the world.
We invite you to join our community in celebrating exceptional nursing care.