Nursing at Michigan in the News
Click arrows to read more news and current events...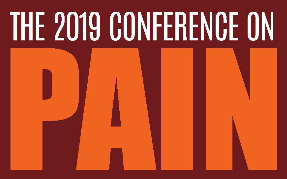 The 2019 Conference on Pain
For all healthcare professionals who work with patients experiencing pain
Wednesday 2/13/19
7:30am-4:30pm
Burton Manor
27777 Schoolcraft Rd.
Livonia, MI 48150
The 2019 Conference on Pain
The opioid crisis affects everyone! The epidemic of opioid and prescription drug overuse and abuse is commanding national attention and is a top priority of the U.S. Department of Health and Human Services. While drug abuse is recognized as a serious public health problem, there is a pressing need to improve the treatment of pain. Many healthcare professionals have identified pain management as a complex challenge - and one that requires a holistic patient care approach involving a variety of strategies and services to address.
At the 2019 Conference on Pain, healthcare professionals will identify a variety of strategies to manage pain for individuals in the community amidst the current opioid crisis. Leading experts will present current evidence-based findings and strategies to address the needs of patients from an interprofessional perspective. Legislative updates, treatment guidelines and regulatory oversight will be explained so professionals can learn how to obtain pain relieving products that patients need. Multiple alternatives for managing pain when opioids are not the answer will be provided. A focus on successful strategies for patient advocacy will be offered.
Who Should Attend
This program is important for all healthcare professionals who work with patients experiencing pain. Registered nurses, advanced practice nurses, social workers, pharmacists, physicians, therapists, educators, administrators and students are encour-aged to attend. We encourage healthcare teams to attend together.
For More Information/Registration
For more Information and to register go to: https://leadersandbestevents.cvent.com/Pain2019
Chelsea Harding accepted for presentation at AS-BMT and CIBMTR
Chelsea Harding, ENC (7W) had her poster Adult BMT Unit Significantly Prevents CLABSI accepted for presentation at The Transplantation & Cellular Therapy Meetings of AS-BMT and CIBMTR.
Irene Knokh multiple professional accomplishments
Irene Knokh, M.Ed, MA, Instructional Learning Sr. in Professional Development and Education is keeping up with her profession and sharing with nursing.
Accepted: Designers for Learning Evaluation Sprint: Evaluating Open Educational Resources
Accepted: STAR Symposium (Scholarship, Teaching, Academics, Recognition): Quality Matters
Co-Presented with Dr. Jane Moore, Director of MERLOT Editorial and Professional Development Services; Editor, Teacher Education. Take a Sip of MERLOT and Save Your Students Money to Web Accessibility Group on campus.
Presenter August 2018: Universal Design For Learning. Developed and curated (ongoing), a document with ready Universal Design for Learning and Accessibility resources. Colleagues from other universities requested access.
Dr. Nancy May, Ambulatory Chief Nursing Officer selected to AONE Board of Directors
Dr. Nancy May, Ambulatory Chief Nursing Officer was selected through an application process to the American Or-ganization of Nurse Executives (AONE) Board of Directors. The appointment began December 2018 and runs through 2020. Nancy May was selected for her expertise in Ambulatory Care nursing leadership and will be working on projects to improve care transitions from acute care to both ambulatory and post-acute care settings.
Announcing... Two New Framework/RSAM Levels Added!
Nurses at Michigan provide compassionate, knowledgeable care to patients and families AND contribute to their practice environment in significant ways! Now may be the time for you to get started in the Professional Development Framework or Role Specific Advancement Model (RSAM) and advance in your practice setting! The decision to apply for advancement is yours to make!
What's New
We are excited to announce 2 new levels in the Framework/RSAM Advancement Model with our new contract:
Level F
For Framework nurses with a Master's Degree
Mastery +
For RSAM nurses with a Master's Degree
Please watch the website for details in January!
Resources
We encourage you to take advantage of one or more of the following resources available to you:
Framework website
Describes in detail what you need to know to apply for advancement to Level D, E and soon F in Framework.
RSAM website
Describes in detail what you need to know to apply for advancement to Expert, Mastery and soon Mastery + in RSAM roles (ENC, Clinical Care Coordinator, Flight Nurse Specialist, and RN Case Manager).
1:1 Meeting with Framework/RSAM Coach, Joanne Hazelton
Joanne can work with you wherever you are in your preparation, from "just thinking about it" to working on specific portfolio elements, to interview preparation. Make an appointment with Joanne at: Nurse-ProfDevFramework@med.umich.edu
Unit based sessions
Joanne and Mary Anne Brancheau are available to come to your work setting to present "Getting Started with Framework/RSAM", "Exemplar Writing" or any Framework/RSAM topic of your choice. Please contact Joanne Hazelton or Mary Anne Brancheau to make arrangements.
Sue Hughes awarded ACC Distinguished Service Award
Sue Hughes, Nurse Practitioner in the Cardiovascular department received the "Distinguished Service Award" at the ACC conference in October. This was presented to her by Dr. Akshay Khandelwal, MD, Michigan Chapter ACC President.
Catherine Meldrum presented Pulmonary and Critical Care Medicine Update
Catherine Meldrum, PhD, MS, RN, CCRC presented Advanced Therapies for Severe COPD at University of Michigan Pulmonary and Critical Care Medicine Update in Plymouth, MI in October.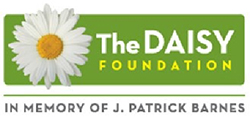 The Daisy Award
Michelle Reyes, RN (UH 4B)
Ting Yip, RN (PICU)
DAISY Award is given through a nationally known program currently in place in over 3,300 healthcare facilities in 50 states and 19 countries. DAISY is an acronym for Diseases Attacking the Immune System and this award was established by a family whose son succumbed to a disease of the immune system. During his prolonged hospital stay, he and his family greatly benefited from care provided by superb RNs. This award was established to honor nurses who exemplify that compassionate, thorough care. Within the University of Michigan Health System, candidates for the Daisy Award are nominated by patients and/or their families. This is a wonderful honor.
Congratulations to Michelle Reyes, RN, (UH 4B) for receiving the Daisy award for November! This nomination came from a grateful family member.
"Michelle cared for my family member, fresh out of surgery, and his roommate on the night shift. I am a RN of 42 years and was truly impressed with the quality of care given to my family member while in her care. Michelle's standards of care are high and her dedication to her patients is evident in everything she does. She is a true patient advocate. Even when my family member's roommate was very upset, Michelle demonstrated professional and honest care with him. She used all of her resources and acted in his best interest. In my eyes she deserves the purple heart, but certainly a Daisy Award will do! With all of her skills, she truly turned a bad night around for his roommate, all the while caring for my loved one. The world needs more nurses like you! Thank you for all you do!"
Congratulations to Ting Yip, RN (PICU) for receiving the Daisy award for December! It should be noted that Ting has multiple Daisy nominations! This nomination came from a grateful parent.
"My 12-month old daughter underwent surgery in May to remove a choroid plexus tumor. The diagnosis was heartbreaking for our family, especially co-sidering she was born with an arachnoid cyst which required placement of a ventriculoperitoneal (VP) shunt at only 5 days of age. Fortunately, the recent surgery was successful and she is recovering well in the pediatric ICU.

We received exceptional medical care from all healthcare team members here at C.S. Mott Children's Hospital in Ann Arbor, MI - but we wanted to recognize one particular nurse who provided the utmost patient-centric and compassionate care that any family could ask for. She went above and beyond and deserves to be recognized for her efforts.

We arrived to the PICU in the evening and Ting was our first nurse on the day shift. She said that she usually works nights but due to jury duty she was stacking her shifts on days before a short break and going back to nights on the coming weekend. How lucky were we to have her for both night and day shifts during our stay!

Each day that we had Ting she was amazing and wonderfully helpful. The first couple days (patient) was struggling to breathe well after having endured such a long surgery and Ting sat at her bedside for hours at a time percussing and trying to help her feel more comfortable. Nursing tasks like deep nasal suction are never easy but Ting was gentle and effective which helped our daughter calm down much quicker after she was finished. She was efficient with her tasks yet didn't make anything seem like she was in a hurry. And the way she changed our sheets! Little things like that were the reason she is such a fabulous nurse. She was able to roll blankets in a way that our daughter didn't slide down in the bed and was nestled in a perfect little nest. Something like that may seem so mundane but it makes all the difference to a baby who is only able to lie in bed for most hours of the day and night. When we were able to hold our daughter again, Ting was able to arrange pillows for us to be comfortable holding her since she was not able to change positions quickly. Once (patient) was able to sit up with some help, Ting found equipment to help her sit up.

She was slowly but surely getting stronger day by day. Over the days we had many nurses and as (patient) was getting better she was able to recognize some nurses.

At first she disliked anyone that came in because it usually meant disturbing her and subjecting her to an exam, but over the days we were in the PICU she came to enjoy seeing Ting walk in the door - even if she did come to examine her! Ting had a way of making it enjoyable for (patient) and ensured that (patient) trusted her when she did her job. We were so glad to have Ting as our daughter's nurse and believe she made all the difference to her while recovering from her brain surgery."
8A Oncology Acute Care Unit Multidisciplinary Team awarded HVPAA National Conference
The 8A multidisciplinary team project "Planning for Discharge: Improving Communication" where the virtual care coordination note was created was awarded Second Place in the category of "Improving Discharge Transitions" at the HVPAA High Value Health Care National Conference in September. Laura Hornacek (Sauve), the 8A Education Nurse Coordinator, presented the poster for the multidisciplinary team (team includes Nursing, Providers, OT/PT, Pharmacy and Care Management).
Chase Zebari awarded ANA-Michigan Celebrating the Future Award
Chase Zebari, BSN, RN, CPEN, (Children's Emergency Services) was selected as one of seven (7) award recipients for Celebrating the Future Award on behalf of ANA-Michigan.
Chase was nominated for his outstanding work in practice, leadership, and mentoring as a young nurse. Peggy Ursuy, Ph.D., RN, PPCNP-BC, University of Michigan School of Nursing Faculty nominated Chase and Andrew Malik, RN provided a letter of support. Celebrating the Future Award aims to recognize and acknowledge seven (7) nurses in Michigan who have demonstrated outstanding achievement in nursing and held an RN license for five years or less. This award is intended to celebrate dedicated service, encourage exemplary commitment to the nursing profession, and represents a promise to grow in leadership in the advancement of nursing in Michigan.
Ambulatory Care Nursing presented Multiple Poster Presentations
International Transplant Nursing Symposium: A New Approach to Using Acuity in Ambulatory Care Assignments - Poster presenters: Bernice Matthews, Amy Smith and Gina Bergmooser
Brighton Health Center Clinic Redesign at the Michigan Medicine - Quality Poster Month. Poster presenter Ann Grey
Creative Application of Mandatory Education at the Michigan Medicine Quality Poster Month. Poster presenters Irene Turkewycz and Jody Giannotti
Immunotherapy: Are you ready to treat your patients? at the Michigan Medicine - Quality Poster Month. Poster presenters Jody Giannotti and Sandra Gilesse
Nurse Protocols in the HER at the Michigan Medicine - Quality Poster Month. Poster presenters Trish Bickle and Rebeca Packard
Kelly Baird-Cox begins new role - Associate Chief Nursing Officer (ACNO) for C.S. Mott Children's Hospital
We are pleased to announce that Kelly Baird-Cox, DNP, RN, CPNP, CPEN, CEN, TCRN, NEA-BC, CENP accepted the position of Associate Chief Nursing Officer (ACNO) for C.S. Mott Children's Hospital, effective November 1, 2018.
As ACNO, Kelly will have responsibility for leading pediatric nursing practice and administrative and operational activities to promote safe, high-quality care for our patients, families, and staff. Kelly is currently the Clinical Nursing Director for Children's Emergency Services, serving in the role since 2010, as well as the Interim ACNO for Pediatrics since August 2018.
Kelly obtained her Doctor of Nursing Practice (DNP) from Madonna University in May 2017. In December of 1997, she completed a Post Master's degree in Parent, Child & Family Nursing from Wayne State University. Her Masters of Science in Nursing Administration was awarded by Madonna University in May 1994, preceded by a Bachelor of Science in Nursing from The Ohio State University in May 1985.
Kelly has 33 years of progressive pediatric clinical and leadership experience, as well as being the recipient of numerous prestigious awards: Nightingale Nursing Award (June 1992); Nurse of the Year, Children's Hospital of Michigan (May 1992); UMHS Clinical Program of the Year (2015); Evan HOPE Newport Award (2015); two-time winner of the ENA Lantern Award (2014-2017) and (2017-2020); and the DNP Franciscan Values Award (May, 2017).
Kelly is a Certified Pediatric Nurse Practitioner (CPNP), Certified Pediatric Emergency Nurse (CPEN), Certified Emergency Nurse (CEN), Trauma Certified Registered Nurse (TCRN), Nurse Executive Advanced-Board Certified (NEA-BC), and Certified Executive Nursing Practice (CENP). She is also a member of the following professional organizations: National Association of Pediatric Nurse Practitioners; American Nurses Association (ANA); Emergency Nurses Association (ENA); Society of Trauma Nurses (STN); American Organization of Nurse Executives (AONE); and the Sigma Theta Tau International Honor Society, Kappa Iota Chapter. We look forward to her ongoing leadership and partnership at C.S. Mott Children's Hospital.
Terri Voepel Lewis awarded Friends of the National Institute of Nursing Research Protégé Award
Congratulations to Terri Voepel Lewis, PhD, RN (Anesthesiology) on being selected as this year's Friends of the National Institute of Nursing Research (FNINR) Protégé awardee. FNINR is an independent, non-profit organization that's vision is to be a bold voice to communicate the impact of NINR's work to elevate nursing science, improve lives and advance the Nation's health.
Catherine Meldrum presented Lung Outreach Program, Grand Rapids
Catherine Meldrum, PhD, MS, RN, CCRC (Division of Pulmonary and Critical Care Medicine) presented Multidisciplinary Approach to Management of COPD, Lung Out-reach Program, in Grand Rapids Michigan in July 2018.
Nursing at Michigan Influencing the World!

Michigan Medicine Nurses: Remember to Enter Your Professional Contributions
Have you recently completed a manuscript, book chapter, or presentation? Have you received a grant or award? If so, we'd like to hear about it! Please take a few minutes to tell us about your achievement by completing the survey linked below. Nursing Contribution Submissions:
https://umichumhs.qualtrics.com/SE/?SID=SV_25IgL1skzSQGUFC
This information will be used to recognize contributions made by UMHS nurses. It will be posted on the external
Nursing Cited Work website
(updated quarterly) and will also be included in the monthly
Nursing Update
newsletter, Nursing Services' annual reports, Nurse's Week activities, and shared at other appropriate venues. Thank you for your contributions!
Nursing Needs Victors - Philanthropy for Nursing at Michigan
Philanthropy provides U-M nurses with support and resources to deliver the most complete and compassionate care. It can also inspire them as they advance cutting-edge ideas to improve all areas of health care. We invite you to join our community to support and celebrate exceptional nursing.
Advancing Care, Improving Lives Brochure | Give Now ~ victors.us/nursing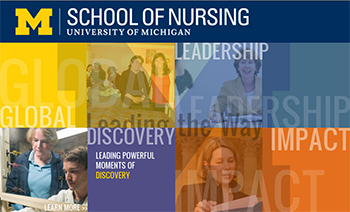 See What's New at the U-M School of Nursing
The latest information is now available on the web at: http://www.nursing.umich.edu/about-our-school/news-portal
News Archives | News Archives February 2014 and prior
Target Audience: All | Contact: Kathy Dunnuck | Last updated: 1/7/19
Quick Links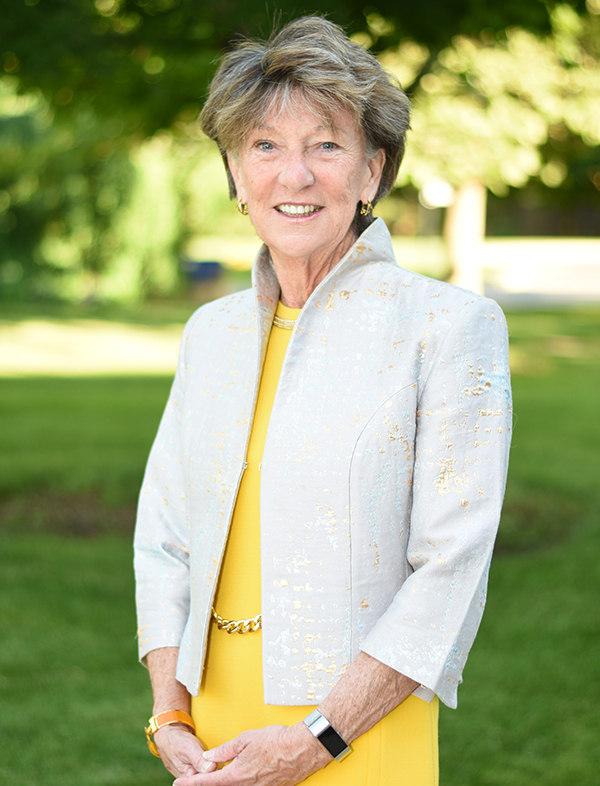 Ann Scanlon McGinity, PhD, RN, FAAN
Chief Nurse Executive
A Christmas Note
To My Colleagues!
A first for me... Christmas time in Michigan... amidst the normal hum of everyday life here in our hospital, I was struck by our Wall of Grief... I didn't know what it was at first glance, but as the words began to take over the windows, I paused to read what people were leaving there. Moments of their life... moments of their remembrance of people important to them. Most are written in joy as they recall the people who made their mark on them. Some have elaborate drawings, some are simple... all bring back the person they loved into the moment to be shared with... me! I added my own memories and remembrances to that wall... and I shared a picture of it with my sons.
The people remembered on the wall were real and very alive to me and I felt as if I had been touched by their lives and those who left their thoughts there for me to read. I felt gratitude and I felt joy. I felt a connection with people I would never know and who would never know me. And the Wall of Grief became a reflection in that moment: a place where time past met time now and brought strangers together even for a moment.
I thought about all the connections we have with one another and with our patients, families and colleagues these past months. I thought about the many moments daily that we often enter into each other's worlds and the gifts that we find there. I thought of the great good fortune and privilege I have to share in your life, in our patients lives and in our colleagues lives. Thank you for that gift this Christmas. My wish for each of you is that you find many of these moments of joy this season.
~ Ann
December, 2018