Click arrows to read more...
New $1.6 Million Grant
Will Investigate Nurse and Physician Communication
The study will focus on health IT's effects on provider communication. "Communication technology can increase or reduce adverse effects for patients depending on how nurses and physicians are using it," says Milisa Manojlovich, PhD, RN, CCRN, a University of Michigan School of Nursing (UMSN) associate professor. "Unfortunately, communication failures are one of the most common causes of adverse events for hospitalized patients, so it is very important to understand how communication technology is being used and how it can be improved."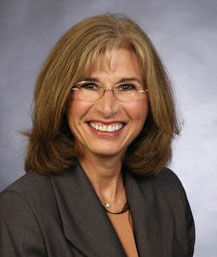 As the primary investigator on a new $1.6 million grant from the federal Agency for Healthcare Research and Quality (AHRQ), Dr. Manojlovich (pictured at left) will lead an inter-professional team to investigate how communication technologies such as electronic health records, email, and pagers are being used and where common failures occur. "In general, as electronic communication has increased, the face-to-face communication between practitioners has decreased, and that has created occasions for crucial information to be passed incorrectly or not at all," says Dr. Manojlovich.
The research team plans to use these results to make recommendations for design configurations that will improve the functionality of health IT. More info at:http://nursing.umich.edu/about-our-school/news-portal/201409/4101#.VDKNzPldXX0

NNPN Journal Club Session
You are invited! November 17, 2014 1-2pm



National Nursing Practice Network (NNPN) Journal Club Session led by one of our nurses is November 17, 2014!
You are invited to participate in the November 2014 NNPN Journal Club session! This session is scheduled for November 3 17, 2014 from 1:00 P.M. EST - 2:00 P.M. EST and will be facilitated by Anne McLeod, RN, MSN, DNP Student, Nurse Manager, University Health Services, and University of Michigan.
We will be critiquing and discussing the article Friedberg, M.W., Schneider, E.C., Rosenthal, M.B., Volpp, K.G., & Werner, R.M. (2014). Association between participation in a mulitpayer medical home intervention and changes in quality, utilization, and costs of care. Journal of the American Medical Association, 311(8), 815-825. DOI:0.1001/jama.2014.353
To participate, please review the following:
You can sign-up for the session by contacting us at nnpnetwork@umich.edu.
The selected article, critique form, and log-in information/instructions will be sent to your email AFTER you have signed up and been confirmed to participate.
Please read the selected article and complete the accompanying critique form prior to the session.
Bring your completed critique form to the session and be an active participant!
Do you need a quick review of statistics to help you prepare for the upcoming Journal Club session? Please review Leah Shever's archived Lunch-n-Learn session titled, "Using Data to Guide Evidence-Based Initiatives to Improve Quality" that was held on 5/5/09. You can access the session at http://www.nnpnetwork.org/education/lunch-n-learns.html after logging into the NNPN website. When you click on the session, you will be taken to The University of Iowa Global Campus. Simply login as a guest and click "play." If you have any questions about accessing this or any archived session, please contact us at nnpnetwork@umich.edu.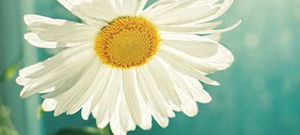 The DAISY Award for Extraordinary Nursing...
Congratulations to Kristen Langley, RN (Mott PACU) who recently received the award!



The DAISY Award is given through a nationally known program currently in place in over 450 hospitals. DAISY is an acronym for Diseases Attacking the Immune System and this award was established by a family whose son succumbed to a disease of the immune system. During his prolonged hospital stay, he and his family greatly benefited from care provided by superb RNs. This award was established to honor nurses who exemplify that compassionate, thorough care. Within the University of Michigan Health System, candidates for the Daisy Award are nominated by patients and/or their families.
Dean Kathleen Potempa inducted: Institute of Medicine
Dean Kathleen Potempa, PhD, RN, FAAN, was inducted into the Institute of Medicine this month! This recognizes Dean Potempa's significant contributions to nursing and to health care.

Judith Coucouvanis published: Rules and Tools for Parents of Children with Autism Spectrum and Related Disorders: Changing Behavior One Step at a Time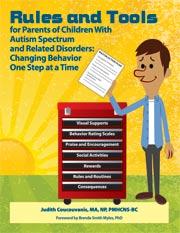 Judith Coucouvanis, NP in Ambulatory Care Psychiatry, has published Rules and Tools for Parents of Children With Autism Spectrum and Related Disorders: Changing Behavior One Step at a Time. The book guides parents' journey toward understanding their child and solving problems related to their behavior. Judy has been a clinician for over 35 years, specializing in the treatment of children with developmental disabilities, severe behavior challenges, autism spectrum disorders, and co-occurring conditions. She is a national speaker on behavior management, social skills training, psychopharmacology, educational strategies, and toilet training.
Lisa Kane Low inducted: American Academy of Nursing

Lisa Kane Low, CNM PhD, FACNM, FAAN was inducted as a fellow into the American Academy of Nursing in honor of her outstanding ongoing commitment to national and global levels of policy and research in obstetric nursing and nurse-midwifery.
Emily Dickie awarded: Crosby Award for Excellence in Critical Care Nursing
Emily Dickie, RN is the 2014 John R. Crosby Award for Excellence in Critical Care Nursing award winner! Emily has been a nurse in the PICU since 2006, when she first joined us as a graduate nurse. She has become a well-respected team member and is viewed as a clinical expert by her peers. Paula Crosby (John's mom) shared beautiful sentiments about what giving this award means to her and her family. They are so grateful for the care John received during his time here. They felt cared for as an entire family not just as a family of a patient.
Jennifer Kelley, Heather Berlin, and Cathy Lewis to present: Society of Pediatric Nurses National Conference
Jennifer Kelley RN, Heather Berlin RN and Cathy Lewis CNS (12W) submitted an abstract for Nursing Leadership for Discharge Medication Process Improvement to the Society of Pediatric Nurses and have been notified of their acceptance for a podium presentation at the annual national conference in April 2015. Congratulations on having this MPLAN project going forward for presentation.
Steven Strobbe installed as President-Elect: International Nurses Society on Addictions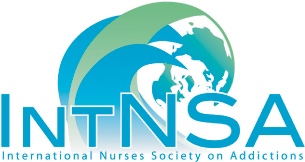 Stephen Strobbe, PhD, RN, Clinical Associate Professor at the University of Michigan School of Nursing and the Department of Psychiatry, was recently installed as President-Elect of the International Nurses Society on Addictions (IntNSA) during the annual educational conference in Washington, DC. Dr. Strobbe will serve in this role for two years (2014-2016), at which time he will assume the presidency of the organization. IntNSA is a professional specialty organization for nurses - in all clinical settings and practices - committed to the prevention, intervention, treatment, and management of addictive disorders (www.intnsa.org).
Team of Ambulatory Care Transplant Nurses presented: International Transplant Nursing Society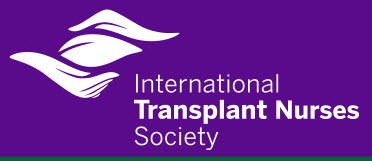 A team of Ambulatory Care Transplant Nurses presented at the International Transplant Nursing Society's Annual Symposium in Texas: Michelle Rassin, Julia Huang, Bernie Mathews, Sandy Feldkamp, and Kasha (Cathy) Newcomb.
POSTER PRESENTATIONS:

"We Can But Should We? A Frailty Case Study?"

Amy Smith

, RN, BSN;

Bernice Mathews

, RN, MSA;

Michelle Rassin

, RN, BSN;

Gina Bergmooser

, RN, MSN.

"Use of Liver Grafts From Donors Positive For Antihepatitis B-Core Antibody (Anti-HBC)"

Julia Huang

, BSN, RN, CCTC;

Cathy L. Newcomb

, RN.
"PTLD Remission - Not Mission Impossible"

Bernice Mathews

, RN MSA;

Amy Smith

, RN BSN;

Gina Bergmooser

, RN MSN.
ORAL PRESENTATION:
Sandra Feldkamp

RN BSN, called "Taking Patient Care to The Community Through Outreach Clinics".
Nurse-Midwifery Service hosted: Nursing CE Series
For the Annual Nurse-Midwifery Week Oct 6-10, 2014, the Nurse-Midwifery Service hosted the 5th annual Terri Murtland Educational Series for obstetric nursing continuing education on "Hands on Labor Support Skills". Over 100 nurses attended from the Von Voigtlander Women's Hospital and other labor and delivery units from across southern Michigan.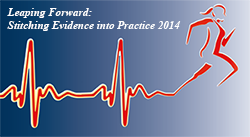 4th Annual Conference
Leaping Forward in Critical Care: Stitching Evidence into Practice
Presented by the Surgical Intensive Care Unit and Sigma Theta Tau at the University of Michigan
Conference Date: February 17, 2015

An opportunity to share research, clinical innovation and evidence-based practice at our fourth annual critical care symposium.
Eligible Topics for Presentation:
Evidence-Based Practice
Clinical Innovation
Leadership
Process Improvement

Clinical issues and scenarios
*Please note that previously presented research should be submitted for poster presentation only*
Questions? Email Sharon Dickinson (sdickins@umich.edu) or Connie Rickelmann (crickelm@umich.edu)

Winnie Wood, Dana Tschannen, Alyssa Trotsky, Julie Grunawalt, Danyell Adams, Robert Chamg, Sandra Kendziora and Stephanie Diccion-MacDonald published: American Journal of Nursing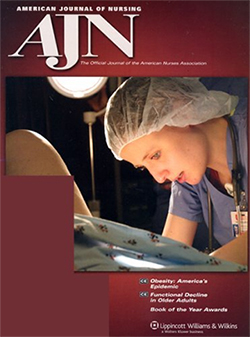 Congratulations to authors: Winnie Wood, MSN, RN, CNS, Dana Tschannen, PhD, RN, Alyssa Trotsky, DPT, Julie Grunawalt, MS, RN, GCNS-BC, Danyell Adams, CNA, Robert Chang, MD, FHM, Sandra Kendziora, BSN, RN, and Stephanie Diccion-MacDonald, MS, RN whose article "A Mobility Program for an Inpatient Acute Care Medical Unit" was published in the American Journal of Nursing, October 2014 (Vol. 114, No. 10).
G. Lita Smith published: Journal of Advanced Practice Oncology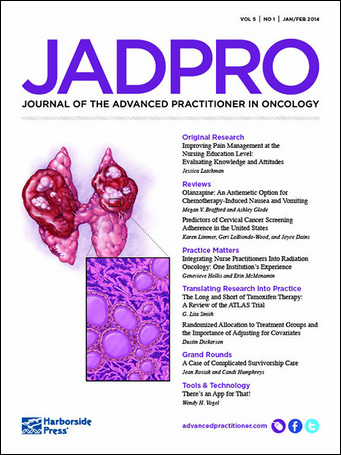 G. Lita Smith, MS, RN, ACNP, Nurse Practitioner Supervisor in the Cancer Center, had her article "The Long and Short if Tamoxifen Therapy: A review of the ATLAS Trial" published in the Journal of Advanced Practice Oncology in the Jan/Feb, 2014 issue.
Heidi Mason, Mary Beth DeRubeis, Jared Foster, Jeremy Taylor and Francis Worden published: Oncology Nursing Forum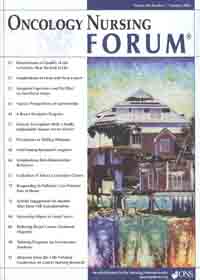 Heidi Mason, MSN, NP, and Mary Beth DeRubeis, MSN, NP, Cancer Center Team 2, co-authored the article, "Outcomes Evaluation of a Weekly Nurse Practitioner-Managed Symptom Management Clinic for Patients with Head and Neck Cancer Treated with Chemoradiotherapy" which was published in Oncology Nursing Forum, November 2013. Authors included Heidi Mason, MSN, NP, Mary Beth DeRubeis, MSN, NP, Jared C. Foster, PhD, Jeremy M.G. Taylor, PhD, and Francis P. Worden, MD. They concluded that patients receiving chemoradiotherapy benefit from close monitoring for toxicities by NPs to successfully complete their treatment and avoid hospitalization.
Beverly Benmoussa awarded: FIGs Grant

Beverly A. Benmoussa, MSN, RN, FNP-BC, Transplant Center received a Fostering Innovation Grant (FIGs) sponsored by the University of Michigan Health System for support of a project titled "Passport to Transplant".
Patti Paulin nominated and requested as speaker: Wilson's Disease Association Board

Patti Paulin, RN, Liver Transplant, who is a member of the Wilson's Disease Association Board has been nominated for another three year term that will be voted on at their Conference. She had also been asked to speak at this conference which was September 5-7th.
Jeff Thomas and Chad Stoller win first place: CAE Cup, Air Medical Transport Conference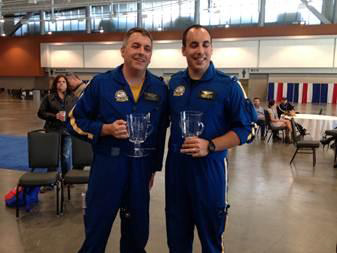 The annual CAE Cup, held at the Air Medical Transport Conference in Nashville, brought together 10 of the best and brightest in air medical rescue teams to demonstrate critical, life saving techniques with CAE Healthcare's human patient simulators. Congratulations to Jeff Thomas, RN and Chad Stoller, RN (UM Survival Flight) for taking FIRST PLACE in the CAE Cup critical care skills competition. Their shining accomplishment? Showing off their emergency medical care skills with Fidelis Lucina (the first-ever pregnant patient simulator to demonstrate at a CAE Cup competition) and performing a stressful - and, successful- simulated birth at the scene! The entire simulated rescue scenario of Fidelis Lucina is captured on video by air medical retrievalist/resuscitationist, Bill Hinckley and was uploaded so all could see the Lucina/Survival Flight video.
John Whelan published: book review, Gastroenterology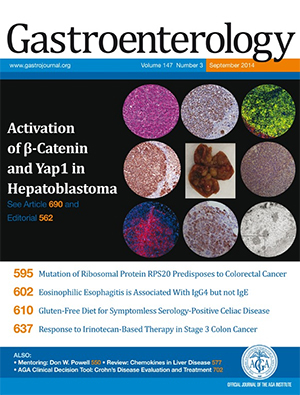 John Whelan, Nurse Manager in the Medical Procedure Unit, recently published a book review in the journal Gastroenterology, Volume 147, August, 2014. The book he reviewed was Johns Hopkins Manual for GI Endoscopic Nurses. Third Edition. Mouen Khashab, Toshunia Robinson, and Anthony Kalloo, editors.
2014 Schwartz Rounds Conferences
Mark your calendars for our remaining 2014 schedule.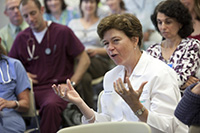 Nov 17: Ford Auditorium (UMHS Grief week)
Dec 8: MCHC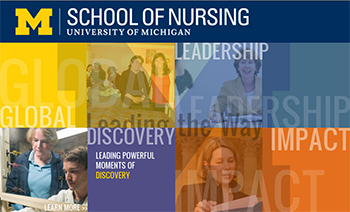 See What's New at the U-M School of Nursing
The latest information is now available on the web at: http://www.nursing.umich.edu/about-our-school/news-portal
News Archives | News Archives February 2014 and prior
Target Audience: All | Contact: Kathy Dunnuck, BFA, BSN, RN | Date of last review: 11/5/14
Quick Links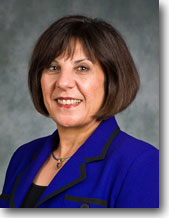 Margaret Calarco, PhD, RN
Chief of Nursing Services
Welcome to
Nursing at Michigan
Nursing at Michigan represents an extraordinary professional nursing community of over 4500 nurses in a multitude of practice and advanced practice roles. Together with our patient and family partners and inter-professional colleagues we have co-created a strong and vibrant professional practice model which supports our promise to society... "To create a shared vision and powerful voice which advances the art and science of Nursing and revolutionizes leadership, education and research, and transforms patient care."
Ever focusing on our "true
north" "to provide the finest
care to those who choose
to place their lives in our
hands," nurses at Michigan
strive to provide exquisite,
evidence-based care in a
compassionate and innovative
practice environment.
We are tremendously proud
of the care we provide to
the thousands of patients
and families we serve in the
State, across the country
and around the world.
We invite you to join our community in celebrating exceptional nursing care.