Nursing at Michigan in the News
Click arrows to read more...
Michigan Medicine Celebrating Nursing Magnet Honor
Congratulations to the Michigan Medicine community, including the entire nursing staff for earning Magnet recognition, the highest honor in nursing.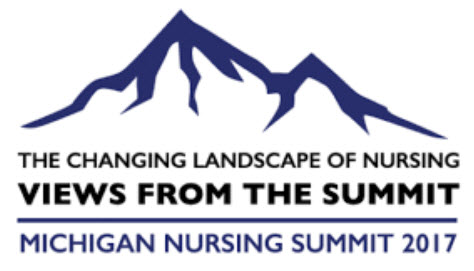 Michigan Nursing Summit 2017
Call for Abstracts
October 11-13
Crystal Mountain
Thompsonville, MI
Accepted poster authors will receive a 50% discount off the regular registration price to attend the conference.
Summit Information and Registration Click Here
CALL FOR ABSTRACTS:
The Michigan Center for Nursing welcomes abstracts for poster presentations related to the Summit agenda or on the following topics: leadership/mentoring/collaboration/public-population health/health equity/ health inequity/social justice/diversity/ inclusivity/client centered care/ nursing education/nursing practice/interprofessional education.
Abstracts of completed/in progress Research studies, Quality Improvement (QI) projects, or Evidence Based Practice Projects (EBP) on the topics listed above may be submitted.
Nominations now open...
RRT Respiratory Patient Advocate of the Year Award
Nominations are now open for the RRT Respiratory Patient Advocate of The Year Award. Please see this link to nominate a RRT from hospitals, home care, acute or long term care. The National Respiratory Patient Advocacy Award is the only nationally-recognized advocacy program dedicated to honouring outstanding registered respiratory therapists. Nominations are being accepted until June 30.

What's New in Nurse Recruitment and Retention...
Celebrating Nurses Week 2017
Celebrating Nurses Week 2017!
Michigan Medicine Nurses Week 2017 has had a tremendous response thus far. Registration is still open for a variety of opportunities to expand your knowledge base. Remaining opportunities still open include:
Dinner and Pain Lecture:


"Managing Pain in the Era of the Opioid Epidemic: Are New Skills Needed?"
June 6, 2017; 5:30pm to 7:15pm; Holiday Inn - only 11 seats left!
"Nursing at Michigan: Leading the Way"


Dr. Calarco Annual Grand Rounds, July 19, in the Ford Auditorium, 11am-12noon with a reception following to celebrate Nursing at Michigan and Magnet designation.
Critical Care Registered Nurse (CCRN) Certification Review


August 1-2, 2017; 7:30am to 5pm; Kensing
ton Hotel - limited seats available
Progressive Care Certified Nurse (PCCN) Certification Review Course


August 2-3, 2017; 7:30am to 5pm; Kensington Hotel - limited seats available
Legal Aspects of Nursing Documentation


September 8, 2017; 7:30am to 4:00pm; Holiday Inn - only 21 seats left!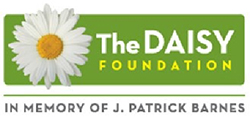 The Daisy Award
Ning Etchill (6B) and Emily Schlund (PCTU)
Ning Etchill
Congratulations to Ning Etchill, RN (6B) for receiving the Daisy award! The DAISY Award is given through a nationally known program currently in place in over 2,124 healthcare facilities. DAISY is an acronym for Diseases Attacking the Immune System and this award was established by a family whose son succumbed to a disease of the immune system. During his prolonged hospital stay, he and his family greatly benefited from care provided by superb RNs. This award was established to honor nurses who exemplify that compassionate, thorough care. Within the University of Michigan Health System, candidates for the Daisy Award are nominated by patients and/or their families. This is a wonderful honor. Ning was nominated by a patient's daughter, through an email to the UM Daisy Coordinator.
"I would like to nominate Ning, a 6B nurse, for the Daisy Award. I am writing to express my sincere and tremendous appreciation for the excellent nursing care that my mother, has received from Ning and the skilled, kind, and compassionate staff on 6B. I wanted to especially recognize Ning for her strong advocacy on behalf of my mother. My mother was admitted after two serious falls that resulted in T-4 and T-11 fractures, a Parkinson's exacerbation and complications with some medication interactions. There were many services following her during the inpatient stay and that certainly complicated her care. My mom was very uncomfortable in a brace that orthopedics had ordered for her, and additionally, there was great confusion as to whether my mother could receive physical therapy or not. She actually had an order for "bedrest" and "physical therapy" at the same time. This prompted Ning into action! My mother at this point had been in a hospital bed for 4 days, losing strength every day and feeling very uncomfortable from the brace. Ning assessed the situation and arranged for an orthopedic nurse to come to my mother's bedside, demonstrating to her how to adjust the brace for more comfort. Then, Ning went to 6A Rehab and arranged for the Physical Therapist to call the Physician and discuss my mom's therapy orders. It was all because of Ning's advocacy for my mom that my mother became much more comfortable and was able to get up, feel stronger and become mobile again! Ning truly exemplified the "Michigan Difference" during my mother's stay at UM. Please accept my many thanks to Ning and the entire 6B staff for the excellent care given to my mom."
Emily Schlund
Congratulations to Emily Schlund RN ( PCTU) who was also recognized this month for receiving the Daisy award Emily is a multiple Daisy nominee, receiving 2 separate nominations from a patient, and a patient's family.
"Emily came into the baby's life when he was a mere 26hrs old. It was a rocky introduction to the world due to the fact that he began his steady decline that night, eventually leaving us in PCTU for the next 27 days. Despite the chaotic scene that Emily walked into that night, Emily remained calm, caring and compassionate, explaining to the two brand-new parents what exactly was going on and what was happening with their tiny new son. It was from that point on that we developed a bonded trust in the decisions that were being made for us, and to maintain some sense of normalcy in the process, even though nothing about this situation was   "normal". It was the little things that Emily went out of her way to do that helped us see the positives in our baby's situation, such as creating heart shaped foam molds of his hand and feet when she couldn't find an ink pad for his prints. She also made him a name banner and found him cozy blankets to be swaddled in. Emily took the time to include me in the care of my newborn son as much as possible. She encouraged me to participate in bath time, diaper changes, and to even hold him when it seemed nearly impossible with all of the lines and wires attached to his little body. We will always remember Emily for her kindness and compassion. I truly believe she is one of the main reasons why we remained sane through this entire process. My husband and I looked forward to the nights and days that we knew Emily would be working, and taking care of our son. We could never repay her for all of the help she provided through our stay in the PCTU, and for the care she provided to our son. He finally made it home after 32 days in the hospital! Thank you Emily Schlund, we will always remember you!
Dean Hurn, PhD, RN Selected as
Johns Hopkins Society of Scholars Member
Dean Patricia Hurn was selected as a new member of the Johns Hopkins Society of Scholars. The honor recognizes post-doctoral fellows, staff, and junior or visiting faculty who achieved "marked distinction in their respective fields since spending formative years at Johns Hopkins."
JH Society of Scholars inductees are nominated by JHU faculty. This year's cohort includes 16 leaders in health, business, engineering and humanitarian issues.
Dean Hurn received a Ph.D. in physiology from the JHU in 1990 and completed a postdoctoral training in anesthesiology and biomedical engineering. She served on the JHU faculty from 1993 to 2003, as a professor in the School of Medicine and an associate professor in the School of Nursing.
Nurse Appointed as Acting Surgeon General
of the United States!
Rear Adm. Sylvia Trent-Adams, now the acting surgeon general. Credit United States Department of Health and Human Services
Dr. Trent-Adams was serving as Dr. Murthy's deputy prior to her appointment as acting surgeon general. "She has dedicated the past 30 years to our nation serving in the Army and in the U.S. Public Health Service. Her deep wealth of experience is matched only by the immense size of her heart," Dr. Murthy wrote on Facebook.
Prior to her role as deputy surgeon general, Dr. Trent-Adams served as CNO of the U.S. Public Health Service Commissioned Corps, according to her profile on the HHS website. Before that, she was deputy associate administrator for the HIV/AIDS bureau of the Health Resources and Services Administration. She served as a nurse officer in the U.S. Army and a research nurse at the University of Maryland in Baltimore, where she earned her PhD.
Gina Bergmooser awarded Learning Catalyst Award
Gina Bergmooser, RN, MSN, CCM, Manager of the Transplant Ambulatory Care Unit was awarded the 2017 Learning Catalyst Award. This award recognizes excellence in Leadership in fostering staff learning.
Tara Boice authors article National Association of Neonatal Nurses
Tara Boice, MSN, RNC-NIC (NICU Nursing Supervisor) has authored an article for the National Association of Neonatal Nurses. The article, "Reimbursement for Donor Human Milk for Preterm Infants," can be found here.
Theresa Clifford and Denise O'Brien Editors for ASPAN
Theresa Clifford MSN, RN, CPAN, CAPA and Denise O'Brien DNP, RN, ACNS-BC, are Editors for the 2018 ASPAN Certification Review for PeriAnesthesia Nursing, 4th Edition. St. Louis: Elsevier.
David Lieber awarded Cystic Fibrosis Hope Award
David Lieber, RN (12 East) has won the Champions of Hope Award from Cystic Fibrosis Foundation. This award is presented to those who go above and beyond for the Cystic Fibrosis community.
Advanced Care Management Team awarded ACMA Conference

The Advanced Care Management Team (name for the team that was created to handle complex cases in UH/CVC) won an award at the ACMA conference for the ability to replicate and implement. Theresa Horowitz, MSW who started the program here (and has now been promoted to Care Mgmt SW manager) was instrumental in the team's success received the award for the team. The team's outcomes have been impressive and they are now in conversations with CW about starting a similar program.

Hallman, Hayes, Charania, Dhillon and Landt to present American Psychiatric Nurses Association
Ilze Hallman DNP, PMHCNS-BC, PMHNP, GNP, Martha Hayes BSN, RN, Nadia Charania PhD, RN, Baljit Dhillon BSN, RN and Karin Landt BSN, RN had their abstract, Lessons Learned From Quality Improvement Project Aimed to Decrease the Fall Rate in the Inpatient Psychiatric Unit, accepted as a 2 hour pre-conference session presentation at the APNA (American Psychiatric Nurses Association) 31st Annual Conference in Phoenix, Arizona.
Dhillon, Hallman and Shever to present American Psychiatric Nurses Association
Baljit Dhillon BSN, RN; Ilze S. Hallman DNP, PMHCNS-BC, PMHNP-BC, GNP and Leah Shever PhD, RN will present a poster at the APNA (American Psychiatric Nurses Association) conference is. The poster is "Reduction of Stress and Burnout in Nursing Staff by Utilizing Mindfulness Based Stress Reduction Techniques".
Sigma Theta Tau Awards
Sigma Theta Tau's, Rho Chapter, is pleased to announce the recipients of the Rho Chapter Sigma Theta Tau Excellence Awards for 2017
The awards ceremony was held April 9th at the Michigan Union. In addition to the awards, 82 new members were inducted into Rho Chapter at the ceremony.
Excellence in Nursing Education


Bethany R. Lee-Lehner, BSN, RN

Excellence in Nursing Practice


Lisa M. Newberry, BSN, RN

Excellence in Nursing Leadership


Juanita Parry, MS, RN

Rising Star


Tayler Lenzen, BSN, RN

Mentorship


Catherine M. Scott, BSN, RN

Nursing Research Grant Award


Leila Cherara, BScN, MS, RN

Jean Anne Laing Drickamer Student Mentorship Award


Hassan Abbas and Rylie Haupt
Lauren Marentette and Danielle Van Damme to be published ANA Journal (American Nurse Today)
Congratulations to Lauren Marentette BSN, RN (PICU) and Danielle Van Damme, MSN, CPNP-AC in Pediatric Critical Care Medicine for their article being accepted to be published in the ANA journal (American Nurse Today). "Barely breathing- Close assessment, quick response and careful monitoring save a child's life" is a simple case study, but highlights the strong work of our Rapid Response Team.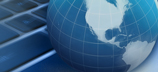 Nursing at Michigan Influencing the World!
Michigan Medicine Nurses: Remember to Enter Your
Professional Contributions
Have you recently completed a manuscript, book chapter, or presentation? Have you received a grant or award? If so, we'd like to hear about it! Please take a few minutes to tell us about your achievement by completing the survey linked below. Nursing Contribution Submissions:
https://umichumhs.qualtrics.com/SE/?SID=SV_25IgL1skzSQGUFC
This information will be used to recognize contributions made by UMHS nurses. It will be posted on the external
Nursing Cited Work website
(updated quarterly) and will also be included in Marge's Monthly Nursing Updates, Nursing Services' annual reports, Nurse's Week activities, and shared at other appropriate venues. Thank you for your contributions!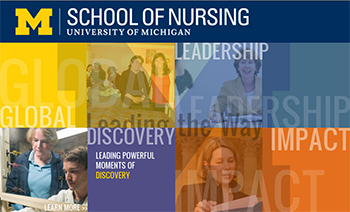 See What's New at the U-M School of Nursing
The latest information is now available on the web at: http://www.nursing.umich.edu/about-our-school/news-portal
News Archives | News Archives February 2014 and prior
Target Audience: All | Contact: Kathy Dunnuck, BFA, BSN, RN | Date of last review: 6/8/17
Quick Links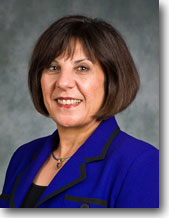 Margaret Calarco, PhD, RN
Chief of Nursing Services
Welcome to
Nursing at Michigan
Nursing at Michigan represents an extraordinary professional nursing community of over 4500 nurses in a multitude of practice and advanced practice roles. Together with our patient and family partners and inter-professional colleagues we have co-created a strong and vibrant professional practice model which supports our promise to society... "To create a shared vision and powerful voice which advances the art and science of Nursing and revolutionizes leadership, education and research, and transforms patient care."
Ever focusing on our "true
north" "to provide the finest
care to those who choose
to place their lives in our
hands," nurses at Michigan
strive to provide exquisite,
evidence-based care in a
compassionate and innovative
practice environment.
We are tremendously proud
of the care we provide to
the thousands of patients
and families we serve in the
State, across the country
and around the world.
We invite you to join our community in celebrating exceptional nursing care.