Click arrows to read more...
Denise O'Brien presented: International Conference for PeriAnaesthesia Nurses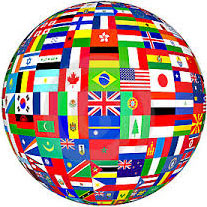 Denise O'Brien presented the Closing Plenum address at the 3rd International Conference for PeriAnaesthesia Nurses: Sharing and Caring - Inspiring Global Connections, in Copenhagen, Denmark, on September 12, 2015. Her presentation was entitled "Got a CNS? How to capitalize on the role of the Clinical Nurse Specialist in your PACU." The conference was a great opportunity to share knowledge with perianesthesia colleagues from 19 countries!
Dr. Stephen Strobbe editor/author of chapter: Core Curriculum of Addictions Nursing, Third Edition
Stephen Strobbe, Clinical Associate Professor at the University of Michigan School of Nursing, and the Department of Psychiatry, is editor and author of Chapter 2, "Theoretical Perspectives," in the newly released Core Curriculum of Addictions Nursing, Third Edition, published by the International Nurses Society on Addictions (IntNSA).
Julia Morrissey highlighted: Washtenaw County Community Launch Publication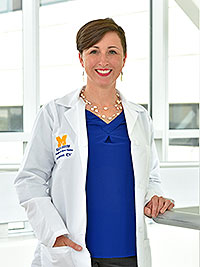 Julia Morrissey was highlighted in the Washtenaw County Community Launch publication, Fostering a Health Future: Alumna finds fulfillment with career in nursing. You can read the article here.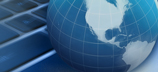 Nursing at Michigan Influencing the World!
UMHS Nurses: Remember to Enter Your
Professional Contributions
Have you recently completed a manuscript, book chapter, or presentation? Have you received a grant or award? If so, we'd like to hear about it! Please take a few minutes to tell us about your achievement by completing the survey linked below. Nursing Contribution Submissions:
https://umichumhs.qualtrics.com/SE/?SID=SV_25IgL1skzSQGUFC
This information will be used to recognize contributions made by UMHS nurses. It will be posted on the external
UMHS Nursing Cited Work website
(updated quarterly) and will also be included in Marge's Monthly Nursing Updates, Nursing Services' annual reports, Nurse's Week activities, and shared at other appropriate venues. Thank you for your contributions!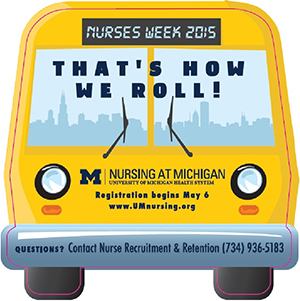 What's New in Nurse Recruitment and Retention...
Save the Date: UMHS Fall Nursing Career Fair October 25, 2015
Nurses Week Update CEN Review
Trending hashtag: #mytalentisnursing
Save the Date, Tell Your Friends!
UMHS Fall Nursing Career Fair
October 25, 2015
Noon - 3pm
Towsley Center
We take great pride in finding nurses who embody The Michigan Difference, and assisting them in finding opportunities where they can succeed and thrive. Don't miss this opportunity to meet the Nursing Managers for each unit and explore career opportunities at the University of Michigan Health System.
Registration for all attendees is mandatory and space is limited. We welcome you to register and also to invite your friends to register as well.
For more information, contact UMHS NRR by:
Registration will begin October 5, 2015 at www.UMnursing.org
Nurses Week Update: CEN Review
UMHS Nurses Week 2015 continues to roll along! Nurse Recruitment and Retention hosted a 2-day course in September to prepare nurses to sit for the Certified Emergency Nurse (CEN) certification. This session was one of 8 Nurses Week options offered in 2015 and was provided as a token of thanks for all that you do. We had a turnout of 32 nurses who enjoyed a wonderful presentation!
You may have heard of the trending hashtag on social media #mytalentisnursing. The University of Michigan Health System is joining in by re-posting the EMMY Award winning video, A Day In the Life: Nursing at Michigan, dedicated to nearly 5,000 hardworking UMHS nurses. If you haven't seen the video yet, be sure to check it out. Like, comment and share to spread the word!
Join the conversation on the U-M Health System's Facebook and Twitter feeds.

UMHS Clinical Nurse Specialists Celebrated: National CNS Recognition Week September 2015
September was National CNS Recognition Week! Clinical Nurse Specialists at UMHS are a unique group of advanced practice nurses who improve patient care and processes through evidenced-based research and practice, in collaboration with both nurses and physicians, to drive positive changes in quality outcomes. Their committed efforts help develop policies, procedures and best practices to reduce the incidence of complications in our hospitalized patients, reduce the length of stay, and decrease costs. Clinical Nurse Specialists influence outcomes using their clinical expertise, system innovation and devotion to nursing practice. At UMHS we are privileged to have 35 Clinical Nurse Specialists working with us every day. Please join me in thanking all our Clinical Nurse Specialists for their outstanding contributions to the work we do every day to provide the finest care to our patients.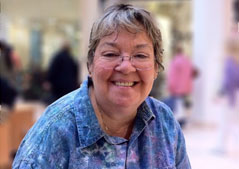 "Chris Tung" Gift Fund Created
For Critical Care Nurses
In memory of Lynne Christine Tung, RN, the "Chris Tung" Gift Fund has been created to grant Critical Care Nurses the opportunity to attend conferences for educational growth. The purpose of this fund is intended to assist someone who may be financially burdened, as well as, give more people the opportunity to attend a conference. This fund will allow two Critical Care Nurses per year to attend a national or local conference: $2000 per year ($1000 per RN).
The funds can cover: Registration, Air Fare and/or Hotel costs. Criteria Requirements:
Adult Critical Care Nurse
Must have one year or more seniority at UM in an Adult Critical Care Nursing Unit
Good standing (performance and attendance; no current disciplinary action)
Only one opportunity for the life of this fund (can't apply again after one acceptance)
Two Nurses per year will be approved to attend a conference
Re-apply every year if you haven't already won the opportunity
This education fund has been donated by her husband in memory of Chris and what she loved. Please look for more information to come starting 9/1/15.
Dawna Allore published: Journal of Hematology Oncology Pharmacy
Leah Shever published: Journal of Healthcare Leadership
Congratulations to co-author Leah Shever, PhD (Director of Nursing Research Quality and Innovation) for
her publication, Facilitating the implementation of evidence-based practice through contextual support and nursing leadership in the Journal of Healthcare Leadership, June 2015.

Winnie Wood, Julie Grunawalt, and Samantha Budd to present AMSN Conference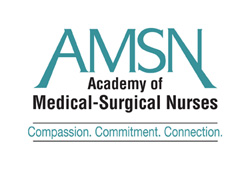 Congratulations to Winnie Wood, CNS, Julie Grunawalt, Nurse Manger, Samantha Budd RN, and all of 6B! The Academy of Medical-Surgical Nurses (AMSN) has accepted the following posters for presentation at the 24th Annual Convention in Las Vegas, NV in September. "Patient and Family Centered Care (PFCC) Journey on an Adult Acute Medicine Unit" and "Promoting Comfort and Pain Management on an Adult Acute Medicine Unit" (also with Susan Holmes-Walker). This is wonderful recognition of your relentless striving to provide the finest care to those who place their lives in our hands.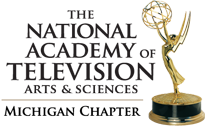 What's New in Nurse Recruitment and Retention...
A Day in the Life:
Nursing at Michigan wins an Emmy!
The UMHS Digital Arts team in collaboration with the world class, talented community of UMHS nurses, won an Emmy for their video production, A Day in the Life: Nursing at Michigan. The video celebrates the hardworking nurses of UMHS and gives an inside look at what it's like to be a Nurse for the University of Michigan Health System. This video was made to recognize and celebrate National Nurses Week 2014.
Join us in congratulating UMHS Digital Arts Executive Producer Jennifer Yanchula and Videographers Joe Hallisy and Daniel Newman (not pictured) in their Emmy win!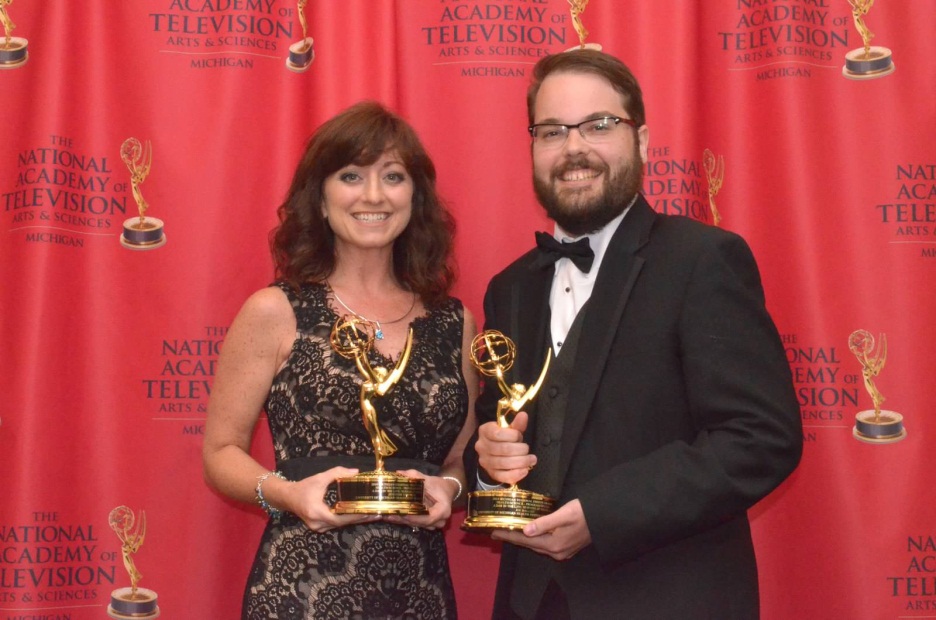 Check out the Emmy winning video for yourself and see why every week should be Nurses Week!

View the full feature length 15 minute video also on YouTube at:
https://youtu.be/JMisvmm1QEI
The Michigan Chapter of the National Academy of Television Arts & Sciences is the standard-bearer for excellence in the television industry and the gatekeeper of the prestigious regional EMMY® Awards in Michigan. The Michigan Chapter represents the best and brightest television and media professionals from all disciplines of the industry and from all of Michigan's 11 television markets.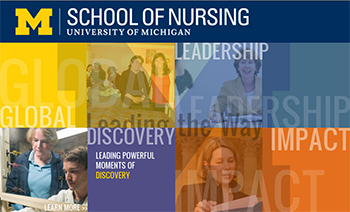 See What's New at the U-M School of Nursing
The latest information is now available on the web at: http://www.nursing.umich.edu/about-our-school/news-portal
News Archives | News Archives February 2014 and prior
Target Audience: All | Contact: Kathy Dunnuck, BFA, BSN, RN | Date of last review: 10/5/15
Quick Links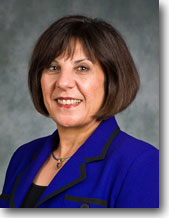 Margaret Calarco, PhD, RN
Chief of Nursing Services
Welcome to
Nursing at Michigan
Nursing at Michigan represents an extraordinary professional nursing community of over 4500 nurses in a multitude of practice and advanced practice roles. Together with our patient and family partners and inter-professional colleagues we have co-created a strong and vibrant professional practice model which supports our promise to society... "To create a shared vision and powerful voice which advances the art and science of Nursing and revolutionizes leadership, education and research, and transforms patient care."
Ever focusing on our "true
north" "to provide the finest
care to those who choose
to place their lives in our
hands," nurses at Michigan
strive to provide exquisite,
evidence-based care in a
compassionate and innovative
practice environment.
We are tremendously proud
of the care we provide to
the thousands of patients
and families we serve in the
State, across the country
and around the world.
We invite you to join our community in celebrating exceptional nursing care.