Click arrows to read more...
CVCICU team wins the first F2016 Clinical Innovation Challenge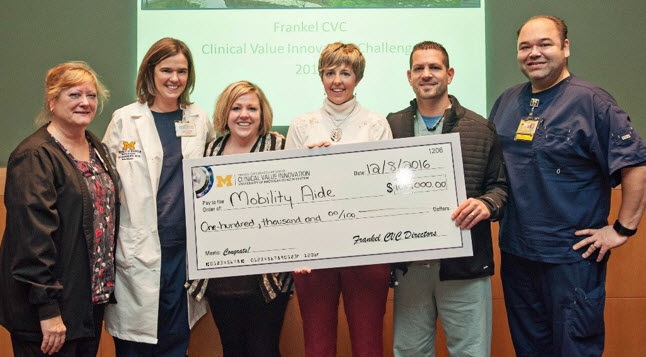 Nearly a year in the making, the first annual Frankel Cardiovascular Center (FCVC) Clinical Innovation Challenge celebrated its "Selection Event" on December 8. Guests heard pitches from the Challenge's top five teams, all vying for $100,000 in funding and project support. Erika Koerner, CVICU RN, did an amazing job presenting against 4 physician lead teams and brought home the big win for the CVICU. The team for the winning proposal: Mobility Aide (Early Ambulation in CVICU) was Regi Freeman, RN, CNS - CVICU Clinical Nurse Specialist, Alice Ferguson, RN, ENC - CVICU Educational Nurse Coordinator, Courtney Clark, NP - CVICU Nurse Practitioner, Erika Koerner, RN - CVICU Nurse, Shelly Green - CVICU Technician, Jessica Miller, PT, DPT - Physical Therapist, Lisa Haggitt, PT, DPT - Physical Therapist, Jessica Russell, PT, DPT - Physical Therapist. To view photos of the event, please click here.
Paige Buie and Stephanie Park awarded Chris Tung Award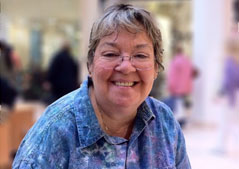 Paige Buie (NICU) and Stephanie Park (TBICU) were chosen to receive the Chris Tung Critical Care Nursing Educational Fund Award! This Gift Fund has been created to grant Critical Care Nurses the opportunity to attend conferences for educational growth. The purpose of this fund is intended to assist someone who may be financially burdened, as well as, give more people the opportunity to attend a national or local conference. The funds can cover: Registration, Air Fare and/or Hotel costs. This education fund has been donated by Chris's husband in memory of what she loved.
Paige Buie awarded Rising Star in Clinical Practice Award
Paige Buie, BSN, RN, CCRN (NICU) has beenselected as the recipient of the 2017 Rising Star in Clinical Practice Award from AANN (American Association of Neuroscience Nurses). The award will be presented on March 23, at the Annual Educational Meeting in Boston. As the award recipient, Paige's conference expenses will be covered, and she is also invited to attend the President's Reception.
Nurses Rank #1 Most Trusted Profession for 15th Year in a Row!
The American public has again ranked nurses as the professionals with the highest honesty and ethical standards, according to a Gallup poll released December 19, 2016. The annual poll marks the 15th consecutive year that nurses have been ranked the most trusted.
According to the poll, 84 percent of Americans rated nurses' honesty and ethical standards as "very high" or "high." The next closest profession, pharmacists, was rated 17 percentage points behind nursing.
"Trust plays an important role in the relationship between nurses and the patients we serve," said Cipriano. ANA encourages nurses to draw on that trust to engage with consumers to improve their health and to advocate for patients and for the quality of care in this country. Additionally, I challenge those charged with making health policy at the facility, local, state and national levels, to include the trusted voice of nurses at the decision-making table. Based on this survey, no other profession is held in as high regard by the public. And given nursing's frontline perspective on health care delivery, we offer a point of view that is unmatched."
In 2017, ANA will continue its longstanding efforts to advocate for health system reform. The association is committed to working with the new administration and Congress to advance policy that aligns with its four principles for health system reform: access to care, affordable and equitable care, quality of care and workforce.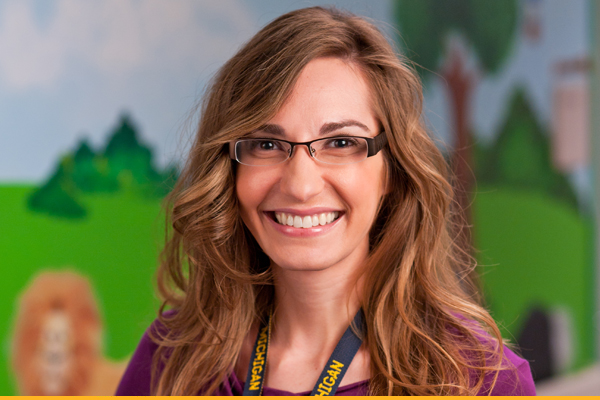 What's New in Nurse Recruitment and Retention...
Employee Referral Program
Daisy Award Showcase
Help spread the word! Nursing Career Launch 2017: Transitioning into Practice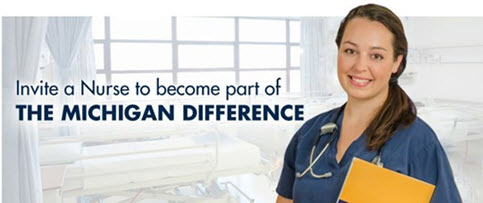 Employee Referral Program
We are all winners when you share the amazing opportunities of a nursing career at The University of Michigan Health System with your talented friends and colleagues.
Congratulations to Catherine Gleason for her successful referral to UMHS Care Management. For sharing this opportunity with a friend, Catherine was the recipient of a bonus of $3000.
For more information about the ERP go to: www.UMnursing.org
---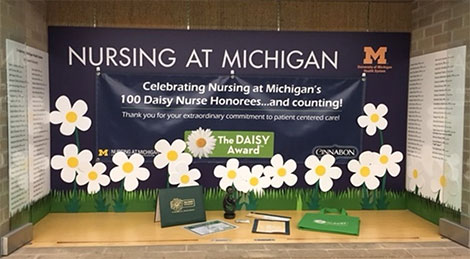 Daisy Award Showcase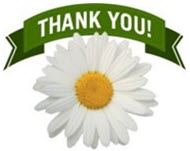 Please join us in congratulating the extraordinary 100+ UMHS Daisy honorees since January of 2007. We have created a display to honor the winners of our over ten-year participation with the Daisy Award. The display can be found on the first floor of University Hospital near the Cancer Center.
At UMHS, recipients are nominated by patients or their family - for a nurse that is the highest form of recognition. This process assures that those few selected have clearly demonstrated the compassion and patient / family focused care that is representative of DAISY winners. UMHS' participation has been funded by Sharman Lamka whose husband Philip was a patient at UMHS. One of Philip's nurses was UMHS's first DAISY Award recipient. We are ever thankful for her support.
Thank you to all UMHS Nurses for the exemplary commitment that you provide to your patients each day!
---
Help Spread the Word!
Nursing Career Launch 2017:
TRANSITIONING INTO PRACTICE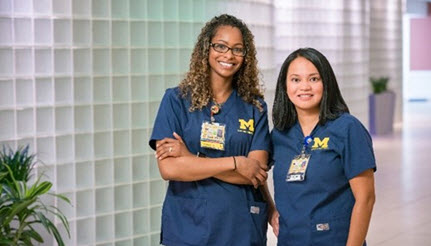 WHO SHOULD ATTEND: Registration is limited to any BSN nursing student graduating in 2017.
LOCATION:
Holiday Inn Ann Arbor, 3600 Plymouth Road Ann Arbor, MI 48105
DATE:
January 21, 2017
TIME: 8:30 am - 3:30 pm
COST: Free
Informational sessions held on:
Creating a resume that stands out
Preparing for an interview
Navigating the job market
A panel of current nurses will discuss their first year experience and give their advice on how to approach a first nursing position.
SPACE IS LIMITED:
Registration opens on December 5, 2016 online at www.UMnursing.org
Dr. Stephen Strobbe inducted as fellow and inaugurated as president IntNSA
At an awards ceremony at the 40th Annual Educational Conference of the International Nurses Society on Addictions (IntNSA) in Las Vegas, Nevada, on October 6, Dr. Stephen Strobbe, Clinical Associate Professor at the University of Michigan School of Nursing, and the Department of Psychiatry, was inducted as a Fellow of the International Academy of Addictions Nursing (FIAAN). The following day, at the close of the annual business meeting, he was inaugurated as the President of IntNSA, to serve a two-year term from October 2016-2018.
Gina Bergmooser presents International Transplant Nursing Symposium
Gina Bergmooser RN, MSN, CCM presented a poster at the ITNS (International Transplant Nursing Symposium October 13-16, 2016. Gina was selected to present a poster on "It's Complicated But Critical: A Referral Process." Other nurses that were involved with the project included Bernice Mathews, RN, MSA and Amy Smith, RN, BSN.
Debra Kovacevich awarded Aspen Distinguished Nutrition Support Nurse Service Award
Debra Kovacevich, RN, MPH received the Distinguished Nutrition Support Nurse Service Award by Aspen. This award is given to a nurse member who has made an excep-tional contribution in leadership and practice. Debra will be recognized at the National Meeting on February 18, 2017.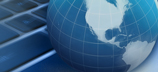 Nursing at Michigan Influencing the World!
UMHS Nurses: Remember to Enter Your
Professional Contributions
Have you recently completed a manuscript, book chapter, or presentation? Have you received a grant or award? If so, we'd like to hear about it! Please take a few minutes to tell us about your achievement by completing the survey linked below. Nursing Contribution Submissions:
https://umichumhs.qualtrics.com/SE/?SID=SV_25IgL1skzSQGUFC
This information will be used to recognize contributions made by UMHS nurses. It will be posted on the external
UMHS Nursing Cited Work website
(updated quarterly) and will also be included in Marge's Monthly Nursing Updates, Nursing Services' annual reports, Nurse's Week activities, and shared at other appropriate venues. Thank you for your contributions!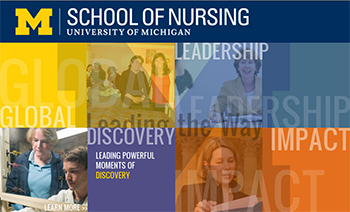 See What's New at the U-M School of Nursing
The latest information is now available on the web at: http://www.nursing.umich.edu/about-our-school/news-portal
News Archives | News Archives February 2014 and prior
Target Audience: All | Contact: Kathy Dunnuck, BFA, BSN, RN | Date of last review: 1/4/17
Quick Links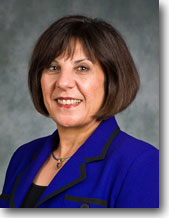 Margaret Calarco, PhD, RN
Chief of Nursing Services
Welcome to
Nursing at Michigan
Nursing at Michigan represents an extraordinary professional nursing community of over 4500 nurses in a multitude of practice and advanced practice roles. Together with our patient and family partners and inter-professional colleagues we have co-created a strong and vibrant professional practice model which supports our promise to society... "To create a shared vision and powerful voice which advances the art and science of Nursing and revolutionizes leadership, education and research, and transforms patient care."
Ever focusing on our "true
north" "to provide the finest
care to those who choose
to place their lives in our
hands," nurses at Michigan
strive to provide exquisite,
evidence-based care in a
compassionate and innovative
practice environment.
We are tremendously proud
of the care we provide to
the thousands of patients
and families we serve in the
State, across the country
and around the world.
We invite you to join our community in celebrating exceptional nursing care.