Meet our new
Chief Nurse Executive...
Ann Scanlon McGinity!

Nursing at Michigan in the News
At Michigan Medicine, we're focused on continually advancing the highest standards of the nursing profession. That's why we're pleased to welcome Ann Scanlon McGinity, RN, PhD, FAAN as our new Chief Nurse Executive.
In previous roles, Ann has led the achievement of Magnet® status three times, overseen the opening of a state-of-the-art cancer and liver hospital in Saudi Arabia, and managed the strategic planning and operations for nursing care in a 1,220-bed academic medical center hospital. In leading our nursing practice, Ann will deliver strategic direction and guidance as well as drive innovations and best practices to ensure the growth, evolution and Magnet excellence of nursing at Michigan Medicine. We're excited for the passion, direction and vision she'll bring to our team!
Click arrows to read more news and current events...
Elizabeth Jewell awarded Leadership Award, Institute of Professional Nursing
Elizabeth Jewell, BSN, RN received a Leadership Award from the Institute of Professional Nursing at their Spring Banquet on May 10, 2015. Liz has exten- sive experience in psychiatric nursing and has worked in a variety of capacities and at various health care systems. Her roles have included patient care, educator and supervisor. She has participated in and lead a variety of clinical and quality projects. She has also provided foot care for the elderly and day-care for children. She came to Michigan Medicine in 2009. In 2016 the electroconvulsive therapy (ECT) unit became an independent unit and Liz is the first supervisor. The patient population ranges in age from adolescents to the elderly. She was nominated for the award for her outstanding holistic care of patients of all ages and showing the way to others about caring and comforting. Unit staff shared that Liz supports them and offers up many opportunities for education. She keeps communication lines open between staff and seeks input regarding processes and procedures. Liz is also working on an advanced nursing degree.
Erika Koerner and Regi Freeman presented American Association of Critical-Care Nurses
Erika Koerner MSN, RN, AGNP-BC and Regi Freeman, MSN, RN, ACNS-BC presented Advanced Heart Failure Treatment: Mechanical Circulatory Support and Transplant. in May at the American Association of Critical Care Nurses National Teaching Institute in Boston MA.
Irene Knokh accepted as Mentor Peer Mentoring Program Penn State/EDU-CAUSE Learning Institute
Irene Knokh, Instructional Learning Senior, Professional Development and Education has been accepted at as a Mentor for the Peer Mentoring Program, a partnership between Penn State and EDU-CAUSE Learning Institute. Her role will be to establish a supportive relationship and share her experiences, advise, and skills as an instructional designer with her mentee.
Julia Huang slotted to present International Transplant Conference in Berlin, Germany
Julia Huang, RN, BSN, CCTN, Abdominal Transplant Ambulatory Care Unit as a Post Liver RN submitted an abstract and was accepted to present "Could Hepatitis B Vaccination Help to Prevent de nov HBV Infection in Transplant Recipients who Receive Hepatitis B Core Antibody Positive Allograft? Literature Review and Case Study". This will be shared at the international Transplant Conference in Berlin, Germany
Paula Anton, Sarah Taylor and Sharon Dickinson, MSN, RN published Critical Care Nursing Quarterly
The next Issue of Critical Care Nursing Quarterly July/September 2018 - Volume 41 - Issue 3 was published June 2. Authors list and their article titles include:

Issue Editors:
Paula Anton MSN, RN
Sarah Taylor MSN, RN
Sharon Dickinson MSN, RN
Foreword:
Anton, Paula; Dickinson, Sharon; Taylor, Sarah
Critical Care Nursing Quarterly. 41(3):225, July/September 2018.
Articles:
Changing the Perceptions of a Culture of Safety for the Patient and the Caregiver: Integrating Improvement Initiatives to Create Sustainable Change Black, Joyce, M., PhD, RN, CWCN, FAAN; Salsbury, Susan, BS, OTR/ L, CDMS, CSPHP; Vollman, Kathleen, M., MSN, RN, CCNS, FCCM, FAAN
Integrating a Standardized Mobility Program and Safe Patient Handling Dickinson, Sharon, MSN, RN, ACNS-BC, ANP, CCRN; Taylor, Sarah, MSN, RN, ACNS-BC; Anton, Paula, MS, RN, CRRN, ACNS-BC
Safe Patient Handling and Mobility: Development and Implementation of a Large-Scale Education ProgramLee, Corinne, DNP, RN, ACNS-BC; Knight, Suzanne, W., DNP, RN; Smith, Sharon, L., PhD, RN; Nagle, Dorothy, J., MSN, RN-BC; DeVries, Lori, BA, MA, LPN
Reducing Intensive Care Unit Staff Musculoskeletal Injuries With Implementation of a Safe Patient Handling and Mobility Program Ann Adamczyk, Mary, MSA, RN
Incorporating Safe Patient-Handling Techniques to Mobilize Our Most Complex Patients on Extra Corporeal Membrane Oxygenation Rickelmann, Constance, BSN, RN, CCRN; Knoblauch, Diane, J., JD, MSN, RN
A Nurse-Led Mobility Program on an Acute Rehabilitation Unit Anton, Paula, MS, RN, CRRN, ACNS-BC; Richard, Christy, BSN, RN
Instituting a Standardized Mobility Aid in the Cardiovascular Intensive Care Unit. Freeman, Regi, MSN, RN, ACNS-BC; Koerner, Erika, MSN, RN, AGNP-BC
Moving the Bariatric Patient Gillespie, Twanda, MSN, RN, ACNS-BC; Lane, Sarah, MSN, RN
"Add It to the Parking Lot": Safe Patient Handling and Mobility in the Emergency Department Havey, Renee, MS, RN, CCRN, ACNS-BC, CEN; Aebersold, Cassan- dra, BSN, RN, CCRN, CEN; Terrasi, Jason, BASc, EMT-P
An Introduction to Pediatric Safe Patient Handling: The Case for a Safe Pediatric Mobility Protocol Dickinson, Chris, J., MD
Pediatric Mobility: The Development of Standard Assessments and Interventions for Pediatric Patients for Safe Patient Handling and Mobility Owens, Tonie, MSN, RN; Tapley, Christopher, MS, PT
Development of Medical Criteria for Mobilizing a Pediatric Patient in the PICU. Van Damme, Danielle, MSN, CPNP-AC; Flori, Heidi, MD; Owens, Tonie, MSN, RN
A Multidisciplinary Approach to Equipment Use in Pediatric Patient Mobilization Parchem, Katie, PT, DPT; Peck, Amanda, MS, OTRL; Tales, Katherine, PT, DPT
Multifactorial Strategies for Sustaining Safe Patient Handling and Mobility Totzkay, Deborah, L., DNP, RN, ACNP-BC, CNOR
Rama Mwenesi named among the "2017 Top 5 Black Alumni Under 10"
Perioperative Nursing Services Quality Manager, Rama Mwenesi, has been named among the "2017 Top 5 Black Alumni Under 10" by the University of Michigan Alumni Association. "The Five Under Ten Young Alumni Recognition Award" is bestowed annually to five individuals who have graduated from U-M in the past 10 years and recognizes their professional achievements and/or contributions to the community-at-large. Rama Mwenesi is a PhD student in Health Infrastructures and Learning Systems at the University of Michigan Medical School. Since receiving his MSE in Industrial and Operations Engineering in 2016, Rama has served at the PeriOperative Services Manager for Quality Assurance and Innovation at Michigan Medicine. Rama's commitment to innovation and international development has been recognized both locally and abroad by being invited to participate in the Global Entrepreneurship Summit in 2015 by Presidents Obama and Kenyatta. For more information about his accomplishments visit his UMBA Profile.
Irene Knokh presented Enriching Scholarship and Online Learning Consortium Innovate Conference
Knokh, Instructional Learning Senior, Professional Development and Education presented two Enriching Scholarship presentations: "These are a Few of My Favorite Tools" and "Microlearning: Teaching And Delivering Content To Learners In Small, Very Specific Bursts". Irene also presented at the Online Learning Consortium Innovate Conference: April 2018. Design of Universal Active Learning (DUAL): A Hybrid Model Of Universal Design and Active Learning.
Tonie Owens, Debra Price and Sharon Dickinson presented American Association of Critical Care Nurses
Owens, Price and Dickinson presented at the American Association of Critical Care Nurses, National Teaching Institute, May 20th on "Moving and Grooving: Implementing an Evidence-Based Mobility Protocol for Critically Ill Adults and Children".
Patricia (Patti) Paulin, RN presented Wilson's Disease Association
Paulin presented at the Wilson's Disease Association in April 2018 and has been nominated for another 3-year term on the Wilson's Association Board.
Denise O'Brien named Inaugural Fellow FASPAN
Denise O'Brien, DNP, RN, ACNS-BC, CNS-C, CPAN, CAPA, FAAN, FASPAN (OR/PACU) was named one of the inaugural Fellows of the American Society of PeriAnesthesia Nurses (FASPAN) at the 37th American Society of PeriAnesthesia Nurses National Conference, April 29-May 3, 2018, in Anaheim, California.
Anne McLeod elected AAACN Nursing Alliance for Quality Care
Anne McLeod, RN, DNP (Stroke Quality Coordinator) was elected to represent the American Academy of Ambulatory Care Nursing (AAACN) on the Nursing Alliance for Quality Care (NAQC). This is a 2 year appointment. The Nursing Alliance for Quality Care (NAQC) is the leading organization in the field for advancing high-quality, patient-centered health care.
Suzanne Knight awarded Beatrice Kalisch Excellence Award
Suzanne Knight, DNP, RN was this year's recipient of the Beatrice Kalisch Excellence Award through the UM School of Nursing that recognizes a student in Systems Leadership and Effectiveness Science who has demonstrated a high level of creativity and innovation.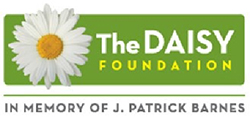 The Daisy Award
Sam Miller, RN (6D UH)
This nomination came from a grateful daughter of one of Sam's patients:
"My dad had been suffering from several chronic health issues, which required multiple back to back hospitalizations. We were going through many fears during this time. During his last hospitalization, he was cared for at the University of Michigan hospital by Sam Miller, RN in the critical care medical unit. Sam was my dad's admission nurse during the acute respiratory crisis. The teamwork on 6D was outstanding as they tried to stabilize dad. Sam demonstrated clinical skills through his quick critical thinking and nursing interventions. He had excellent communication with his team, and it was evident that others respected him because of his knowledge. During all of the ups and downs of that intense day, he not only provided compassion to my dad, but also to our family, by being sensitive to our presence, and empathetic to all we were feeling. Sam calmed our fears and anxiety. He also asked questions that addressed my dad's physical, emotional and spiritual needs during this time. As a professional nurse it was evident that he knew the value of healing, and that it could only be achieved by addressing the whole person. We will be forever grateful for Sam's dedication that day, and also the next several days that my dad spent in the ICU on 6D. The teamwork was outstanding, but it was Sam who was there at the beside every minute of that critical admission day, helping us feel safe by providing excellent, quality, compassionate patient care! Thank you Sam, you are Extraordinary!"
What's New in Nurse Recruitment and Retention...
Nurses Week 2018 Continues to Hit it Out of the Park!
During National Nurses Week and throughout the year, Michigan Medicine is proud to celebrate the role nurses play in delivering the highest level of quality care to their patients.
To celebrate Nurses Week, Michigan Medicine Nurse Recruitment and Retention provides a variety of opportunities to support our nurse professional development throughout the year.
On Thursday, June 14th, Nurse Recruitment and Retention hosted a Dinner and Pain CE Lecture: Pain Management 2020: These Times They Are A-Changing given by Terri Voepel-Lewis, MSN, RN. We had a turnout of 75 attendees who enjoyed a wonderful dinner and presenta-tion!
On Thursday, June 21st, Nurse Recruitment and Retention hosted a Dinner and Human Trafficking CE Lecture given by Katie Kessler, MSN, MSA, RN. We had a turnout of 107 attendees who took part in the dinner and presentation!
Both of these lectures have been recorded and will be shown on the upcoming Nurses Week bus trips in September and November.
These opportunities were just 2 of the 12 options offered thus far this year and were provided as a token of thanks for all that our nurses do. Registration is still open for a variety of opportunities to expand your knowledge base. More details about available Nurses Week opportunities can be found at www.UMNursing.org.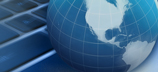 Nursing at Michigan Influencing the World!
Michigan Medicine Nurses: Remember to Enter Your
Professional Contributions
Have you recently completed a manuscript, book chapter, or presentation? Have you received a grant or award? If so, we'd like to hear about it! Please take a few minutes to tell us about your achievement by completing the survey linked below. Nursing Contribution Submissions:
https://umichumhs.qualtrics.com/SE/?SID=SV_25IgL1skzSQGUFC
This information will be used to recognize contributions made by UMHS nurses. It will be posted on the external
Nursing Cited Work website
(updated quarterly) and will also be included in Marge's Monthly Nursing Updates, Nursing Services' annual reports, Nurse's Week activities, and shared at other appropriate venues. Thank you for your contributions!
Nursing Needs Victors - Philanthropy for Nursing at Michigan
Philanthropy provides U-M nurses with support and resources to deliver the most complete and compassionate care. It can also inspire them as they advance cutting-edge ideas to improve all areas of health care. We invite you to join our community to support and celebrate exceptional nursing.
Advancing Care, Improving Lives Brochure | Give Now ~ victors.us/nursing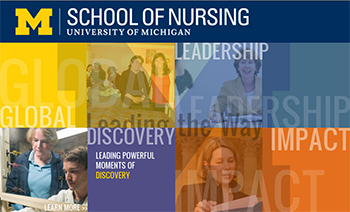 See What's New at the U-M School of Nursing
The latest information is now available on the web at: http://www.nursing.umich.edu/about-our-school/news-portal
News Archives | News Archives February 2014 and prior
Target Audience: All | Contact: Kathy Dunnuck | Last updated: 6/20/18
Quick Links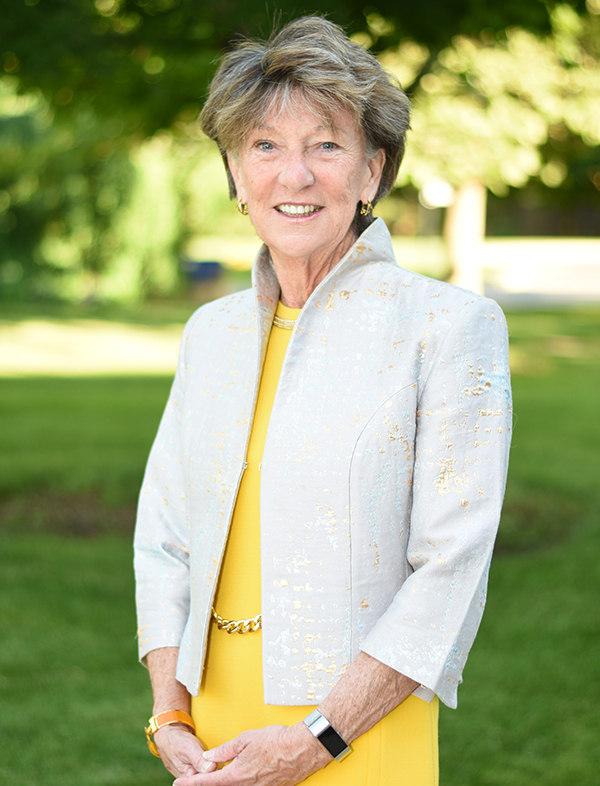 Ann Scanlon McGinity, PhD, RN, FAAN
Chief Nurse Executive
Welcome to
Nursing at Michigan
The exceptional nursing care that we provide to our patients and their families is one of the primary reasons Michigan Medicine is in the top tier of America's leading academic medical centers. In these first few weeks of beginning my journey at The University of Michigan as our system Chief Nurse Executive, I have witnessed our nurses' energy and enthusiasm for excellence. As a Magnet hospital, we are positioned to respond to and lead in the national game changing regulatory landscape that is focused on quality, service and cost. This focus has always been what Michigan nurses have done!
Seeing the continuum of care that our patients and their families must travel requires us to critique our current clinical models of care delivery and to assess what new skills and talents we need to learn to bridge the many environments our patients travel. The fundamental ways we have delivered care now need to include consideration of emerging technologies, evolving nursing science and new payment systems as the sites of care where nursing is provided are shifting more toward the ambulatory arena and the community.
Patient complexity is dramatically changing how interdisciplinary clinical teams interact while technology offers opportunities to improve value to the patient. All of the emerging nursing models are focusing on patient centered care and improving patient access and providing a meaningful healthcare experience. As a recognized successful nursing organization, I believe hard work has put us on the path of preparing ourselves to function differently in the future.
As you were drawn here to Michigan because of its reputation, its outstanding colleagues and collaborators, so also was I. New beginnings bode of infinite possibilities and opportunities to re-vision our work and to inspire and lead one during the most transformative time in health care. The potential to influence one another requires us to be agile and yet thoughtful during this time of change. It also requires new competencies and new skills. The impact of nursing care on the economics of health care systems is now being recognized by federal organizations as hospitals are fiscally rewarded or penalized financially on the outcomes of care that nurses deliver. Focus is on the continuum of care with priority on ambulatory care, home based care, retail and virtual care: all areas we need to continue to prepare our nurses for, all areas we already have competencies in.
The time now too demands more innovative nursing leaders and clinicians who are versed in technology, data analytic skills, team collaboration and business skills. We need risk takers who are willing to try new and different ways to improve outcomes to patients.
We need also to remember and take the time to sit quietly with our patients as they gift us with the stories of their suffering. We must find a place to be present to one another and to the dreams we have for the future.
Because there are not clear road maps for us going forward, I believe we will need to expand our commitment to partner with others far more strategically. I will count on the courage, insight and companionship of all as we continue to work to make a difference in the lives of those entrusted to each of us. There are many opportunities in front of us... ones I sense Michigan nurses are eager and enthusiastically looking forward to exploring. On this journey of discovery, when the path is not always so clear, know that I feel most fortunate to be a colleague and count on the wisdom and knowledge of Nursing at Michigan to guide us toward our future dreams.
~ Ann
June, 2018