Nursing at Michigan in the News
Click arrows to read more news and current events...
Catherine Meldrum presented Michigan Care Management Resource Center
Catherine Meldrum, PhD, MS, RN, CCRC (Department of Internal Medicine, Division of Pulmonary & Critical Care Medicine) presented "Management of Acute Exacerbations of COPD" in August 2018 for the Michigan Care Management Resource Center.
Dr. Stephen Strobbe launched Dutch Chapter of IntNSA
In his role as President of the International Nurses Society on Addictions (IntNSA), Dr. Stephen Strobbe - Clinical Associate Professor at the University of Michigan School of Nursing, and the Department of Psychiatry - participated in the launch of the Dutch Chapter of IntNSA, in the Netherlands. This event was held in conjunction with the 10th International Council of Nurses (ICN) Nurse Practitioner/Advanced Practice Nurses (NP/APN) conference in Rotterdam, where Dr. Strobbe also delivered two jury-selected oral presentations, on substance use as a global health risk, and adolescent screening, brief intervention, and referral to treatment (SBIRT) for substance use.
What's New in Nurse Recruitment and Retention...
Employee Referral Program -
Earn a Referral Bonus up to $3,000
For a complete list of eligible positions** please visit erp.UMnursing.org
Questions? Contact Nurse Recruitment & Retention at (734) 936-5183 or nurserecruit_umhs@med.umich.edu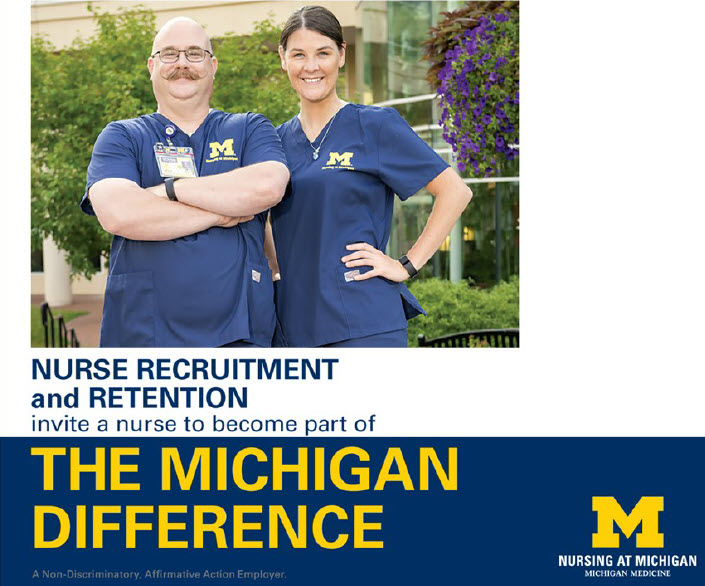 *On select nursing positions; some restrictions apply.
**Program rules and guidelines can be found at: erp.UMnursing.org
Terri Voepel Lewis awarded Friends of the National Institute of Nursing Research Protégé Award
Congratulations to Terri Voepel Lewis, PhD, RN (Anesthesiology) on being selected as this year's Friends of the National Institute of Nursing Research (FNINR) Protégé awardee. FNINR is an independent, non-profit organization that's vision is to be a bold voice to communicate the impact of NINR's work to elevate nursing science, improve lives and advance the Nation's health.
Catherine Meldrum presented Lung Outreach Program, Grand Rapids
Catherine Meldrum, PhD, MS, RN, CCRC (Division of Pulmonary and Critical Care Medicine) presented Multidisciplinary Approach to Management of COPD, Lung Out-reach Program, in Grand Rapids Michigan in July 2018.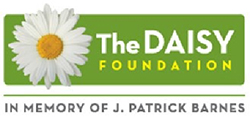 The Daisy Award
Johnny Player, RN (Medical Short Stay Unit)
The DAISY Award is given through a nationally known pro-gram currently in place in over 2,700 healthcare facilities in 50 states and 15 countries. DAISY is an acronym for Diseases Attacking the Immune System and this award was established by a family whose son succumbed to a disease of the immune system. During his prolonged hospital stay, he and his family greatly benefited from care provided by superb RNs. This award was established to honor nurses who exemplify that compassionate, thorough care. Within the University of Michigan Health System, candidates for the Daisy Award are nominated by patients and/or their families. This is a wonderful honor. This nomination came from a grateful patient.
"I would like to thank the University of Michigan's Palliative Team for the care they gave my uncle. The staff that tended to my uncle was phenomenal! However, I wanted to bring to your attention the actions of one of your team members, Johnny. I have had my fair share of interactions with aides and hospice personnel, from my grandmother to my father, and have come to appreciate the little interactions that professionals display that show that the person that we know will soon pass, but is still a sentient being. Often times we hear that females are better in the role as caretaker, but for the caretaker role played during my families most recent hospital/palliative experience, Johnny stood out as exceptional.

The extra time that he took to connect with my family, and my uncle in particular, was admirable. I was surprised to witness such effortless interactions with my uncle, initiated by Johnny. For example, Johnny took the extra time to assist my uncle to breathe easier. I know that his attentiveness to the little things that assisted in my uncle's comfort, made me feel at ease, and it definitely relaxed my uncle during his last nights on earth.

I know that I was not the only person positively impacted and touched by Johnny's interactions with my uncle and other family members. My cousins not only mentioned Johnny to their wives, but to me multiple times over the course of the week. The interactions they had with Johnny during the nights they stayed in the hospital were important to them. The also appreciated his spirit and words during this time. Collectively, we took notice of the extra care to the details that Johnny exercised. I am grateful that Johnny treated my uncle as a whole human being while in his care.

I want to also thank your staff for accommodating our large family, and for making my aunt and cousins feel at ease during this hospitalization."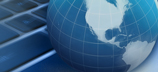 Nursing at Michigan Influencing the World!
Michigan Medicine Nurses: Remember to Enter Your
Professional Contributions
Have you recently completed a manuscript, book chapter, or presentation? Have you received a grant or award? If so, we'd like to hear about it! Please take a few minutes to tell us about your achievement by completing the survey linked below. Nursing Contribution Submissions:
https://umichumhs.qualtrics.com/SE/?SID=SV_25IgL1skzSQGUFC
This information will be used to recognize contributions made by UMHS nurses. It will be posted on the external
Nursing Cited Work website
(updated quarterly) and will also be included in Marge's Monthly Nursing Updates, Nursing Services' annual reports, Nurse's Week activities, and shared at other appropriate venues. Thank you for your contributions!
Nursing Needs Victors - Philanthropy for Nursing at Michigan
Philanthropy provides U-M nurses with support and resources to deliver the most complete and compassionate care. It can also inspire them as they advance cutting-edge ideas to improve all areas of health care. We invite you to join our community to support and celebrate exceptional nursing.
Advancing Care, Improving Lives Brochure | Give Now ~ victors.us/nursing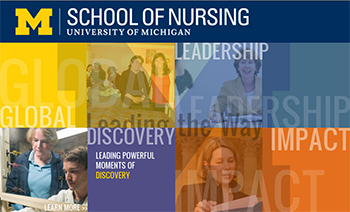 See What's New at the U-M School of Nursing
The latest information is now available on the web at: http://www.nursing.umich.edu/about-our-school/news-portal
News Archives | News Archives February 2014 and prior
Target Audience: All | Contact: Kathy Dunnuck | Last updated: 9/11/18
Quick Links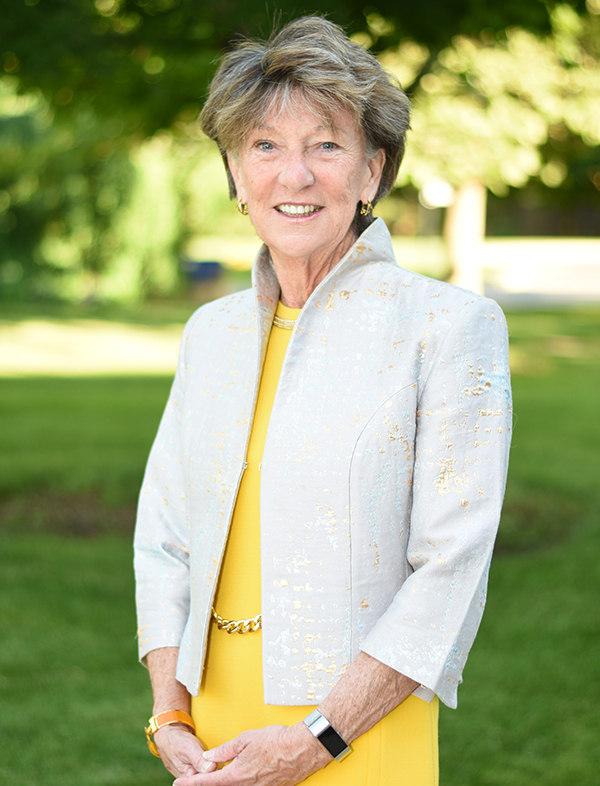 Ann Scanlon McGinity, PhD, RN, FAAN
Chief Nurse Executive
Welcome to
Nursing at Michigan
The exceptional nursing care that we provide to our patients and their families is one of the primary reasons Michigan Medicine is in the top tier of America's leading academic medical centers. In these first few weeks of beginning my journey at The University of Michigan as our system Chief Nurse Executive, I have witnessed our nurses' energy and enthusiasm for excellence. As a Magnet hospital, we are positioned to respond to and lead in the national game changing regulatory landscape that is focused on quality, service and cost. This focus has always been what Michigan nurses have done!
Seeing the continuum of care that our patients and their families must travel requires us to critique our current clinical models of care delivery and to assess what new skills and talents we need to learn to bridge the many environments our patients travel. The fundamental ways we have delivered care now need to include consideration of emerging technologies, evolving nursing science and new payment systems as the sites of care where nursing is provided are shifting more toward the ambulatory arena and the community.
Patient complexity is dramatically changing how interdisciplinary clinical teams interact while technology offers opportunities to improve value to the patient. All of the emerging nursing models are focusing on patient centered care and improving patient access and providing a meaningful healthcare experience. As a recognized successful nursing organization, I believe hard work has put us on the path of preparing ourselves to function differently in the future.
As you were drawn here to Michigan because of its reputation, its outstanding colleagues and collaborators, so also was I. New beginnings bode of infinite possibilities and opportunities to re-vision our work and to inspire and lead one during the most transformative time in health care. The potential to influence one another requires us to be agile and yet thoughtful during this time of change. It also requires new competencies and new skills. The impact of nursing care on the economics of health care systems is now being recognized by federal organizations as hospitals are fiscally rewarded or penalized financially on the outcomes of care that nurses deliver. Focus is on the continuum of care with priority on ambulatory care, home based care, retail and virtual care: all areas we need to continue to prepare our nurses for, all areas we already have competencies in.
The time now too demands more innovative nursing leaders and clinicians who are versed in technology, data analytic skills, team collaboration and business skills. We need risk takers who are willing to try new and different ways to improve outcomes to patients.
We need also to remember and take the time to sit quietly with our patients as they gift us with the stories of their suffering. We must find a place to be present to one another and to the dreams we have for the future.
Because there are not clear road maps for us going forward, I believe we will need to expand our commitment to partner with others far more strategically. I will count on the courage, insight and companionship of all as we continue to work to make a difference in the lives of those entrusted to each of us. There are many opportunities in front of us... ones I sense Michigan nurses are eager and enthusiastically looking forward to exploring. On this journey of discovery, when the path is not always so clear, know that I feel most fortunate to be a colleague and count on the wisdom and knowledge of Nursing at Michigan to guide us toward our future dreams.
~ Ann
June, 2018