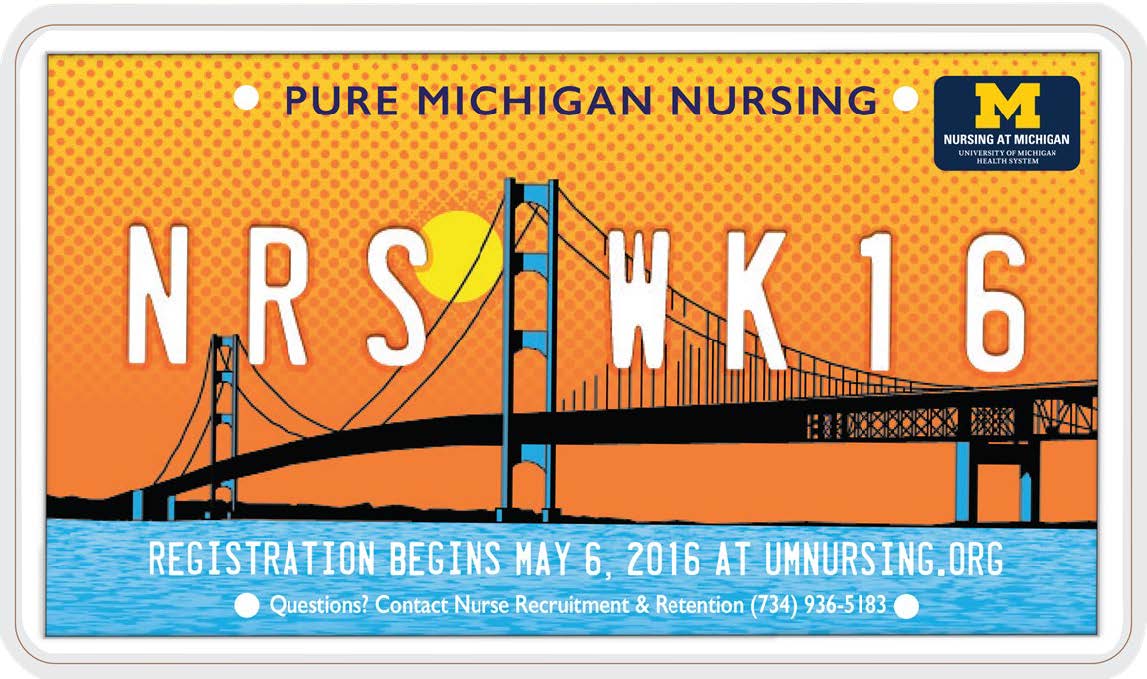 UMHS Nursing in the News
Click arrows to read more...
What's New in Nurse Recruitment and Retention...
Nurses Week Dinner and Pain CE Lecture
Nurses Week Cedar Point Bus Trips
Nurses Week 2016 Update!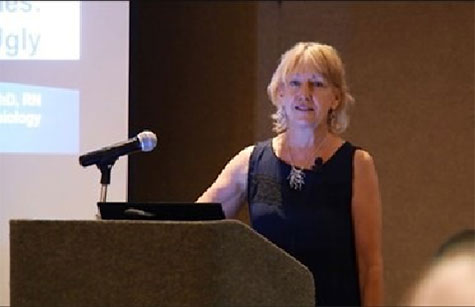 UMHS Nurses Week 2016 continues to roll along! Nurse Recruitment and Retention hosted a Dinner and Pain CE Lecture: Policy and Pain Outcomes: The Good, The Bad, The Ugly given by Terri Voepel-Lewis, MSN, RN. We had a turnout of 93 nurses who enjoyed a wonderful dinner and presentation!
The first of three bus trips this year was to Sandusky, OH, home of Cedar Point Amusement Park. We had a turnout of 92 nurses who were provided 1 CE for Terri Voepel-Lewis' Pain Lecture Presentation in route to Cedar Point! Participants then had the chance to enjoy a wonderful day of thrill rides, roller coasters, entertainment and the beach on Lake Erie!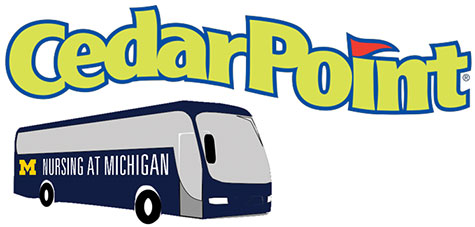 These opportunities were just 2 of the 12 options offered in 2016 and were provided as a token of thanks for all that you do. Registration is still open for a variety of opportunities to expand your knowledge base. Remaining opportunities still open include:

Certification Review Courses
Certified Pediatric Nurse
Oncology Certified Nurse
Adult Medical-Surgical Certification
Online Certification Review Card

Dr Calarco's Grand Rounds
Time Sensitive Issues: Stroke, Stemi, Sepsis CE Course (Cammy House-Fancher)
Dave MacIntyre, Robert Philo and Kathie Krebs - Staffworks Award Finalists
Dave MacIntyre, CSR Associate Director, Robert Philo, CSR Registered Nurse and Kathie Krebs, Assistant to the Chief Nursing Executive were nominated for their work developing the Frequent Rounding Program and Remote Video Monitoring Program. Shaun Maki nominated this team for the U-M President's Staff Innovation Award. The Office of the President in collaboration with Voices of the Staff solicits nominations annually for the President's Staff Innovation Award, an award program honoring individual staff members or teams whose big ideas and "outside of The Cube" thinking help make the university a better, more inclusive community. The award recognizes innovations in process, product, method or system and is awarded annually. Nominations should represent an improvement or increase in efficiency, productivity, cost savings, achievement of environmental or health and well-being goals and enhancement of the diverse culture and inclusive climate of the university. These two programs were evaluated for originality, impact, practicality, measurability and applicability, and they received the team award as one of two Finalists of 38 nominations for developing cost-effective solutions for observing hospital patients who are at risk for injury or harm, and was recognized as one of two runner-ups to the MCubed staff team! This information was featured in The University Record, and President Mark Schlissel personally thanked these individuals (pictured below) and CSR team for their commitment to excellence and ongoing efforts to make these programs a success.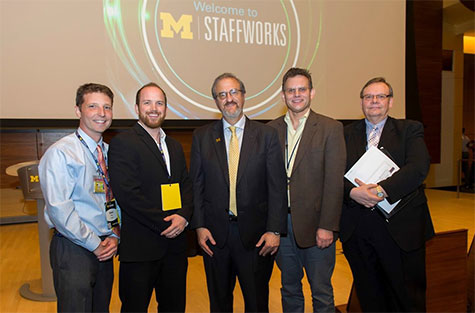 Pictured left to right: Robert Philo, Shaun Maki, President Mark Schlissel, Alan Robertson, Dave MacIntyre
Comprehensive Stroke Center Team Awarded - American Heart Association Team Award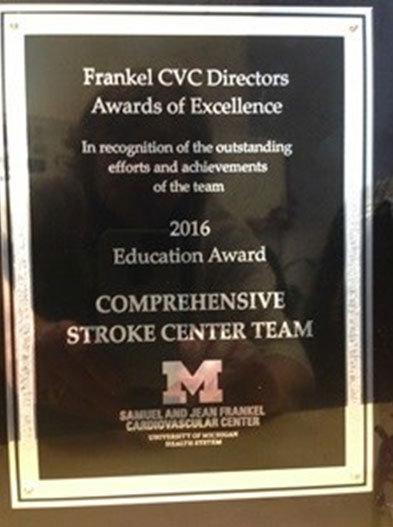 The Comprehensive Stroke Program received an award from the American Heart Association for providing high quality care to stroke patients. Among other things, we have the fastest median time to treatment with IV tPA in the state!! Thanks to all of you for the high quality care you provide to our stroke patients!
Comprehensive Stroke Team Awarded Directors Award of Excellence for Education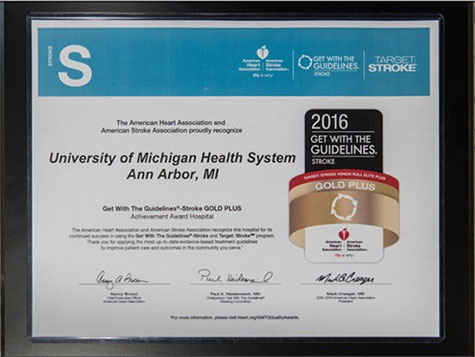 The Comprehensive Stroke Center Team has won the Frankel CVC Directors Awards of Excellence for Education! The team was nominated by Dr. Eric Adelman. I also want to give a shout out to our staff nurse CSC education representatives. They are; Lynn Fullerton and Serena Hartman. Kathy Bennett also deserves some Kudos for this award as well. Kathy in her leadership class helped the CSC obtain educational material for non-english speaking patients. The title of her poster is: "Providing Translated Educational Material to Prevent Disparities and Meet the Needs of Non-English Speaking Patients Suffering From Stroke."
UMHS Nursing Student
Clinical Placement
If you are planning to advance your degree in nursing (whether to achieve a BSN, MSN, DNP or PhD) and will be looking for a clinical placement at UMHS, there are tools to help you! Please visit our UMHS Clinical Placement website at http://www.med.umich.edu/nursing-PDE/clinical_placement/index.html You will find separate tabs for each type of student - Undergraduate, Graduate and Prospective - which will walk you through the process and assist you with timelines.
If you are a unit or a mentor accommodating undergraduate students, there is a tab for you, too! http://www.med.umich.edu/nursing-PDE/clinical_placement/staff.html
You will find:
Standards for student placements
Information re: student observational requests
Mentor resources
Please contact clinicalplacement@med.umich.edu with any questions and we will be happy to assist you.

The DAISY Team Award
6B/9C
6B/9C Team Award
The DAISY Team Award recognizes that while an idea to achieve better patient and family outcomes may start with one individual, it often takes an entire team to implement successfully. The DAISY Team Award is designed to honor collaboration by two or more people, led by a nurse,who identify and meet patient and/or patient family needs by going above and beyond the traditional role of Nursing. This will be the University of Michigan Health System's first Daisy Team Award! This special award is given to 6B and 9C for the extraordinary care given a patient over the past year!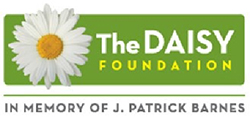 The Daisy Award
Winnie Wood, RN, CNS
Congratulations to Winnie Wood, RN, Clinical Nurse Specialist for receiving the DAISY award in May! The DAISY Award is given through a nationally known program currently in place in over 2,124 healthcare facilities. DAISY is an acronym for Diseases Attacking the Immune System and this award was established by a family whose son succumbed to a disease of the immune system. During his prolonged hospital stay, he and his family greatly benefited from care provided by superb RNs. This award was established to honor nurses who exemplify that compassionate, thorough care. Within the University of Michigan Health System, candidates for the Daisy Award are nominated by patients and/or their families. This is a wonderful honor.
UM Nurses Honored: Sigma Theta Tau Excellence Awards 2016
Sigma Theta Tau's, Rho Chapter, is pleased to announce the recipients of the Rho Chapter Sigma Theta Tau Excellence Awards for 2016 The awards ceremony was held April 3rd at the Michigan Union. In addition to the awards, 136 new members were inducted into Rho Chapter at the ceremony!
For a look at photos of this special day, click on the link (no login is required):
https://www.facebook.com/media/set/
?set=a.1080330235359809.1073741885.437315072994665&type=3
Congratulations to this year's Excellence Awards recipients:
| | |
| --- | --- |
| Excellence in Nursing Education | Jennifer Lee Pesenecker, BSN, RN |
| Excellence in Nursing Practice | Annette M. Sandretto, MSN, ANPBC |
| Excellence in Nursing Practice | Janet Pund, BSN, RN, BC |
| Excellence in Nursing Practice | Robert Wonnacott, MSN, RN |
| Excellence in Nursing Leadership | Louise Grondin, MS, RN |
| Distinguished Service | Janet Holland Tarolli, BSN, RN |
| Friend of Nursing | Patricia Coleman-Burns, PhD, MA |
| Drickamer Student Mentorship Award | Madeline Dahl |
| Student Leadership | Tracey Thiel |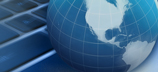 Nursing at Michigan Influencing the World!
UMHS Nurses: Remember to Enter Your
Professional Contributions
Have you recently completed a manuscript, book chapter, or presentation? Have you received a grant or award? If so, we'd like to hear about it! Please take a few minutes to tell us about your achievement by completing the survey linked below. Nursing Contribution Submissions:
https://umichumhs.qualtrics.com/SE/?SID=SV_25IgL1skzSQGUFC
This information will be used to recognize contributions made by UMHS nurses. It will be posted on the external
UMHS Nursing Cited Work website
(updated quarterly) and will also be included in Marge's Monthly Nursing Updates, Nursing Services' annual reports, Nurse's Week activities, and shared at other appropriate venues. Thank you for your contributions!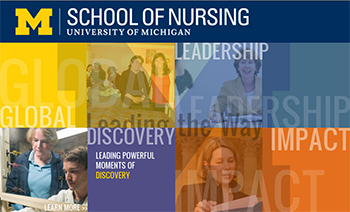 See What's New at the U-M School of Nursing
The latest information is now available on the web at: http://www.nursing.umich.edu/about-our-school/news-portal
News Archives | News Archives February 2014 and prior
Target Audience: All | Contact: Kathy Dunnuck, BFA, BSN, RN | Date of last review: 7/7/16
Quick Links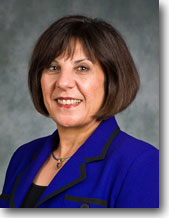 Margaret Calarco, PhD, RN
Chief of Nursing Services
Welcome to
Nursing at Michigan
Nursing at Michigan represents an extraordinary professional nursing community of over 4500 nurses in a multitude of practice and advanced practice roles. Together with our patient and family partners and inter-professional colleagues we have co-created a strong and vibrant professional practice model which supports our promise to society... "To create a shared vision and powerful voice which advances the art and science of Nursing and revolutionizes leadership, education and research, and transforms patient care."
Ever focusing on our "true
north" "to provide the finest
care to those who choose
to place their lives in our
hands," nurses at Michigan
strive to provide exquisite,
evidence-based care in a
compassionate and innovative
practice environment.
We are tremendously proud
of the care we provide to
the thousands of patients
and families we serve in the
State, across the country
and around the world.
We invite you to join our community in celebrating exceptional nursing care.