Click arrow to read more...
December 2018
November 2018
October 2018
September 2018
August 2018
July 2018

Nursing at Michigan in the News
At Michigan Medicine, we're focused on continually advancing the highest standards of the nursing profession. That's why we're pleased to welcome Ann Scanlon McGinity, RN, PhD, FAAN as our new Chief Nurse Executive.
In previous roles, Ann has led the achievement of Magnet® status three times, overseen the opening of a state-of-the-art cancer and liver hospital in Saudi Arabia, and managed the strategic planning and operations for nursing care in a 1,220-bed academic medical center hospital. In leading our nursing practice, Ann will deliver strategic direction and guidance as well as drive innovations and best practices to ensure the growth, evolution and Magnet excellence of nursing at Michigan Medicine. We're excited for the passion, direction and vision she'll bring to our team!
Click arrows to read more news and current events...
June 2018
May 2018
April 2018
March 2018
February 2018
January 2018
December 2017
November 2017
October 2017
September 2017
August 2017
July 2017
June 2017
May 2017
April 2017 News
March 2017 News
February 2017 News
January 2017 News
December 2016 News
November 2016 News
October 2016 News
September 2016 News
August 2016 News
July 2016 News
June 2016 News
May 2016 News
April 2016 News
March 2016 News
February 2016 News
January 2016 News
December 2015 News
November 2015 News
October 2015 News
September 2015 News
August 2015 News
July 2015 News
June 2015 News
May 2015 News
April 2015 News
March 2015 News
February 2015 News
January 2015 News
November 2014 News
October 2014 News
September 2014 News
August 2014 News
July 2014 News
June 2014 News
May 2014 News
April 2014 News
March 2014 News
News Archives February 2014 and prior
Target Audience: All | Contact: Kathy Dunnuck | Last updated: 1/7/19
Quick Links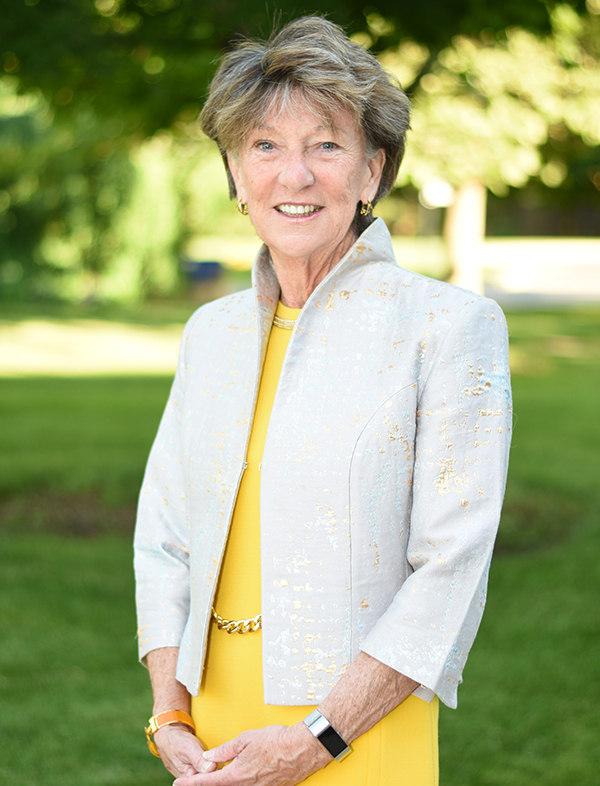 Ann Scanlon McGinity, PhD, RN, FAAN
Chief Nurse Executive
Welcome to
Nursing at Michigan
The exceptional nursing care that we provide to our patients and their families is one of the primary reasons Michigan Medicine is in the top tier of America's leading academic medical centers. In these first few weeks of beginning my journey at The University of Michigan as our system Chief Nurse Executive, I have witnessed our nurses' energy and enthusiasm for excellence. As a Magnet hospital, we are positioned to respond to and lead in the national game changing regulatory landscape that is focused on quality, service and cost. This focus has always been what Michigan nurses have done!
Seeing the continuum of care that our patients and their families must travel requires us to critique our current clinical models of care delivery and to assess what new skills and talents we need to learn to bridge the many environments our patients travel. The fundamental ways we have delivered care now need to include consideration of emerging technologies, evolving nursing science and new payment systems as the sites of care where nursing is provided are shifting more toward the ambulatory arena and the community.
Patient complexity is dramatically changing how interdisciplinary clinical teams interact while technology offers opportunities to improve value to the patient. All of the emerging nursing models are focusing on patient centered care and improving patient access and providing a meaningful healthcare experience. As a recognized successful nursing organization, I believe hard work has put us on the path of preparing ourselves to function differently in the future.
As you were drawn here to Michigan because of its reputation, its outstanding colleagues and collaborators, so also was I. New beginnings bode of infinite possibilities and opportunities to re-vision our work and to inspire and lead one during the most transformative time in health care. The potential to influence one another requires us to be agile and yet thoughtful during this time of change. It also requires new competencies and new skills. The impact of nursing care on the economics of health care systems is now being recognized by federal organizations as hospitals are fiscally rewarded or penalized financially on the outcomes of care that nurses deliver. Focus is on the continuum of care with priority on ambulatory care, home based care, retail and virtual care: all areas we need to continue to prepare our nurses for, all areas we already have competencies in.
The time now too demands more innovative nursing leaders and clinicians who are versed in technology, data analytic skills, team collaboration and business skills. We need risk takers who are willing to try new and different ways to improve outcomes to patients.
We need also to remember and take the time to sit quietly with our patients as they gift us with the stories of their suffering. We must find a place to be present to one another and to the dreams we have for the future.
Because there are not clear road maps for us going forward, I believe we will need to expand our commitment to partner with others far more strategically. I will count on the courage, insight and companionship of all as we continue to work to make a difference in the lives of those entrusted to each of us. There are many opportunities in front of us... ones I sense Michigan nurses are eager and enthusiastically looking forward to exploring. On this journey of discovery, when the path is not always so clear, know that I feel most fortunate to be a colleague and count on the wisdom and knowledge of Nursing at Michigan to guide us toward our future dreams.
~ Ann
June, 2018