Click arrow to read more...
November 2017
October 2017
September 2017
August 2017
July 2017
June 2017
May 2017
April 2017 News
March 2017 News
February 2017 News
January 2017 News
December 2016 News
November 2016 News
October 2016 News
September 2016 News
August 2016 News
July 2016 News
June 2016 News
May 2016 News
April 2016 News
March 2016 News
February 2016 News
January 2016 News
December 2015 News
November 2015 News
October 2015 News
September 2015 News
August 2015 News
July 2015 News
June 2015 News
May 2015 News
April 2015 News
March 2015 News
February 2015 News
January 2015 News
November 2014 News
October 2014 News
September 2014 News
August 2014 News
July 2014 News
June 2014 News
May 2014 News
April 2014 News
March 2014 News
News Archives February 2014 and prior
Target Audience: All | Contact: Kathy Dunnuck, BFA, BSN, RN | Last updated: 12/6/17
Quick Links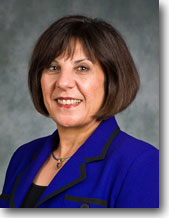 Margaret Calarco, PhD, RN
Chief of Nursing Services
Welcome to
Nursing at Michigan
Hope for the future through excellence in patient care would not take place without the care and dedication of our nurses and leaders.
Together, through our new Nursing Professional Practice Model we are aligning our values, decision making, relationships, and nursing practice which will result in the highest quality care, patient and staff satisfaction, and optimal outcomes for our patients and families. As we begin the journey towards Magnet Recognition, these steps that ensure excellence in nursing are critical.