Click arrows to read more...
Traveling? Protect Your Data and Devices
While the summer vacation season may be winding down, the business travel season is gearing up. If your travel plans include using or accessing UMHS data resources, your preparation must include protecting privacy and security
The UM ITS Safe Computing website offers the following tips for travelers:
Take only those files, devices, and applications that are absolutely necessary; avoid taking any sensitive information or PHI if possible
Make sure devices are encrypted, whether they are University or personally owned
If your personally owned device is not encrypted, consider borrowing devices from your department's IT provider
Keep devices close at hand or locked away; if your hotel has a safe, use it
Enable security settings, including passcode, auto lock, and device-tracking features such as "Find My Phone"
Use up-to-date antivirus software
Install the UMHS VPN (instructions here)
Use cellular networks when available; if you must use open WiFi networks, protect your connection by using the UMHS VPN
Disable wireless, GPS, and Bluetooth when not in use
Change your UMICH password when you return home; this will block anyone who may have gained access to your accounts while you were traveling.
For more information, watch the UM ITS Communications video, "Safe Computing When Traveling from the University of Michigan" or consult your IT Service Provider Help Desk:
Rho Chapter of Sigma Theta Tau Membership Selection Begins

Rho Chapter of Sigma Theta Tau International is beginning its annual membership selection process. We are seeking nurses across our community for membership. Membership criteria include a bachelors' degree and achievement in nursing practice, administration, or education. More information is available online: http://www.nursingsociety.org/Membership/ApplyNow/Pages/nl_memcriteria.aspx Interested nurses can contact the Rho membership chairperson, Dr. Jessie Casida by email at jcasida@umich.edu to begin the application process.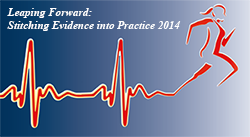 4th Annual Conference
Leaping Forward in Critical Care: Stitching Evidence into Practice
Presented by the Surgical Intensive Care Unit and Sigma Theta Tau at the University of Michigan
Conference Date: February 17, 2015

An opportunity to share research, clinical innovation and evidence-based practice at our fourth annual critical care symposium.
Eligible Topics for Presentation:
Evidence-Based Practice
Clinical Innovation
Leadership
Process Improvement

Clinical issues and scenarios
*Please note that previously presented research should be submitted for poster presentation only*
Questions? Email Sharon Dickinson (sdickins@umich.edu) or Connie Rickelmann (crickelm@umich.edu)


Save the Dates!
Survival Flight Fall "On The Road" Emergency and Critrical Care Conference
November 3 & 4, 2014
Monday evening and Tuesday-all day at the Bavarian Inn of Frankenmuth, Michigan. Please find further information and the registration form by checking our website for the brochure: www.survivalflight.com


Honor your PFCC Champion!
Know someone who is excellent at engaging patients and families?
Have a colleague you would be grateful to have care for you or your loved one?
If so, now is your chance to honor them by nominating them for a new award!
The Evan Newport HOPE ("Helping Our Patients Everyday") Award recognizes staff, faculty, volunteers, and teams who demonstrate Patient & Family-Centered Care (PFCC) principles in their everyday actions. This award celebrates individuals who create and sustain PFCC culture change at the University of Michigan Health System.
The HOPE Award originally started in C.S. Mott Children's Hospital, created by a PFCC Advisor, Scott Newport, and his son, Evan. This year, the award is being expanded to include all of UMHS with the Adult Services HOPE Awards.
Anyone can nominate a staff member, team, or volunteer now through October 17. To submit an entry, please fill out the Adult Services HOPE Awards nomination form. Recipients will be selected by PFCC program committees and the awards will be presented in December. Please contact the PFCC Program at 734-764-1202 if you have any questions.
Sincerely, The Adult Services Patient & Family Centered Care Awareness and Visibility Committee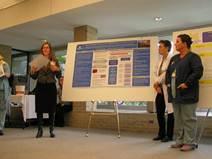 Nursing Poster Day Event...
Record number of posters presented!
More than 320 people viewed a record 46 posters in the sixth-annual University of Michigan Health System and School of Nursing Poster Day Event. The two day event, held September 15 and 16, allowed visitors to learn about a number of nursing research efforts to improve the quality of care for patients. Awards were given for Research, Clinical Innovation, Evidence-Based Practice and People's Choice Award. Our thanks to Ann Cornicelli, RN, Paul Edick, RN, Chris Conrad, RN and Julia Morrisey, RN who served as the planning team.
Those who attended the event saw how significant nursing interventions resulted in improved patient outcomes. Some of the posters highlighted simple changes such as offering patients the opportunity to wash their hands after toileting, or placing anti-bacterial gauze over pressure areas that developed near ostomy sites or initiating early mobility protocols for surgical patients. Other posters highlighted specific surgical interventions for both adult and pediatric patients including the preemptive use of acetaminophen during surgery on children and the use of magnets over implanted cardiac devices during procedures. There were also posters that focused on improving nursing satisfaction, workload, and alarm fatigue.
The posters were judged by members of the UMHHC Research and Translation Committee along with School of Nursing faculty. Efforts are underway to make the posters available to all nurses for viewing online.
Here are the recipients:
Research Category
Effect of Preemptive Acetaminophen Administered within One Hour of General Anesthesia on Gastric Residual Volume and pH in Children. Author: Connie Burke, RN, BSN, Co-authors: Shobha Malviya, MD, Rebecca D'Agostino, RN, UMHS Anesthesia
---
Clinical Innovation Category
Redesigning Workload to Meet Patient Mobility Standards on a Progressive Care Unit Author: Christina Reames, RN, MSN, Co-authors: Deborah Price, DNP, RN; Kim Rosso, MSPT; Dayna Ryan, MSPT; Elizabeth King, RN, BSN; Nicholas Kromrei RN, MSN, MBA; Samantha Judkins, RN, BSN, UMH 8D Intermediate Care
---
Evidence-Based Practice Category (tie)
12W Discharge Medication Project. Author: Cathy Lewis MSN, RN. Co-Authors: Jennifer Kelley, BSN, RN and Heather Berlin, BSN, RN. UMHS/Mott Children's Hospital
Evaluating the Implementation of an Early Mobility Protocol in a Surgical Intensive Care Unit (SICU) on Pressure Ulcer (PU) Free Days. Authors: Nora Cheung, MD; Sharon Dickinson, MSN, RN, ANP, CNS, CCRN; Connie Rickelmann, RN; Dana Tschannen, PhD, RN; Leah Shever, PhD, RN; Pauline Park, MD; Krishan Raghavendran, MD; Lena Napolitano, MD.
---
People's Choice Award
Cardiac Implantable Electronic Device (CIED) Management for Invasive Procedure Author: Laura Horwood MS, ACNP-BC, Co-authors: Shannon Mitchell, Jim Bloom, Bridget House, Janice Norville, UMHS Cardiovascular Center Internal Medicine, and UMHS Device Program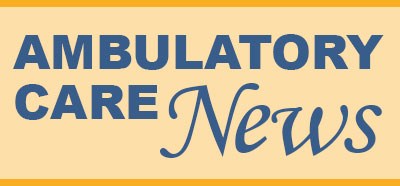 Ambulatory Care News...
Livonia Health Center Opened September 16
Livonia Health Center, located at 20321 Farmington Road in Livonia, opened on September 16, offering family-centered primary care. The staff are accepting new patients of all ages. The clinic will double in size when renovations are complete in January.
Winnie Wood, Dana Tschannen, Alyssa Trotsky, Julie Grunawalt, Danyell Adams, Robert Chamg, Sandra Kendziora and Stephanie Diccion-MacDonald published: American Journal of Nursing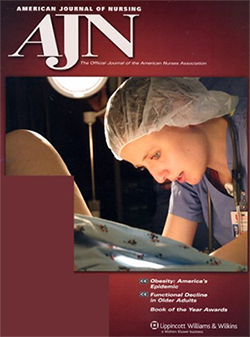 Congratulations to authors: Winnie Wood, MSN, RN, CNS, Dana Tschannen, PhD, RN, Alyssa Trotsky, DPT, Julie Grunawalt, MS, RN, GCNS-BC, Danyell Adams, CNA, Robert Chang, MD, FHM, Sandra Kendziora, BSN, RN, and Stephanie Diccion-MacDonald, MS, RN whose article "A Mobility Program for an Inpatient Acute Care Medical Unit" was published in the American Journal of Nursing, October 2014 (Vol. 114, No. 10).
G. Lita Smith published: Journal of Advanced Practice Oncology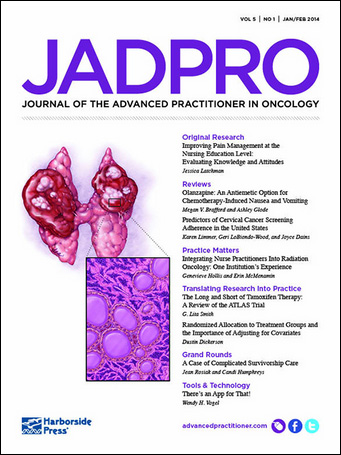 G. Lita Smith, MS, RN, ACNP, Nurse Practitioner Supervisor in the Cancer Center, had her article "The Long and Short if Tamoxifen Therapy: A review of the ATLAS Trial" published in the Journal of Advanced Practice Oncology in the Jan/Feb, 2014 issue.
Heidi Mason, Mary Beth DeRubeis, Jared Foster, Jeremy Taylor and Francis Worden published: Oncology Nursing Forum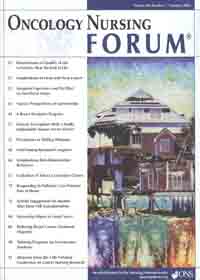 Heidi Mason, MSN, NP, and Mary Beth DeRubeis, MSN, NP, Cancer Center Team 2, co-authored the article, "Outcomes Evaluation of a Weekly Nurse Practitioner-Managed Symptom Management Clinic for Patients with Head and Neck Cancer Treated with Chemoradiotherapy" which was published in Oncology Nursing Forum, November 2013. Authors included Heidi Mason, MSN, NP, Mary Beth DeRubeis, MSN, NP, Jared C. Foster, PhD, Jeremy M.G. Taylor, PhD, and Francis P. Worden, MD. They concluded that patients receiving chemoradiotherapy benefit from close monitoring for toxicities by NPs to successfully complete their treatment and avoid hospitalization.
Beverly Benmoussa awarded: FIGs Grant

Beverly A. Benmoussa, MSN, RN, FNP-BC, Transplant Center received a Fostering Innovation Grant (FIGs) sponsored by the University of Michigan Health System for support of a project titled "Passport to Transplant".
Patti Paulin nominated and requested as speaker: Wilson's Disease Association Board

Patti Paulin, RN, Liver Transplant, who is a member of the Wilson's Disease Association Board has been nominated for another three year term that will be voted on at their Conference. She had also been asked to speak at this conference which was September 5-7th.
Jeff Thomas and Chad Stoller win first place: CAE Cup, Air Medical Transport Conference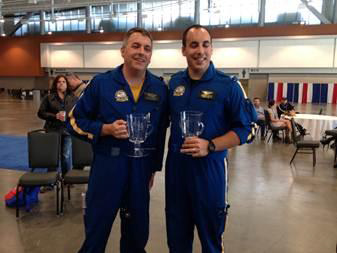 The annual CAE Cup, held at the Air Medical Transport Conference in Nashville, brought together 10 of the best and brightest in air medical rescue teams to demonstrate critical, life saving techniques with CAE Healthcare's human patient simulators. Congratulations to Jeff Thomas, RN and Chad Stoller, RN (UM Survival Flight) for taking FIRST PLACE in the CAE Cup critical care skills competition. Their shining accomplishment? Showing off their emergency medical care skills with Fidelis Lucina (the first-ever pregnant patient simulator to demonstrate at a CAE Cup competition) and performing a stressful - and, successful- simulated birth at the scene! The entire simulated rescue scenario of Fidelis Lucina is captured on video by air medical retrievalist/resuscitationist, Bill Hinckley and was uploaded so all could see the Lucina/Survival Flight video.
John Whelan published: book review, Gastroenterology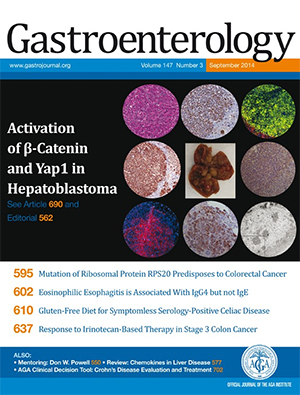 John Whelan, Nurse Manager in the Medical Procedure Unit, recently published a book review in the journal Gastroenterology, Volume 147, August, 2014. The book he reviewed was Johns Hopkins Manual for GI Endoscopic Nurses. Third Edition. Mouen Khashab, Toshunia Robinson, and Anthony Kalloo, editors.
Rhonda Schoville, Leah Shever, Marge Calarco and Dana Tschannen published: Nursing Economics

Rhonda Schoville, MS, RN Leah Shever, PhD, RN, Margaret Calarco, PhD, RN and Dana Tschannen, PhD, RN were published in Nursing Economics, (September/October, 2014). A Cost Benefit Analysis: Electronic Clinical Procedural Resource Supporting Evidence Based Practice (EBP).
Juanita Parry, Marge Calarco and Barbara Hensinger published: Nursing Management

Juanita Parry, MS, RN, Margaret Calarco, PhD, RN & Barbara Hensinger BSN, RN recently published an article entitled "Unit-based interventions: distressing the distressed" in Nursing Management, August 2014.
2014 Schwartz Rounds Conferences
Mark your calendars for our remaining 2014 schedule.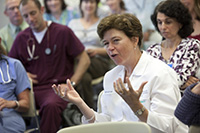 Oct 6: Ford Auditorium
Nov 17: Ford Auditorium (UMHS Grief week)
Dec 8: MCHC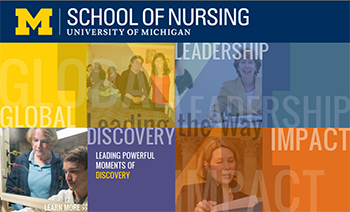 See What's New at the U-M School of Nursing
The latest information is now available on the web at: http://www.nursing.umich.edu/about-our-school/news-portal
News Archives | News Archives February 2014 and prior
Target Audience: All | Contact: Kathy Dunnuck, BFA, BSN, RN | Date of last review: 10/2/14
Quick Links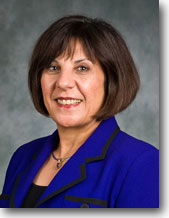 Margaret Calarco, PhD, RN
Chief of Nursing Services
Welcome to
Nursing at Michigan
Nursing at Michigan represents an extraordinary professional nursing community of over 4500 nurses in a multitude of practice and advanced practice roles. Together with our patient and family partners and inter-professional colleagues we have co-created a strong and vibrant professional practice model which supports our promise to society... "To create a shared vision and powerful voice which advances the art and science of Nursing and revolutionizes leadership, education and research, and transforms patient care."
Ever focusing on our "true
north" "to provide the finest
care to those who choose
to place their lives in our
hands," nurses at Michigan
strive to provide exquisite,
evidence-based care in a
compassionate and innovative
practice environment.
We are tremendously proud
of the care we provide to
the thousands of patients
and families we serve in the
State, across the country
and around the world.
We invite you to join our community in celebrating exceptional nursing care.