Bedside Music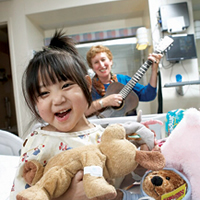 As part of the University of Michigan Health System's Gifts of Art program, patients at C.S. Mott Children's Hospital have the opportunity to enjoy live Bedside Music during the hospital stay. Live music at the bedside enhances the environment of care for our patients and families by providing a pleasant distraction which can relieve anxiety and stress, induce relaxation and bring comfort. Specially trained musicians are available to visit patients in most units daytimes Monday through Friday.
To request a visit by a bedside musician, patients and families can call 734-936-ARTS (2787), ask a nurse to request Bedside Music on CareLink, or email bedsidemusic@umich.edu.
The Gifts of Art Bedside Music program at Mott is made possible in part by a gift from the Bernard L. Maas Foundation.
Learn about other Gifts of Art programs.