During Your Stay
Your health care team is the best source of information when it comes to learning what to expect of your visit. But this page gives you an overview of the basic services available in your room, how you will get to appointments while in the hospital and special amenities for patients, families and visitors.
In Your Room
Electronic Devices
No electrical equipment can be brought into the hospital. Many electronic devices are not designed for hospital use and are unsafe in a hospital environment because they interfere with the operation of medical devices. Personal electric devices such as radios, cell phones and hair dryers should be left at home. (Download Wireless Internet Information PDF)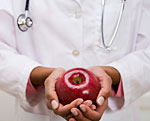 Meals
Regular meal service in your room is served at approximately 7:30 a.m., noon and 5 p.m. If you need a special diet, a registered dietitian will meet with you and your family to discuss the details. To learn more about inpatient meal services, visit the Patient Food and Nutrition Services Web site.
Newspapers
The Ann Arbor News, Detroit Free Press, New York Times and USA Today are sold in vending machines throughout our hospital. If you cannot leave your room to get a paper, call Volunteer Services at 734-936-4327, ext. 3. When a volunteer is available, he/she will get your newspaper.
Phones
Every patient room has a bedside phone. Patients can make unlimited free local calls. Long distance calls may be charged to a home telephone, to your credit card or by calling collect. Cell phones should not be used in patient care rooms or patient care units as they can interfere with the functioning of medical equipment.
If you have hearing limitations and require a special telephone device for the deaf (TDD's), call Biomedical Technology Services at 734-936-5058 to make arrangements.
Friends and family should call between 6:30 a.m. and 10 p.m. so patients get the rest they need. In an emergency, friends and family should call the hospital operator at 734-936-4000, and ask to be connected to your Patient Care Center.
Television
Every patient has their own television, and each TV offers many cable channels. Channels 37- 42 are part of our patient education closed circuit television network.
Valuables
Patients are encouraged to leave all valuables at home, and use the hospital safe for any valuables brought to the hospital. The University of Michigan Health System is not liable for any loss or theft of personal property of the patient, other than that stored in the Hospital safe. If you have something to store, please bring it to the attention of the nurse or clerk on your unit. Your valuables will be secured in a valuables envelope which will be taken to the Security Services Office and locked in the hospital safe. You will be given a receipt to claim your valuables envelope when you leave the hospital.
If after leaving the hospital you realize you have left behind any personal belongings, please call 734-936-7890 and we will be happy to help you retrieve them.
---
Getting around
Patient Transportation to Appointments
While you are in the hospital, our Patient Transport Team will take you to and from all of your scheduled appointments by wheelchair or stretcher. When it's time for you to go home, a team member will be your personal escort.
Taking a Walk
In order to get some exercise and a change of scenery, you may choose to take a walk. As long as your condition allows it, we encourage this activity. Before you venture out, please check in with your nurse so we know where to find you. Your nurse will check to make sure you will not miss any scheduled treatments, tests or medications. There may be times when you will need a hospital staff member or volunteer to accompany you for your own safety.
Amenities
Art Cart Program
The Gifts of Art art cart is a lending library of framed poster art. Volunteers take two colorful carts of framed posters to patients so they can pick something to display in their rooms. The simple choice of artwork is one way we try to give patients a sense of control at a time when so much is decided for them.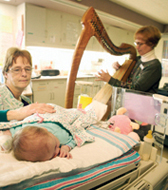 Bedside Music
Certified music practitioners provide Bedside Music in most patient units, intensive care units, neonatal units and dialysis, burn/trauma and pre-and post-surgery areas. Music has an almost immediate stress-reducing and calming effect on patients. To request a visit by a bedside musician, please call 734-936-ARTS.

Inpatient Massage Therapy
Massage therapy has long been recognized as a complementary approach to treating pain, muscle tightness and fatigue. That's why we're pleased to offer a service where our nationally certified massage therapists can come to patient rooms to provide alternative and complementary healing therapies. Get scheduling, fee and appointment information by calling 734-232-5029 or visiting this Web site.

Libraries & Book Cart

Book Cart: Volunteer Services brings the cart to patient rooms frequently and by request. Call 734-936-4327, ext. 3, for more information.

The M-Fit Health and Wellness Library has free copies of useful health education materials for patients or visitors, and computers to search additional topics or check e-mail. The library is located in University Hospital, Room UH 2C223 (in the hallway directly behind the the FRIENDS Gift Shop). It is open Monday, Wednesday and Friday, 9 a.m. - 2 p.m. For more information, call 734-936-8924.

The Cardiovascular Wellness Resource center is located in Room 2101 (on the 2 floor). The center is open Monday - Friday 9 a.m. - 5 p.m. For more information call 734-232-4120 or email.

The Women's Health Resource Center is in the Taubman Center, Room 1342 (on the first floor). The center is open Monday - Friday, 9 a.m. - 4 p.m. For more information, call 734-936-8886.

The Cancer Patient Education Resource Center is located in Room B1-361 on Level B1 of the Cancer Center. It is open Monday - Friday, 9 a.m. - 5 p.m. For more information, call 734-647-8626.

Meditation Garden
A beautiful outdoor Meditation Garden is available for quiet reflection. The Garden was specifically designed to be a place of comfort and respite for patients, visitors and staff.

[an error occurred while processing this directive]