Click arrows to read more...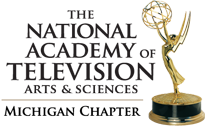 What's New in Nurse Recruitment and Retention...
A Day in the Life:
Nursing at Michigan wins an Emmy!
The UMHS Digital Arts team in collaboration with the world class, talented community of UMHS nurses, won an Emmy for their video production, A Day in the Life: Nursing at Michigan. The video celebrates the hardworking nurses of UMHS and gives an inside look at what it's like to be a Nurse for the University of Michigan Health System. This video was made to recognize and celebrate National Nurses Week 2014.
Join us in congratulating UMHS Digital Arts Executive Producer Jennifer Yanchula and Videographers Joe Hallisy and Daniel Newman (not pictured) in their Emmy win!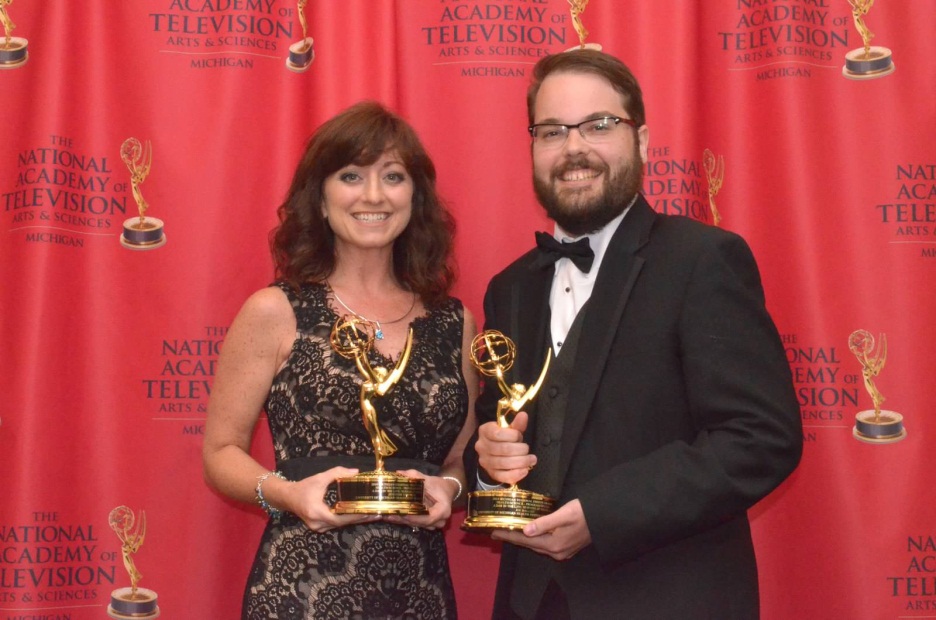 Check out the Emmy winning video for yourself and see why every week should be Nurses Week!

View the full feature length 15 minute video also on YouTube at:
https://youtu.be/JMisvmm1QEI
The Michigan Chapter of the National Academy of Television Arts & Sciences is the standard-bearer for excellence in the television industry and the gatekeeper of the prestigious regional EMMY® Awards in Michigan. The Michigan Chapter represents the best and brightest television and media professionals from all disciplines of the industry and from all of Michigan's 11 television markets.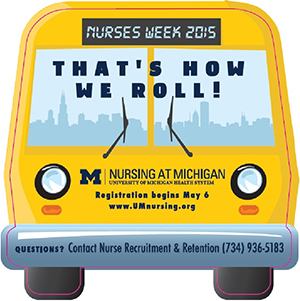 What's New in Nurse Recruitment and Retention...
New! Certification Review Card for Nurses Week 2015!
During National Nurses Week and throughout the year, UMHS is proud to celebrate the role nurses play in delivering the highest level of quality care to their patients because That's How We Roll!
UMHS Nurse Recruitment and Retention is excited to offer a new option this year to support nurse professional development.
Option #1

New!
Register for one year of unlimited access to more than 700 hours of Certification Review courses that help nurses prepare for and pass 40 certification exams. You'll find reviews for certification from CCRN and CED to NPD and CNOR all in one place.
Option #2
Register for an Online CE Card with one year of unlimited access to award-winning content for nurses including thousands of CE courses, as well as reviews for all the top certification exams.
Visit www.UMnursing.org for details and registration.
Registration is open now!
Candia Laughlin presented: 40th Annual American Academy of Ambulatory Care Nursing conference

Candia Laughlin, MS, RN-BC, Director of Nursing for Ambulatory Care, presented as a member of a panel at the 40th Annual American Academy of Ambulatory Care Nursing conference. The general session was a Town Hall, titled "The Role of the RN: Connecting the Dots in Care Coordination."
PICU nurses nominated: 2015 John R. Crosby Excellence in Critical Care Nursing Award
Congratulations to the following PICU nurses for being nominated by their peers for the 2015 John R. Crosby Excellence in Critical Care Nursing Award. Terry Benson, Ashley Bonsall, Rachael Brant, Patty Cassidy, Michelle Davis, Steve Dion, Jessica Hollenbeck, Stephanie Knight, Jennifer LaForge, Laura Meeker, Sherry Mitchell, Susan Mort, Leo Oliveraz, Deb O'Neal, Thomas Pace, Jo Potempa, Jennifer Rosa, Mary Tison, Kate Wesley. Jennifer LaForge was named as the 2015 recipient at the May 6, award ceremony.
Claire Kalpakjian, Susan Murphy, Michelle Meade, Gianna Rodriguez, Margy Fox and Patricia Moulis selected: "Faculty Leading Change" program offered by ADVANCE

Claire Kalpakjian, Susan Murphy, Michelle Meade, Gianna Rodriguez, Margy Fox (CNS, Pediatric PMR) and Patricia Moulis were selected for the "Faculty Leading Change" program offered by ADVANCE. This new program provides faculty led teams with consultation and support for fostering departmental change in an identified area of need. Their project, "Bridging Clinical and Research Missions in PMR – Strengthening Translational Research and Team Science in Rehabilitation Research" will focus on developing effective ways to enhance the collaboration between clinicians and researchers. The overall goal is to strengthen the infrastructure for translational and team science in PMR by engaging clinicians and researchers in collaboration. Recognizing that this transformation is years in the making, project goals are intended to begin the momentum. The team will work closely with change consultants and attend a series of workshops to further develop and implement the project. I encourage you to join them in this effort by contributing your perspective and ideas to this effort. This is an exciting opportunity for our department and mission of leadership and excellence in rehabilitation through innovative research, discovery and contributing to the evidence base that informs our practice.
Carol George awarded: 2015 Institute of Professional Nursing Leadership Award

Carol George, RN, (Nurse Manager, Kellogg OR) was awarded the 2015 Leadership Award by The Institute of Professional Nursing. The award is given to a Registered Nurse who has successfully assumed leadership roles and who demonstrates creative leadership strategies, mentoring, and motivating others in their professional work. The Medical Director of Kellogg Eye Center describes Carol as having maturity, humility, clear thinking, organizational ability, strong communication skills, empathy, and warmth and says that she is an enlightened example of excellent leadership. The nursing staff describe her leadership as encouraging ideas, developing team work during difficult times and supporting evidence based practice. They also describe her mentorship, the focus on patients, the families and her skills in providing a work environment for nurses which supports quality improvement, shared decision-making and professional development.
UMHS awarded: AHA Stroke Get with the Guidelines Gold Plus Designation Award

UMHS received the Stroke Get with the Guidelines Gold Plus Designation Award presented by the American Heart Association/American Stroke Association.
http://www.heart.org/HEARTORG/HealthcareResearch/
GetWithTheGuidelines/GetWithTheGuidelines-Stroke/
Recognition-from-Get-With-The-Guidelines-Stroke_UCM_308034_Article.jsp
In addition, UMHS is the first hospital in Michigan to receive the Target Stroke Honor Roll Elite Plus Award. Starting January 2015, hospitals will have the opportunity to be recognized with two new Target: Stroke Honor Roll levels.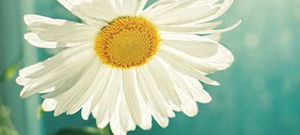 The DAISY Award
for Extraordinary Nursing...
Congratulations to Deanne Hatton, RN (11West C&W)
who recently received the award!


The DAISY Award is given through a nationally known program currently in place in over 450 hospitals. DAISY is an acronym for Diseases Attacking the Immune System and this award was established by a family whose son succumbed to a disease of the immune system. During his prolonged hospital stay, he and his family greatly benefited from care provided by superb RNs. This award was established to honor nurses who exemplify that compassionate, thorough care. Within the University of Michigan Health System, candidates for the Daisy Award are nominated by patients and/or their families.
Apply for a J. Patrick Barnes Grant for Nursing Research
and Evidence-Based Practice Projects
Deadline to submit letters of intent: Friday, September 4
The guidelines and applications for the 2015 J. Patrick Barnes Grants for nurses doing research and evidence-based practice projects are now on-line. The deadline to submit letters of intent is Friday, September 4th for the Fall cycle.
Their goal is to support both experienced researchers and nurses who have little or no experience in research or evidence-based practice projects.
Funds are available for
EBP projects that develop, implement and evaluate changes in nursing practice in treatment of patients with cancer and auto- immune diseases
Clinical research studies that directly benefit patients and/or families involving treatment of cancer and auto-immune diseases.
Complete information about the grant program, guidelines and applications are on their website at http://daisyfoundation.org/ in the Research/EBP Grants section. There is an esteemed panel of nurse researchers who guide this program and are eager to receive applications.
Christopher Friese awarded: Oncology Nursing Distinguished Award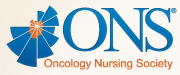 Dr. Christopher R. Friese, PhD, RN, AOCN, FAAN, (Assistant Professor at the UofM School of Nursing) has received the Oncology Nursing Society (ONS) 2015 Rose Mary Caroll-Johnson Distinguished Award for Consistent Contribution to the Nursing Literature. This award recognizes the impact that he has made on the oncology nursing profession through his high-quality research publications, his dissemination of findings for policy makers and practitioners, and his efforts to support the professional development of colleauges. He was honored for the award at the opening ceremony of the ONS 40th Annual Congress in Orlando, FL, on April 23, 2015.

Ilze Hallman published: Journal of Child and Adolescent Psychiatric Nursing

Ilze Hallman, CNS (Psychiatry) had her article published as part of her DNP requirements. Hallman, I. S., O'Connor, N., Hasenau, S., & Brady, S. (2014). Improving the Culture of Safety on a High-Acuity Inpatient Child/Adolescent Psychiatric Unit by Mindfulness-Based Stress Reduction Training of Staff. Journal of Child and Adolescent Psychiatric Nursing, 27(4), 183-189.
Steven Strobbe awarded: School of Nursing 25th Annual Golden Apple Award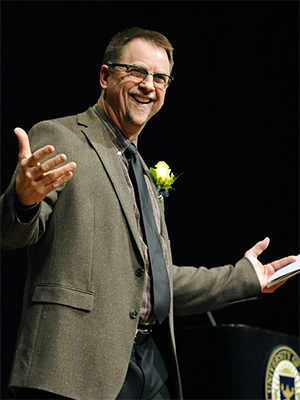 Dr. Stephen Strobbe, Clinical Associate Professor at the University School of Nursing, and Department of Psychiatry, recently received the 25th Annual Golden Apple Award, the only student-nominated award for teaching at the University of Michigan. In conjunction with this award, Dr. Strobbe was invited to give his "ideal last lecture," which he titled, "Lessons from an Imperfect Life: A Premature Last Lecture," Please see the following link for the story, YouTube video of the lecture, and associated poem, "Black Raspberry Jam." http://www.nursing.umich.edu/about-our-school/news-portal/201504/4401

2015 Sigma Theta Tau Rho Chapter: 2015 Excellence Awards Presented

Sigma Theta Tau's, Rho Chapter, is pleased to announce the recipients of the Rho Chapter Sigma Theta Tau Excellence awards for 2015. The awards ceremony was held on April 12 at the Michigan League. In addition to the awards, over 90 new members were inducted into Rho Chapter at the ceremony.
Please click on these links to see a summary and photos of the event:
Congratulations to this year's Excellence Awards recipients:
Excellence in Education

Richard Redman

, PhD, RN
Excellence in Nursing Leadership

Candia Laughlin

, MSN, RN-BC
Student Leadership

Alexandra Garbus

, BSN (Graduate student)
Student Mentorship

Emily Rice

, senior nursing student BSN program
Distinguished Service

Mary Joan Kocan

, MSN, RN
Excellence in Research

Milisa Manojlovich

, PhD, RN, CCRN
Nursing Research Grant Awardees:
Lisa Hoyland-Domenico

, BSN, RN, PhD(c) "Problem Recognition and Treatment Seeking within the Alcohol Disorders: Self-schemas as the Cognitive Foundations"

Barbara Freeland

, DNP, RN, ACNS-BC, CDE & Cindy Fenske, DNP, RN, CNE "Providing Nursing Students with Experiential Learning Opportunities to Increase Knowledge and Improve Attitudes Toward People Living with Diabetes"
Community Member Inductees from UMHS:
Marie Elizabeth Colaianne-Wolfer
Amal Dahmani
Sandra Kendziora
Mary LaBeske
Kathleen Standish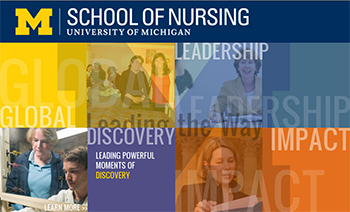 See What's New at the U-M School of Nursing
The latest information is now available on the web at: http://www.nursing.umich.edu/about-our-school/news-portal
News Archives | News Archives February 2014 and prior
Target Audience: All | Contact: Kathy Dunnuck, BFA, BSN, RN | Date of last review: 6/24/15
Quick Links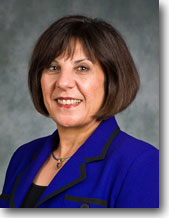 Margaret Calarco, PhD, RN
Chief of Nursing Services
Welcome to
Nursing at Michigan
Nursing at Michigan represents an extraordinary professional nursing community of over 4500 nurses in a multitude of practice and advanced practice roles. Together with our patient and family partners and inter-professional colleagues we have co-created a strong and vibrant professional practice model which supports our promise to society... "To create a shared vision and powerful voice which advances the art and science of Nursing and revolutionizes leadership, education and research, and transforms patient care."
Ever focusing on our "true
north" "to provide the finest
care to those who choose
to place their lives in our
hands," nurses at Michigan
strive to provide exquisite,
evidence-based care in a
compassionate and innovative
practice environment.
We are tremendously proud
of the care we provide to
the thousands of patients
and families we serve in the
State, across the country
and around the world.
We invite you to join our community in celebrating exceptional nursing care.