Nursing at Michigan in the News
Click arrows to read more...
Michigan Medicine Celebrating Nursing Magnet Honor
Congratulations to the Michigan Medicine community, including the entire nursing staff. On Friday, the health system was notified that it had earned Magnet recognition, the highest honor in nursing.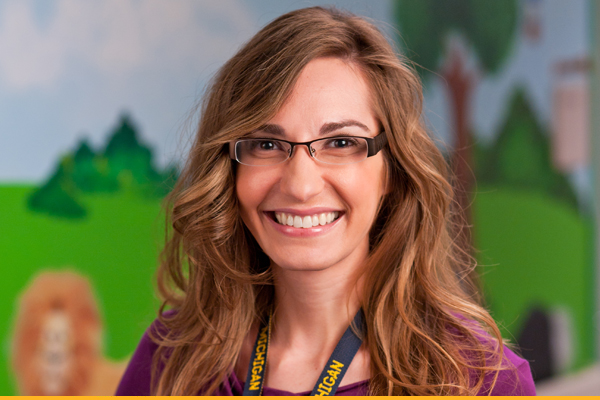 What's New in Nurse Recruitment and Retention...
Nursing Spring Career Fair





Help Spread the Word!
NURSING CAREER FAIR - SPRING 2017
WHO SHOULD ATTEND:
Seeking Experienced RNs, GNs graduating in Spring 2017, Advanced Practice Nurses
LOCATION:
The Kensington Hotel 3500 South State Street
Ann Arbor, Michigan 48108
DATE: March 19, 2017
TIME: 12:00 pm - 3:30 pm
SPACE IS LIMITED: Registration opens on Monday, February 20, 2017 online at www.UMnursing.org
Changes to the Michigan Board of Nursing Rules
As of January 6, 2017 the new revised Michigan Board of Nursing rules are in effect.
The new revised board of nursing rules require nurses to complete training in victims of human trafficking.
Training content shall cover all of the following:
Understanding the types and venues of human trafficking in this state or the United States
Identifying victims of human trafficking in health care settings
Identifying the warning signs of human trafficking in health care settings for adults and minors
Identifying resources for reporting the suspected victims of human trafficking.
The new requirements will apply for license renewals beginning with the first renewal cycle after the promulgation of this rule and for initial licenses issued 5 or more years after the promulgation of this rule.
Click HERE to view the complete rules and the other changes that will could affect you!
Val Spotts authors AACN Procedural Manual chapters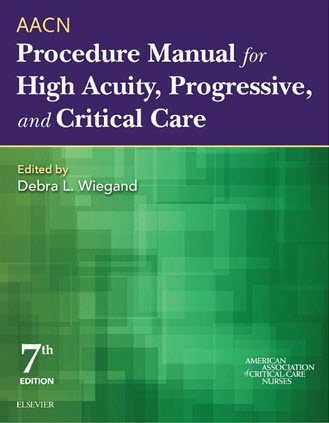 Val Spotts, RN (7C Educational Nurse Coordinator) authored chapters 48, 49 and 51 in the 7th edition of the AACN Procedure Manual. You can purchase the book here.
Michelle Churches published ASORN journal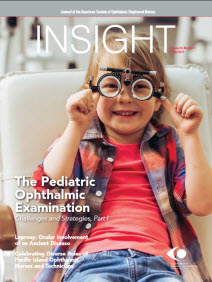 Michelle Churches, RN (Kellogg Eye Center) was published in the ASORN (American Society of Ophthalmic Nurses journal January 2017. You can find the journal here.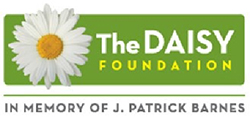 The Daisy Award
Paul Gibson, RN (5B)
Congratulations to Paul Gibson, RN (5B) for receiving the DAISY award in October! The DAISY Award is given through a nationally known program currently in place in over 2,124 healthcare facilities. DAISY is an acronym for Diseases Attacking the Immune System and this award was established by a family whose son succumbed to a disease of the immune system. During his prolonged hospital stay, he and his family greatly benefited from care provided by superb RNs. This award was established to honor nurses who exemplify that compassionate, thorough care. Within the University of Michigan Health System, candidates for the Daisy Award are nominated by patients and/or their families. This is a wonderful honor. Paul has received multiple Daisy nominations. This letter is from a thankful daughter.
"My mom was hospitalized in February 2016 on 5B. During her stay, the staff on 5B was exceptional, however one nurse in particular stood out, and that was Paul Gibson. He is a wonderful, caring, compassionate and dedicated nurse. Not only did he care for my mom with the utmost in professionalism, but also treated her with extreme dignity and respect. He also took the time to discuss issues with me, and other family members. Words cannot express how thankful we are for his compassionate care and exemplary service. The University of Michigan Hospital should be very thankful to have such an outstanding employee as Paul on 5B. He certainly has proven himself to a person that "makes a difference" when caring for a patient and their family. Paul should be considered for the Daisy Award!"
Below is the link for Paul's Daisy spotlight. https://www.daisyfoundation.org/daisy-award/honorees/paul-gibson
CVCICU team wins the first F2016 Clinical Innovation Challenge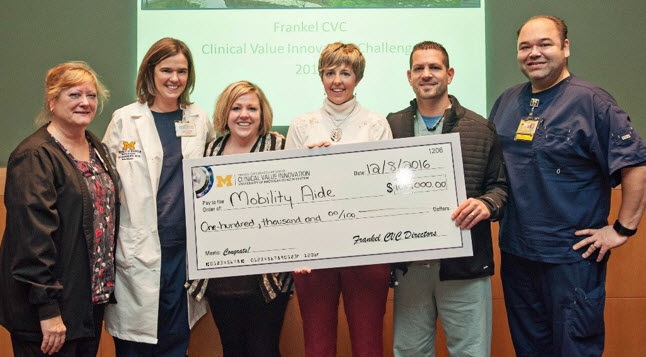 Nearly a year in the making, the first annual Frankel Cardiovascular Center (FCVC) Clinical Innovation Challenge celebrated its "Selection Event" on December 8. Guests heard pitches from the Challenge's top five teams, all vying for $100,000 in funding and project support. Erika Koerner, CVICU RN, did an amazing job presenting against 4 physician lead teams and brought home the big win for the CVICU. The team for the winning proposal: Mobility Aide (Early Ambulation in CVICU) was Regi Freeman, RN, CNS - CVICU Clinical Nurse Specialist, Alice Ferguson, RN, ENC - CVICU Educational Nurse Coordinator, Courtney Clark, NP - CVICU Nurse Practitioner, Erika Koerner, RN - CVICU Nurse, Shelly Green - CVICU Technician, Jessica Miller, PT, DPT - Physical Therapist, Lisa Haggitt, PT, DPT - Physical Therapist, Jessica Russell, PT, DPT - Physical Therapist. To view photos of the event, please click here.
Paige Buie and Stephanie Park awarded Chris Tung Award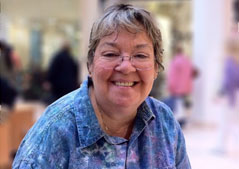 Paige Buie (NICU) and Stephanie Park (TBICU) were chosen to receive the Chris Tung Critical Care Nursing Educational Fund Award! This Gift Fund has been created to grant Critical Care Nurses the opportunity to attend conferences for educational growth. The purpose of this fund is intended to assist someone who may be financially burdened, as well as, give more people the opportunity to attend a national or local conference. The funds can cover: Registration, Air Fare and/or Hotel costs. This education fund has been donated by Chris's husband in memory of what she loved.
Paige Buie awarded Rising Star in Clinical Practice Award
Paige Buie, BSN, RN, CCRN (NICU) has beenselected as the recipient of the 2017 Rising Star in Clinical Practice Award from AANN (American Association of Neuroscience Nurses). The award will be presented on March 23, at the Annual Educational Meeting in Boston. As the award recipient, Paige's conference expenses will be covered, and she is also invited to attend the President's Reception.
Nurses Rank #1 Most Trusted Profession for 15th Year in a Row!
The American public has again ranked nurses as the professionals with the highest honesty and ethical standards, according to a Gallup poll released December 19, 2016. The annual poll marks the 15th consecutive year that nurses have been ranked the most trusted.
According to the poll, 84 percent of Americans rated nurses' honesty and ethical standards as "very high" or "high." The next closest profession, pharmacists, was rated 17 percentage points behind nursing.
"Trust plays an important role in the relationship between nurses and the patients we serve," said Cipriano. ANA encourages nurses to draw on that trust to engage with consumers to improve their health and to advocate for patients and for the quality of care in this country. Additionally, I challenge those charged with making health policy at the facility, local, state and national levels, to include the trusted voice of nurses at the decision-making table. Based on this survey, no other profession is held in as high regard by the public. And given nursing's frontline perspective on health care delivery, we offer a point of view that is unmatched."
In 2017, ANA will continue its longstanding efforts to advocate for health system reform. The association is committed to working with the new administration and Congress to advance policy that aligns with its four principles for health system reform: access to care, affordable and equitable care, quality of care and workforce.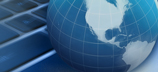 Nursing at Michigan Influencing the World!
UMHS Nurses: Remember to Enter Your
Professional Contributions
Have you recently completed a manuscript, book chapter, or presentation? Have you received a grant or award? If so, we'd like to hear about it! Please take a few minutes to tell us about your achievement by completing the survey linked below. Nursing Contribution Submissions:
https://umichumhs.qualtrics.com/SE/?SID=SV_25IgL1skzSQGUFC
This information will be used to recognize contributions made by UMHS nurses. It will be posted on the external
UMHS Nursing Cited Work website
(updated quarterly) and will also be included in Marge's Monthly Nursing Updates, Nursing Services' annual reports, Nurse's Week activities, and shared at other appropriate venues. Thank you for your contributions!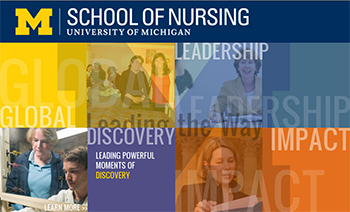 See What's New at the U-M School of Nursing
The latest information is now available on the web at: http://www.nursing.umich.edu/about-our-school/news-portal
News Archives | News Archives February 2014 and prior
Target Audience: All | Contact: Kathy Dunnuck, BFA, BSN, RN | Date of last review: 2/3/17
Quick Links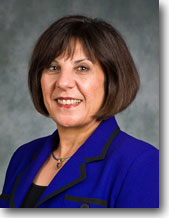 Margaret Calarco, PhD, RN
Chief of Nursing Services
Welcome to
Nursing at Michigan
Nursing at Michigan represents an extraordinary professional nursing community of over 4500 nurses in a multitude of practice and advanced practice roles. Together with our patient and family partners and inter-professional colleagues we have co-created a strong and vibrant professional practice model which supports our promise to society... "To create a shared vision and powerful voice which advances the art and science of Nursing and revolutionizes leadership, education and research, and transforms patient care."
Ever focusing on our "true
north" "to provide the finest
care to those who choose
to place their lives in our
hands," nurses at Michigan
strive to provide exquisite,
evidence-based care in a
compassionate and innovative
practice environment.
We are tremendously proud
of the care we provide to
the thousands of patients
and families we serve in the
State, across the country
and around the world.
We invite you to join our community in celebrating exceptional nursing care.