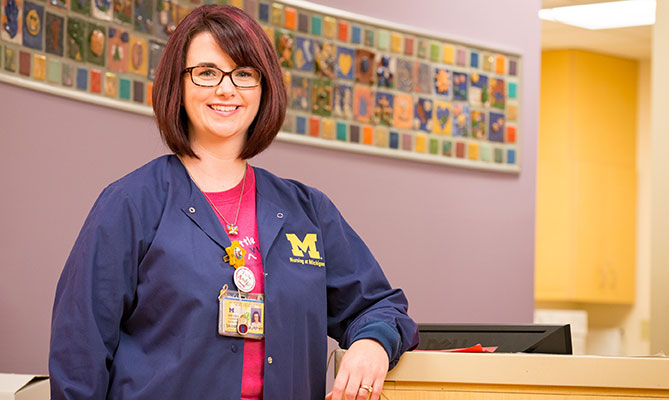 Nursing at Michigan in the News
Click arrows to read more news and current events...
Announcing... Two New Framework/RSAM Levels Added!
Nurses at Michigan provide compassionate, knowledgeable care to patients and families AND contribute to their practice environment in significant ways! Now may be the time for you to get started in the Professional Development Framework or Role Specific Advancement Model (RSAM) and advance in your practice setting! The decision to apply for advancement is yours to make!
What's New
We are excited to announce 2 new levels in the Framework/RSAM Advancement Model with our new contract:
Level F
For Framework nurses with a Master's Degree
Mastery +
For RSAM nurses with a Master's Degree
Please watch the website for details in January!
Resources
We encourage you to take advantage of one or more of the following resources available to you:
Framework website
Describes in detail what you need to know to apply for advancement to Level D, E and soon F in Framework.
RSAM website
Describes in detail what you need to know to apply for advancement to Expert, Mastery and soon Mastery + in RSAM roles (ENC, Clinical Care Coordinator, Flight Nurse Specialist, and RN Case Manager).
1:1 Meeting with Framework/RSAM Coach, Joanne Hazelton
Joanne can work with you wherever you are in your preparation, from "just thinking about it" to working on specific portfolio elements, to interview preparation. Make an appointment with Joanne at: Nurse-ProfDevFramework@med.umich.edu
Unit based sessions
Joanne and Mary Anne Brancheau are available to come to your work setting to present "Getting Started with Framework/RSAM", "Exemplar Writing" or any Framework/RSAM topic of your choice. Please contact Joanne Hazelton or Mary Anne Brancheau to make arrangements.
Sue Hughes awarded ACC Distinguished Service Award
Sue Hughes, Nurse Practitioner in the Cardiovascular department received the "Distinguished Service Award" at the ACC conference in October. This was presented to her by Dr. Akshay Khandelwal, MD, Michigan Chapter ACC President.
Catherine Meldrum presented Pulmonary and Critical Care Medicine Update
Catherine Meldrum, PhD, MS, RN, CCRC presented Advanced Therapies for Severe COPD at University of Michigan Pulmonary and Critical Care Medicine Update in Plymouth, MI in October.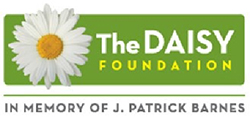 The Daisy Award
Maria Rustia, RN (Central Staffing Resources)
The DAISY Award is given through a nationally known program currently in place in over 2,700 healthcare facilities in 50 states and 15 countries. DAISY is an acronym for Diseases Attacking the Immune System and this award was established by a family whose son succumbed to a disease of the immune system. During his prolonged hospital stay, he and his family greatly benefited from care provided by superb RNs. This award was established to honor nurses who exemplify that compassionate, thorough care. Within the University of Michigan Health System, candidates for the Daisy Award are nominated by patients and/or their families. This is a wonderful honor. This nomination came from a grateful patient.
"Maria was very attentive and sensitive to my needs while under her care. I was upset about the surgery results and she reached out and touched my hand and shoulder, and spoke soothingly to me; all the time reassuring me that it was going to be ok. When I had questions for the doctor, she would page them and have them stop by my room to talk to me directly about my concerns. I appreciate that she didn't just talk to them on my behalf, as this allowed me to talk to the physician directly and ask questions.

I would like to give you a couple examples of her extraordinary commitment to patient centered care at UM:

I was very anxious and confused when I received a medication that didn't look like my home medications. Maria recognized this and took the time to remove them from the package in front of me, told me what they were, and was very thorough with her explanation. This process was so very helpful to me.

In spite of how busy she was, she took time to assist me with my bath. She washed my back and put lotion on it. She took the time to do many little things for me that she could have passed on to the Nursing Assistant, but did not. The little things only took a couple minutes, but it really made me feel cared for!

Maria expertly and efficiently took care of everything while I was hospitalized, yet still showed me compassion and caring while I was her patient.."
8A Oncology Acute Care Unit Multidisciplinary Team awarded HVPAA National Conference
The 8A multidisciplinary team project "Planning for Discharge: Improving Communication" where the virtual care coordination note was created was awarded Second Place in the category of "Improving Discharge Transitions" at the HVPAA High Value Health Care National Conference in September. Laura Hornacek (Sauve), the 8A Education Nurse Coordinator, presented the poster for the multidisciplinary team (team includes Nursing, Providers, OT/PT, Pharmacy and Care Management).
Chase Zebari awarded ANA-Michigan Celebrating the Future Award
Chase Zebari, BSN, RN, CPEN, (Children's Emergency Services) was selected as one of seven (7) award recipients for Celebrating the Future Award on behalf of ANA-Michigan.
Chase was nominated for his outstanding work in practice, leadership, and mentoring as a young nurse. Peggy Ursuy, Ph.D., RN, PPCNP-BC, University of Michigan School of Nursing Faculty nominated Chase and Andrew Malik, RN provided a letter of support. Celebrating the Future Award aims to recognize and acknowledge seven (7) nurses in Michigan who have demonstrated outstanding achievement in nursing and held an RN license for five years or less. This award is intended to celebrate dedicated service, encourage exemplary commitment to the nursing profession, and represents a promise to grow in leadership in the advancement of nursing in Michigan.
Ambulatory Care Nursing presented Multiple Poster Presentations
International Transplant Nursing Symposium: A New Approach to Using Acuity in Ambulatory Care Assignments - Poster presenters: Bernice Matthews, Amy Smith and Gina Bergmooser
Brighton Health Center Clinic Redesign at the Michigan Medicine - Quality Poster Month. Poster presenter Ann Grey
Creative Application of Mandatory Education at the Michigan Medicine Quality Poster Month. Poster presenters Irene Turkewycz and Jody Giannotti
Immunotherapy: Are you ready to treat your patients? at the Michigan Medicine - Quality Poster Month. Poster presenters Jody Giannotti and Sandra Gilesse
Nurse Protocols in the HER at the Michigan Medicine - Quality Poster Month. Poster presenters Trish Bickle and Rebeca Packard
Kelly Baird-Cox begins new role - Associate Chief Nursing Officer (ACNO) for C.S. Mott Children's Hospital
We are pleased to announce that Kelly Baird-Cox, DNP, RN, CPNP, CPEN, CEN, TCRN, NEA-BC, CENP accepted the position of Associate Chief Nursing Officer (ACNO) for C.S. Mott Children's Hospital, effective November 1, 2018.
As ACNO, Kelly will have responsibility for leading pediatric nursing practice and administrative and operational activities to promote safe, high-quality care for our patients, families, and staff. Kelly is currently the Clinical Nursing Director for Children's Emergency Services, serving in the role since 2010, as well as the Interim ACNO for Pediatrics since August 2018.
Kelly obtained her Doctor of Nursing Practice (DNP) from Madonna University in May 2017. In December of 1997, she completed a Post Master's degree in Parent, Child & Family Nursing from Wayne State University. Her Masters of Science in Nursing Administration was awarded by Madonna University in May 1994, preceded by a Bachelor of Science in Nursing from The Ohio State University in May 1985.
Kelly has 33 years of progressive pediatric clinical and leadership experience, as well as being the recipient of numerous prestigious awards: Nightingale Nursing Award (June 1992); Nurse of the Year, Children's Hospital of Michigan (May 1992); UMHS Clinical Program of the Year (2015); Evan HOPE Newport Award (2015); two-time winner of the ENA Lantern Award (2014-2017) and (2017-2020); and the DNP Franciscan Values Award (May, 2017).
Kelly is a Certified Pediatric Nurse Practitioner (CPNP), Certified Pediatric Emergency Nurse (CPEN), Certified Emergency Nurse (CEN), Trauma Certified Registered Nurse (TCRN), Nurse Executive Advanced-Board Certified (NEA-BC), and Certified Executive Nursing Practice (CENP). She is also a member of the following professional organizations: National Association of Pediatric Nurse Practitioners; American Nurses Association (ANA); Emergency Nurses Association (ENA); Society of Trauma Nurses (STN); American Organization of Nurse Executives (AONE); and the Sigma Theta Tau International Honor Society, Kappa Iota Chapter. We look forward to her ongoing leadership and partnership at C.S. Mott Children's Hospital.
Bernice Matthews, Amy Smith and Gina Bergmooser presented
International Transplant Nursing Symposium
Bernice Mathews, RN, MSA; Amy Smith, RN, BSN; Gina Bergmooser, RN, MSN presented their poster presentation at the International Transplant Nursing Symposium conference on Friday, September 28th-30th. The topic being presented was "A new approach to using acuity in Ambulatory Care Assignments."

Catherine Meldrum presented Better Breathers Club in Ann Arbor

Catherine Meldrum, PhD, MS, RN, CCRC (Pulmonary and Critical Care Medicine) presented "What you need to know about your inhalers" and also "COPD Exacerbations: Identification, Treatment and prevention Measures" to the Better Breathers Club in Ann Arbor.

Sally Bailey published Collaborative Case Management
Sally Bailey, RN, MSN, CCM, CMAC, Director for Care Management, was published in the Collaborative Case Management issue 66. "Diet Down Your Length of Stay: Lose the Fat and Meet Benchmark Goals".
What's New in Nurse Recruitment and Retention...
Employee Referral Program -
Earn a Referral Bonus up to $3,000
For a complete list of eligible positions** please visit erp.UMnursing.org
Questions? Contact Nurse Recruitment & Retention at (734) 936-5183 or nurserecruit_umhs@med.umich.edu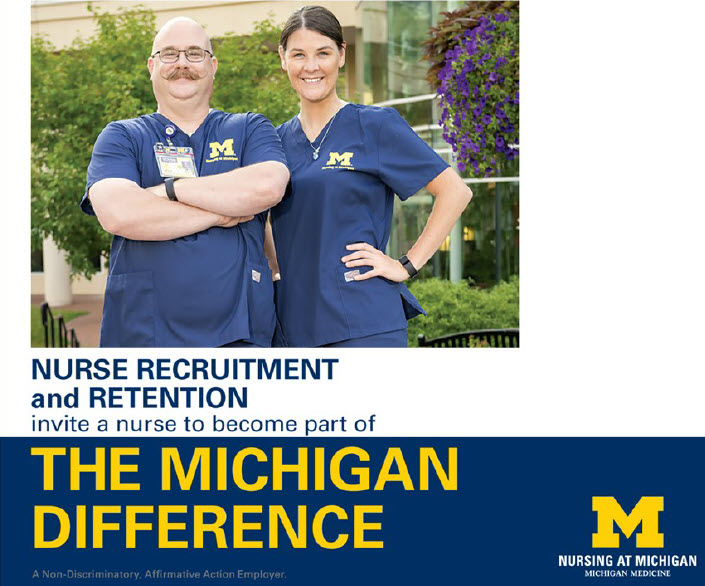 *On select nursing positions; some restrictions apply.
**Program rules and guidelines can be found at: erp.UMnursing.org
Terri Voepel Lewis awarded Friends of the National Institute of Nursing Research Protégé Award
Congratulations to Terri Voepel Lewis, PhD, RN (Anesthesiology) on being selected as this year's Friends of the National Institute of Nursing Research (FNINR) Protégé awardee. FNINR is an independent, non-profit organization that's vision is to be a bold voice to communicate the impact of NINR's work to elevate nursing science, improve lives and advance the Nation's health.
Catherine Meldrum presented Lung Outreach Program, Grand Rapids
Catherine Meldrum, PhD, MS, RN, CCRC (Division of Pulmonary and Critical Care Medicine) presented Multidisciplinary Approach to Management of COPD, Lung Out-reach Program, in Grand Rapids Michigan in July 2018.
Nursing at Michigan Influencing the World!

Michigan Medicine Nurses: Remember to Enter Your Professional Contributions
Have you recently completed a manuscript, book chapter, or presentation? Have you received a grant or award? If so, we'd like to hear about it! Please take a few minutes to tell us about your achievement by completing the survey linked below. Nursing Contribution Submissions:
https://umichumhs.qualtrics.com/SE/?SID=SV_25IgL1skzSQGUFC
This information will be used to recognize contributions made by UMHS nurses. It will be posted on the external
Nursing Cited Work website
(updated quarterly) and will also be included in the monthly
Nursing Update
newsletter, Nursing Services' annual reports, Nurse's Week activities, and shared at other appropriate venues. Thank you for your contributions!
Nursing Needs Victors - Philanthropy for Nursing at Michigan
Philanthropy provides U-M nurses with support and resources to deliver the most complete and compassionate care. It can also inspire them as they advance cutting-edge ideas to improve all areas of health care. We invite you to join our community to support and celebrate exceptional nursing.
Advancing Care, Improving Lives Brochure | Give Now ~ victors.us/nursing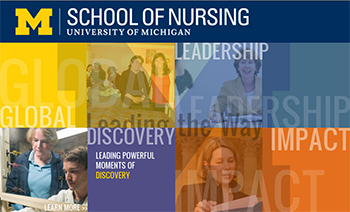 See What's New at the U-M School of Nursing
The latest information is now available on the web at: http://www.nursing.umich.edu/about-our-school/news-portal
News Archives | News Archives February 2014 and prior
Target Audience: All | Contact: Kathy Dunnuck | Last updated: 12/7/18
Quick Links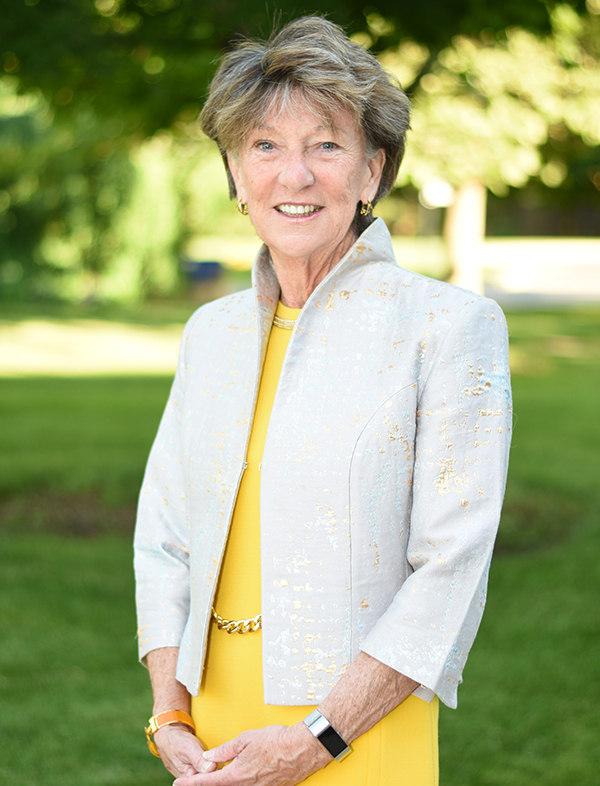 Ann Scanlon McGinity, PhD, RN, FAAN
Chief Nurse Executive
A Note To My Colleagues!
Complexities of academic medical organization require that each of us, as clinical leaders responsible for our patients' safety, be both highly visible and interactive with our teams in our clinical areas. We all must be effective communicators regarding our singularity of purpose related to creating a patient centric environment and one that is safe for both our patients and staff. As I witness on rounds with our leadership teams, it is rewarding to see the advanced state that our interprofessional rounds take. All of our leaders and clinicians can speak to the strengths of the care they provide as well as to areas they are working on to improve. So many of our clinical units have celebrated 365 days without a CLABSI, CAUTI etc. and achieving that requires teamwork and focus. I receive notes and letters from families that share with me how grateful they are for the nurses who made their hospital experience memorable: the many big and little things that nurses do daily to recognize the individual needs of their patients.
What a full year we have had forging the future of nursing at Michigan. Though I have been fortunate to spend only half that time with you, I see our future as bright, creative and energizing: that is because each of you bring those attributes to the work you do every day.
We have the resilience to thrive in the new year as it brings new beginnings through some uncharted waters and unexpected changes. Our future calls us to continue to carve out paths that will lead us to excellence and innovation as we recommit to our clinical, academic and research missions.
As the holidays approach, it is a time to re-remember why we are on this journey together and to pause and thank one another for the companionship we have shared to date.
I thank you for each day you have come to work and offered your best self to those who were present and I thank your families for their generosity in sending you out each day to do the work you do. Happy Holidays!
~ Ann
December, 2018