Therapaws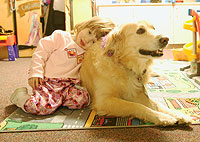 Pet therapy is known to have spirit-lifting and stress-lowering effects on patients of all ages. As such, C.S. Mott Children's Hospital is proud to host visits from Therapaws of Michigan – a canine-assisted therapy program that promotes and fosters the human-animal bond in therapeutic and educational settings.
Therapaws volunteers of individual owner/dog teams visit Mott during regularly scheduled visits. Unit Hosts select and prepare patients to receive visits from these canine companions. Therapaws of Michigan uses a strict screening protocol to assure the selection of well-mannered dogs of sound temperament and good health. Under the supervision of trained volunteers, these special dogs visit patients in a variety of settings: their inpatient rooms; during physical and occupational therapy sessions; in waiting rooms, and in other settings deemed appropriate by hospital staff.
In addition, we offer a Pets by Prescription program which allows patients and families to request a visit by a therapy dog. If you'd like to schedule a visit between a Mott patient and a therapy dog, speak to the patient's unit host, nurse or doctor who will work with our Volunteer Services department to arrange the visit.
More information
Learn about Mott Hospital's Pet Visitation guidelines