Gift Shops
If you'd like to purchase gifts, magazines, cosmetics, candy, toys, games, books, cards, clothing, flowers and more, please visit one of these University of Michigan Health System volunteer-staffed gift shops:
The Friends Gift Shop at University Hospital/Taubman Center
Location: next to the Hospital Cafeteria on the second floor
| | | |
| --- | --- | --- |
| Hours | Monday | 9 a.m. - 7 p.m. |
| | Tuesday | 9 a.m. - 7 p.m. |
| | Wednesday | 7 a.m. - 7 p.m. |
| | Thrusday | 9 a.m. - 7 p.m. |
| | Friday | 9 a.m. - 7 p.m. |
| | Saturday | 12 p.m. - 5 p.m. |
| | Sunday | 12 p.m. - 5 p.m. |
Contact: 734-936-5975 (Phone orders are taken at this gift shop)
The Carousel Gift Shop at C.S. Mott Children's Hospital & Women's Hospital
Location: next to Family Resource Center
| | | |
| --- | --- | --- |
| Hours | Monday - Friday | 9 a.m. - 5 p.m. |
| | Saturday | 12 p.m. - 5 p.m. |
| | Sunday | 12 p.m. - 5 p.m. |
Contact: 734-232-7335 (Phone orders are taken at this gift shop)
The Friends with a Heart Gift Shop at the U-M Cardiovascular Center
Location: Atrium level of Cardiovascular Center near the food court
| | | |
| --- | --- | --- |
| Hours | Monday - Friday | 9 a.m. - 4:30 p.m. |
| | Saturday | Closed |
| | Sunday | Closed |
Contact: 734-232-4118
Friends East Ann Arbor Gift Shop
Location: 4260 Plymouth Road Ann Arbor, MI 48109
(Main floor next door to the pharmacy)
| | | |
| --- | --- | --- |
| Hours | Monday - Friday | 9 a.m. - 4:30 p.m. |
| | Saturday | Closed |
| | Sunday | Closed |
Contact: 734-232-3415
Gifts of Art Programs – Bringing the world of art & music to the U-M Health System
From the Heart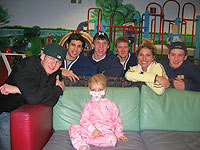 Athletes from left to right:Tim Cook,
Andrew Cogliano, Bill Sauer, Chris
Fragner, Ashely Buckingham, Travis
Turnbull
University of Michigan athletes are given the opportunity to impact the lives of many of the children being cared for at Mott through regular visits. Mott collaborates with the U-M Athletic Department, making arrangements to bring athletes from various teams to Mott every Thursday evening to visit with pediatric patients and families. Additionally, From the Heart helps patients and former patients attend sporting events. This program is operated in part by the Child and Family Life Department.
Massage Therapy Services
Massage therapy is a healing approach that involves the practice of kneading or manipulating a person's muscles and other soft tissue with the intent of improving their health or well-being.
Pediatric massage
Pediatric massage encourages nurturing touch between parents and their children, and can address a wide range of concerns ranging from constipation to bonding, to prolonged hospitalization and more.
At Mott, we provide the following free classes for patients and their families:
Mott Infant and Small Child Massage Classes - A Child Life specialist and certified infant massage instructor teach infant/small child massage at the bedside to the parents and caregivers of Mott patients. Babies are welcome to attend classes with their caregivers. If they cannot attend, the teacher provides teaching dolls. For more information, contact Anne Mahoney, Child and Family Life at 734-764-0354 or amahoney@umich.edu.
NICU (Neonatal Intensive Care Unit) Classes - A certified massage therapist teaches infant massage techniques to parents of NICU patients to encourage nurturing touch between parents and their hospitalized newborns. Each one-on-one massage session is tailored to the infant's specific needs. To register, or for more information, contact Diane Kremer, R.N., Clinical Nurse, Certified Infant Massage Instructor, at 734-763-4111 or dkremer@umich.edu.
Other massage services
The University of Michigan Health System has launched a new UMHS Inpatient Massage Therapy Program. All of our massage therapists are nationally certified, and are trained in various alternative and complementary healing therapies. See the Web site for more information.
Nationally certified massage therapists from the company Think Massage offer massages for a fee in the "Triangle" – the area that connects University Hospital and Mott Hospital. Current UMHS patients must have the written approval from their nurse or physician to receive services. In-room appointments also are available.Children under age 18 must be accompanied by a parent or guardian. Hours are Tuesday through Friday, 11 a.m. to 5 p.m. Think Massage accepts payments of Visa, MasterCard, cash, check and UMHS payroll deduction. Gift certificates are available, too. Think Massages gives 15 percent of each massage to Mott Hospital's Child and Family Life department. For more information, call Kris Ford at 734-368-2682.
Medbuddies
Medbuddies is a special program and partnership between C.S. Mott Children's Hospital, the University of Michigan Medical School and the University of Michigan School of Nursing. The program pairs a volunteer medical or nursing student with a Mott inpatient. The twosome play board or video games together, talk, read books, visit with family and, simply, become friends. As Medbuddies volunteers, doctors-in-training leave their lab coats and textbooks behind and gain insight on what it's really like to be a child in the hospital. As Medbuddies participants, the young patients get compassionate companions and their families get a break from the day-to-day stress of hospitalization.
Medbuddies coordinators meet with staff nurses and Child Life specialists each week to identify new patients who they think will benefit from participating in the Medbuddies program - typically patients who will be in the hospital for an extended period of time. If the patient is interested, he or she is paired up with a medical or nursing student Medbuddy. In addition, families can request a Medbuddy for their loved one.
Reach out and Read®
Reach Out and Read® is a national program that makes literacy promotion a standard part of pediatric primary care, so that children grow up with books and a love of reading. Special focus is placed on children growing up in poverty. Doctors and nurses are trained to advise parents about the importance of reading aloud and to give books to children at pediatric check-ups. By building on the unique relationship between parents and medical providers, Reach Out and Read helps families and communities encourage early literacy skills so children enter school prepared for success in reading. Reach Out and Read is offered at our East Ann Arbor and Ypsilanti health centers, the Corner Health Center in Ypsilanti and our Migrant Outreach Clinics in rural Michigan. More information