Giving Library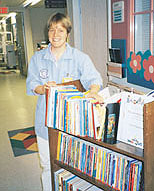 "If you are a dreamer, come in. If you are a dreamer, a wisher, a liar, a hoper, a prayer, a magic-bean-buyer. If you're a pretender, come sit by my fire, for we have some flax-golden tales to spin. Come in! Come in!" Shel Silverstein, author
Every Monday through Thursday, between 4 and 7 p.m., teams of University of Michigan Health System volunteers do something truly exceptional. Armed with a mobile Mott Giving Library - a cart stocked with new books - they visit the bedside of each Mott inpatient to deliver the magic of reading. Unlike most libraries, however, patients and their families don't need cards to borrow books and they never have to worry about due dates. When a patient takes a book out of the Giving Library - it's for keeps!
The Giving Library supports Mott patients and their families by providing a diversion from the stresses of hospitalization via the exciting, imaginative and educational world of books. In addition, the program promotes literacy and language development by encouraging and establishing important reader-child relationships. Volunteers are happy to read to or with patients, or provide books that the patient can read alone or with parents, siblings or other visitors.
Since the Library's inception in March 2001, thousands of books have been distributed to patients and their visiting siblings thanks to the dedication of volunteers and the generosity of financial and book donors. Because there is no limit to what books can teach or where they can take you, reading and receiving these wonderful gifts can lift a child's spirits, give a teen respite from treatment or provide new parents with a way to bond with a critically ill infant.