Art Cart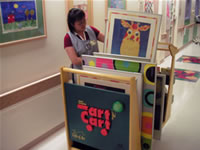 As part of its mission to bring the world of art and music to patients, visitors and staff, the University of Michigan Health System's Gifts of Art program offers a special Art Cart service for Mott patients.
The Art Cart is a mobile lending library of framed poster art. Volunteers bring the cart to patient floors throughout Mott so that our young patients or their families can select artwork to display in their rooms. The simple act of choosing artwork is one way we try to give patients a sense of control at a time when so much is decided for them. Many times, these images have a profound affect on patients and become valued "companions" during the hospital experience.
For information about the Art Cart, or to request a visit M-F, call 734-936-ARTS (2787) or email GOA@med.umich.edu.
Learn about other Gifts of Art programs.