Volunteer in Mott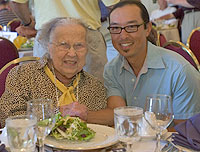 Whether playing with children during waiting times, serving as a salesperson in the gift shop or answering phones, volunteers at C.S. Mott Children's Hospital make a tremendous difference that is greatly appreciated by patients and visitors, as well as faculty and staff. Their generous donations of time add a unique, personal dimension to our family-centered care.
If you would like to volunteer, visit the Volunteer Services Department's Web site for more information.
Special Events Volunteer
Would you like to be a volunteer for one or more of our many Special Events hosted throughout the year? There are also many opportunities to help with North Star Reach, a camp for children with serious medical challenges.
Fill out the Special Events Registration Form to get started.