Shop Mott: Limited Time Offers
C.S. Mott Children's Hospital 2011 Commemorative Calendar
Every day, children at our hospital show us the true meaning of the term "Conquering Heroes". This year, we are featuring some of these heroes on the pages of our 2011 Calendar – an especially important calendar since it will commemorate the year of our new hospital opening in December 2011!
How to get a copy of the "Conquering Heroes" 2011 Commemorative Calendar:
Pick up your complimentary copy at our "Conquering Heroes" Calendar Release & Hero Autograph Party (Tuesday, December 21, 3:00 – 5:00 p.m., Mott Children's Hospital, Family Resource Center, Room F8415)
Pick up your complimentary copy in Community Relations, Room F2519 at C.S. Mott Children's Hospital (available after December 22, while supplies last)
Order copies to be mailed to you by completing the online form or faxing or mailing the completed order form [PDF].
Cost is $5 per calendar. Your order will be processed when payment is received.
Supplies are limited!
Mail ordered calendars will be delivered via USPS Ground and fulfillment of mail orders is anticipated to begin the week of December 13. We cannot guarantee delivery before December 25. Orders will be fulfilled as they are received while supplies last.
You can also read about these special conquering heroes on C.S. Mott Children's Hospital facebook page.
Mott Teddy Bears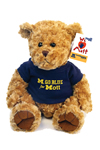 Description: Chelsea Teddy Bear Co. has created a special teddy bear to benefit the patients and families at Mott. Bears are $16 each, and all profits will go towards building the new U-M C.S. Mott Children's Hospital and Women's Hospital and Patient and Family-Centered Care programs at Mott. Bears can be purchased at Tree Town Toys on Plymouth Rd., the Ann Arbor Jungle Java, Ken's Nielsen Flowers, the three Ann Arbor Borders locations (E. Liberty St., Lohr Rd., and Arborland), Chelsea Teddy Bear Company, MidWest Financial Credit Unions, and at Mott Community Relations Office room F2519.
You can also Give a Bear.
Questions? Please contact Mott Community Relations at (734) 764-6874 or
mottcommunityrelations@umich.edu.

Baby Bears Flyer (PDF)
Save a Heart Mus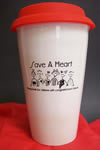 Description: Mugs to benefit Save a Heart which raises funds for children with congenital heart defects. Mugs cost $10 each and can be purchased through the Pediatric Cardiology Clinic at 734-764-5176.

Baby Bears Flyer (PDF)