Gift of a Bear Program
Helping Young Patients Feel Secure and Loved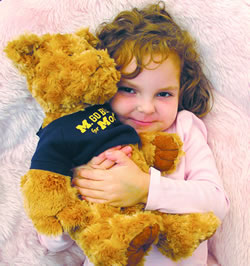 Amazing research translated into new therapies is what creates our miracles -- but a little bear can help the healing.
Would you like to offer encouragement and reassurance to the children at Mott? Your gift of $25 will buy a bear for a Mott child and also benefit the Family Hope Fund, which provides practical help to grateful families in need at a time of challenge in their lives.
How You Can Help
Please use our secure on-line giving form to contribute to the Gift of a Bear program. If you're not comfortable making a donation online; or if you have questions, please contact Mott Development Office at 734-998-6069.